Graduate to Share Love of Science
Posted in GUMC Stories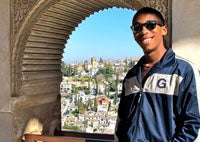 Von'Travis Dejanaro Crawford (NHS'12), a senior human science major at the School of Nursing & Health Studies, plans to teach high school science for Teach for America in Dallas-Fort Worth after graduation and then apply to medical school.
Crawford recently earned the 2012 Leadership Award from the school's Minority Health Initiative Group (MHIG) for his work with that organization and Georgetown's After School Kids program.
MHIG promotes the importance of optimal health to minority students through health education and training, research and community outreach in an effort to reduce health disparities.
Studying in Spain
With his eye on one day working as a health clinic physician to eliminate health disparities, Crawford saw becoming a bilingual as an essential piece toward his goal.
In spring 2011, Crawford participated in a study-abroad program at the Universidad de Salamanca in Spain for four months of uninterrupted language learning.
Crawford participated in five hours of highly interactive classes every day during the semester that consisted of Spanish grammar, art, literature and conversation.
"Before I was really poor in Spanish," he said. "Now I can hold a full conversation and understand everything. I recommend this program if you want to share the language of Spanish."
Getting Mentored
While still in Spain, Crawford applied for and was accepted to the Georgetown-Howard Universities Center for Clinical and Translational and Science program, which matches students and professionals with an interest in clinical translational sciences to mentors.
When he got back to the United States, he immediately began work under his mentor, Dr. Thomas A. Mellman, a psychiatry professor and principal investigator of the program.
"Dr. Mellman made sure I was learning and that I knew what I was talking about," Crawford says. "I am really glad he made sure I had a fine eye for what you need to do in clinical research."
This year he served as Mellman's intern, studying the evaluation of heart rate variability and effects on night-time blood pressure dips.
By Alicia Lee NHS Communications
(Published May 23, 2012)