Going with Your Gut: Exploring the Microbiota's Role in Colorectal Cancer Among the Young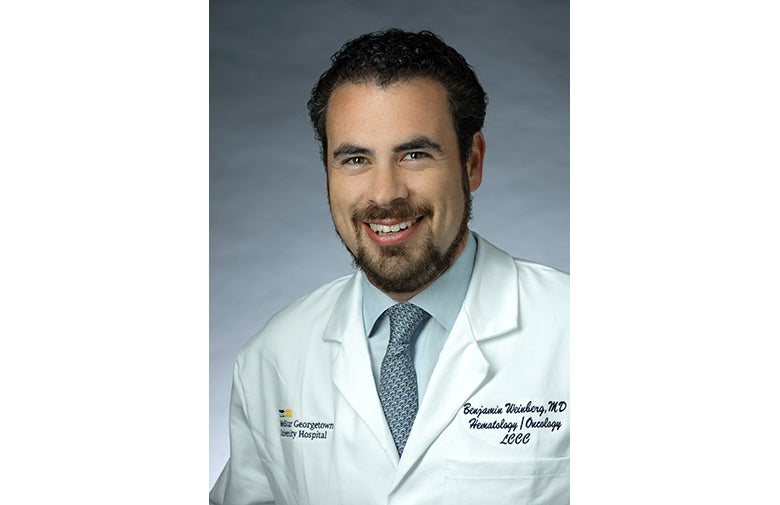 Posted in GUMC Stories | Tagged cancer, cancer research, colorectal cancer, gastrointestinal cancer, Georgetown Lombardi
(March 26, 2019) — When figures released by the American Cancer Society in 2017 showed a rise in colorectal cancer cases and deaths among young people, Benjamin Weinberg, MD, was alarmed, but not surprised.
The young medical oncologist at Georgetown Lombardi Comprehensive Cancer Center is accustomed to treating men and women in their 60s and 70s — the typical age for a colorectal cancer diagnosis — but by 2017, he had already begun to notice a concerning trend. More and more young people with the disease were making their way to his clinic.
"It's hard seeing patients in their 20s and 30s," says Weinberg, assistant professor of medicine at Georgetown. "It's also hard to hear that they had told doctors of their symptoms and didn't get a lot of attention. Some have said they were told they were 'too young to have colon cancer.' "
This year, the American Cancer Society estimates that 145,600 people in the U.S. will be diagnosed with colorectal cancer. That's the same amount of people that would fill Washington's RFK Stadium three times over.
While this number is declining in older people, colorectal cancer rates have increased by almost 2 percent annually for those under 55 since 2006. "We don't really know why the younger group is getting colon cancer, but some theories include the rise of obesity, diabetes and diets low in whole grains," says Weinberg.
Gut Instinct
Undoubtedly, a lot of work needs to be done to determine what the factors and drivers are for the increase in colorectal cancer rates among young people, but Weinberg is going with his gut instinct.
"I want to understand what's going on in the GI tract that might be contributing to this rise," he explains.
Weinberg is carrying out research specifically comparing the microbiome from older patients versus that of younger patients. The microbiome is the good bacteria, fungi and viruses that interact with the environment of our GI tract, what we eat, our immune system and our genetics.
"Specifically, we want to see if bacteria that reside within colon and rectal cancers are different between young patients and older patients," Weinberg says. "We know about specific bacteria that likely play a causative role in colorectal cancer, but this information is from studies done in older individuals."
Weinberg's research is supported by a grant from the Colorectal Cancer Alliance and private donors. "If we find there are significant differences, it may impact future research aimed to try to prevent colon and rectal cancers or to diagnose them earlier," he adds.
He'll ask for help from nearly 100 older and younger colorectal cancer patients at Georgetown Lombardi. Patients like Shane West.
'Why Wouldn't I'
In October 2018, West was diagnosed with advanced colon cancer. He is only 43 years old.
West, a married father of two children ages 10 and 13, says his participation in the study is a "no-brainer."
West points out that there was no extra effort needed on his part to participate, since most of what was being done for the study was already being carried out as part of his treatment.
"Why wouldn't I do it?" West says. "If I can do something to help the next 43-year-old [diagnosed with colon cancer], then of course I want to do my part in that."
Disclosures: Weinberg reports receiving fees for talks from Eli Lilly and Bayer.