Giving People with Dementia a Voice
Posted in GUMC Stories
It's a common question that physicians ask patients suspected of having dementia. "Who is the president of the U.S.?" the doctor says. "He is a forgettable fellow," the patient answers, with a laugh. The doctor checks the box for profound memory loss, and doesn't smile.
Pamela A. Saunders, Ph.D., has seen this scenario acted out countless times, and what this exchange shows her is not just that the patient has a memory deficit, but that he employs humor to cover up that loss. "He created a persona of a normal, funny patient as a way to create some solidarity with the doctor, who holds all the power in diagnosing him as having dementia," says Saunders, an associate professor in the departments of neurology and psychiatry at Georgetown University Medical Center.
"The patient is trying to preserve dignity and level the playing field as best he can," she says.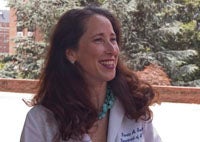 Saunders looks at what patients with dementia can do ⎯ not what they can't do. She views interactions like this example in a "non-ageist" positive manner. "We all make explanations and justifications for our behaviors. Patients with dementia continue to use those skills to normalize themselves, as much as possible."
Her research, funded by the National Institutes of Health and the Alzheimer's Association, is aimed at understanding the strategies people with memory loss and dementia use to get by, which allows caregivers (family members, physicians, etc.) to understand these patterns of communication. Saunders also teaches medical students to improve their skills in communicating with older patients by recognizing, understanding ⎯ and hopefully, empathizing with ⎯ these coping mechanisms.
Fascinated by communication
Saunders has always been interested in the dynamic interplay between language and social interactions. She says she was a kid who was always socially aware and keenly interested in people's reaction to things said to them. "I love how conversations and stories work," Saunders says. She speculates this interest may have come from her elders ⎯ a grandmother who was an English teacher, a lawyer father and a mother who taught reading ⎯ as well as being the oldest of three daughters, and so the one who mediated and interpreted all forms of family verbalizations.
She parlayed this interest into a string of degrees: an undergraduate degree in linguistics and anthropology at the University of Michigan; an M.A. in Linguistics at the University of Pennsylvania; a Ph.D. in Sociolinguistics from Georgetown University. She studied social-cultural gerontology, as a National Institutes of Health fellow during her first postdoctoral at the University of California, San Francisco (UCSF), and followed that up with a second postdoctoral in language communication in aging at the University of Kansas.
As a doctoral student collecting data at the Philadelphia Geriatric Center, she became intrigued with communication in the aged, and interviewed nursing home residents to collect their life's stories. Saunders came to realize that what patients with mild dementia said was often a story that didn't quite square with the facts. "The frame for the story was the same; the content was different," she says. "The way these folks managed their dementia by maintaining a normal persona fascinated me."
She has demonstrated these coping strategies in a number of studies. In one, published June 2011 in Dementia, Saunders compared two groups of participants, age 65 or older. One group had been diagnosed with cognitive impairment, and the other group had not. A third group including a third party, usually a spouse, that accompanied the participant. Among the variables Saunders looked at was how often participants talked when meeting with their doctors. She found that both groups talked about the same amount, but that physicians treating patients with cognitive impairment, as well as their spouses, talked much more than did physicians treating the other patients. Saunders says this suggests that doctors and family members should pay attention to the communicative coping behaviors of those with memory loss, who are adapting to their disadvantage and trying to communicate, in order to support their social, emotional, and cognitive well-being.
She also discovered that humor was used much more often by patients with memory loss, as a way of trying to control the flow of the conversation. "These individuals have a sense of self and construct self identity that demonstrates competence, memory, self awareness, and humility," Saunders say. "They are working very hard to maintain their dignity."
In another study, published in May 2012, also in Dementia, Saunders studied patients with cognitive impairment in long-term care, such as nursing homes, and found that they construct their own social identities and social relationships, forming bonds with others on a conversational level. "They are very capable of forming and maintaining relationships despite their cognitive or physical impairments," Saunders say
Make a joke back
Saunders says that through her focus on improving the understanding of how patients with memory impairments communicate, she hopes to elevate the empathy with which these individuals are treated. "There is a lot of ageism in the U.S., a stigma associated with being elderly," she says. "I am trying to give people with dementia a voice ⎯ to legitimize and validate their communication behaviors.
"We need to help caregivers of all stripes ⎯ loved ones, doctors, nurses ⎯ appreciate and support these patients, and take it up a notch in terms of their ways of communicating with them," Saunders says.
"If they make a joke, recognize it for what it is ⎯ an attempt to be as normal as possible ⎯ and make a joke back."
By Renee Twombly, GUMC Communications
(Published June 20, 2012)