Giving Patients A Voice in Breast Cancer Research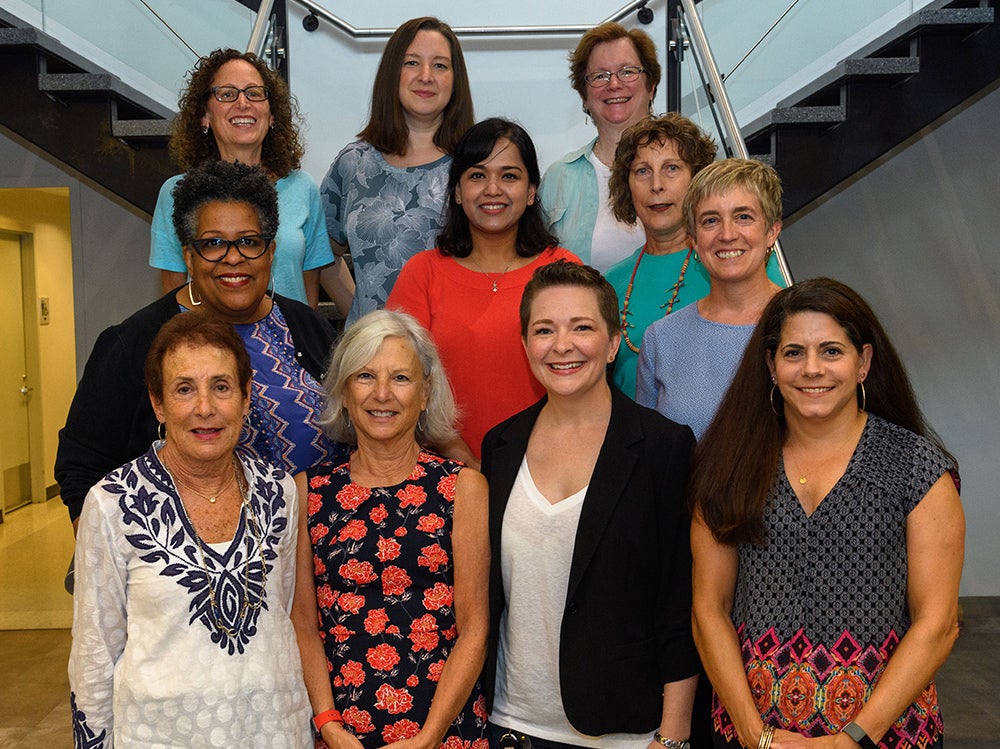 Posted in GUMC Stories | Tagged advocacy, breast cancer, cancer, cancer research, Georgetown Lombardi
(January 4, 2019) — Soon after Hillary Stires, PhD, came to Georgetown Lombardi as a postdoctoral fellow, she started a grant application and asked for feedback from the Georgetown Breast Cancer Advocates (GBCA), a volunteer group of breast cancer survivors dedicated to supporting and promoting breast cancer research.
Her experience was transformative. After Stires presented her plan to the group, one of the advocates worked with her to strengthen her application and went to an international conference with her. Another advocate encouraged her to connect with the community of breast cancer researchers and patients on social media. When Stires' best friend was diagnosed with breast cancer, the advocates shared their experiences and offered advice.
"I hadn't done my PhD at a cancer center so I didn't have access to advocates," Stires said. "It really gave me an insight beyond how we kill cancer cells in a dish."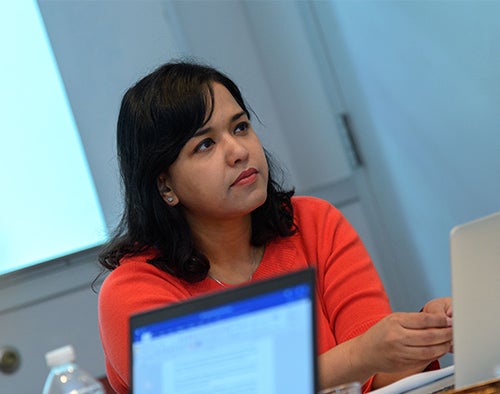 Since 2011, GBCA has made numerous contributions to breast cancer research by helping researchers like Stires develop competitive grant applications and, this August, publishing a paper in the prestigious journal Cancer Research about the power of scientists and advocates working together. Some advocates have also served on panels that review scientific grant applications.
Advocates can play an important role in shaping both pre-clinical and clinical research, said Ayesha Shajahan-Haq, PhD, assistant professor of oncology at Georgetown Lombardi and GBCA's scientific advisor.
"The advocates who make up GBCA bring unique and important viewpoints to the cancer research process," said Shajahan-Haq, senior author on the publication. "As researchers, we need their input to help keep us focused not only on the scientific details of our work, but to keep us grounded and ensure we maintain a patient-centered approach."
A Rewarding Experience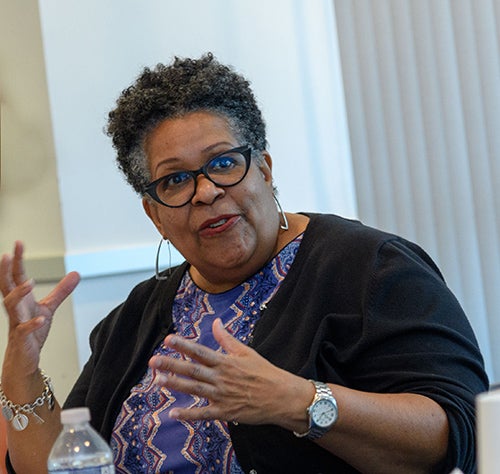 After meeting patient advocates while reviewing grant applications for the Department of Defense, Shajahan-Haq was inspired to start an advocates group at Georgetown Lombardi. "It seemed to me like the most natural thing for me to do coming back from the study section," she said. "When we talked about having advocates in the breast cancer program, the clinicians were all supportive. It was something I wanted to do and others wanted to do or support as well."
Wanda Lucas, a breast cancer survivor and former executive director of the Capital Breast Care Center, said that GBCA strives for diversity in its membership. "We try to represent varying years since diagnosis, stages at diagnosis, types of breast cancer and, when possible, racial and ethnic populations," she said.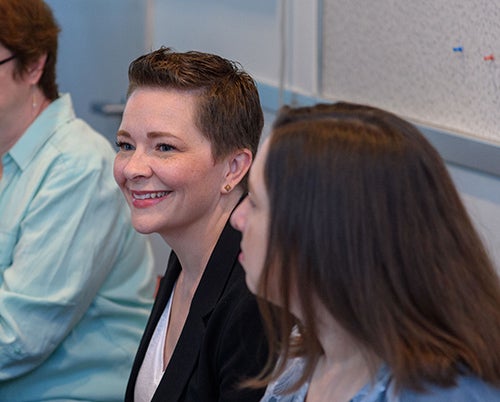 Once a month, GBCA meets to discuss ways to impact breast cancer research at Georgetown Lombardi and opportunities to increase their knowledge about current research by attending national scientific conferences. As educated advocates, they provide valuable feedback to Georgetown researchers on their grant applications.
Shaping research by sharing her experiences as a patient has been rewarding for Jamie Holloway, PhD (G'04), a breast cancer survivor and advocate. "For a researcher, knowing about side effects goes in one ear and out the other," she said. "But hearing how they change people's lives on a daily basis changes their perspective."
Supporting Research and Researchers
While all of the advocates are dedicated to supporting research, some also participate in activities intended to influence policymakers. As a board member with the National Breast Cancer Coalition, Lucas and three other GBCA members lobby for funding for the breast cancer research program at the Department of Defense and legislation supporting breast cancer patients.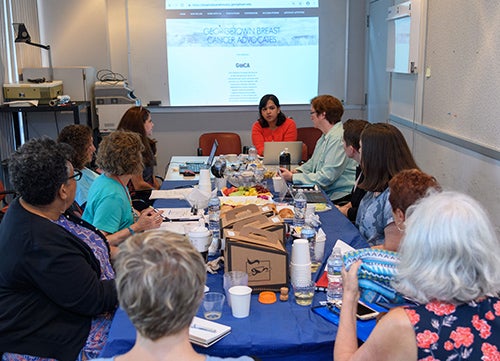 However, most of the advocates' activities focus on connecting specifically with researchers. As a graduate of Georgetown's tumor biology program, Holloway said that meeting patients during her training would have been worthwhile. "I never had the opportunity when I was in graduate school to interact with patients," she said. "This would have been so valuable to me, to really be one-on-one with patients."
This summer, Holloway and other advocates met student researchers at NIH for the Cancer Systems Biology Consortium and Physical Science Oncology Network Summer Undergraduate Research Program. GBCA previously participated in last year's program.
The advocates' participation had a dramatic effect on the attendees. "The students found it to be incredibly impactful," said Shannon K. Hughes, PhD, program director of the division of cancer biology at the NCI. "In fact, both last year and this year, if you asked students the highlight of the meeting, they would say it was the visit and discussion they had with these women."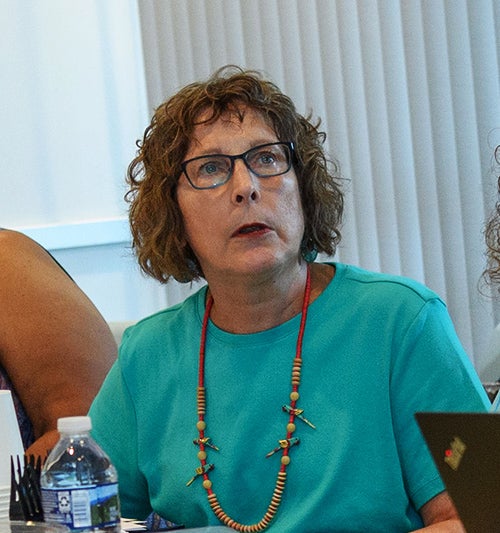 As part of a family with a high incidence of breast cancer, Nora Carbine was excited to speak to the students. "What I could tell them was, here I am and here is my family, and we need people like you because four of six siblings have had breast cancer in my family," said Carbine, a breast cancer survivor and advocate. "As I explained to the students, we need something better. There's got to be something better than having all of our body parts cut out. We need to you to find it."
"They were brilliant, wonderful students who I'm sure will do wonderful things," said Margery London, another GBCA member who participated in the event. "I think it was very good for them to hear from the regular people who hopefully they will be able to help one day."
Making a Difference
Since the article was published in Cancer Research, Shajahan-Haq has heard from other researchers who work with advocates, including Laundette P. Jones, PhD, MPH, an assistant professor at the University of Maryland School of Medicine.
In her role as the education lead for The Journey Continues, a breast cancer survivorship group in Baltimore, Jones hopes to draw from the GBCA model. "I'd love to replicate that here at the University of Maryland," said Jones, a former postdoctoral fellow in Georgetown's tumor biology program. "Now that Ayesha put out the paper, I kind of have a blueprint."
"For basic scientists, there are many of us who have no clue about the journey of the survivor, the advocate, the real boots on the ground, what they're going through," Jones added. "I want to actually be a knowledge broker for the scientists and breast cancer advocates."
As much as GBCA benefits researchers, the advocates themselves have also gained from their participation. Giving back is especially important to London, who started a cancer support group at her synagogue.
"Some people, once they've had it and been treated, they're done," she said. "And some people really want to make a difference. That's what I wanted to do. I wanted to feel like I could make a difference."