Georgetown Team Finds Richness in Collaboration with Jesuit Clinic in Liberia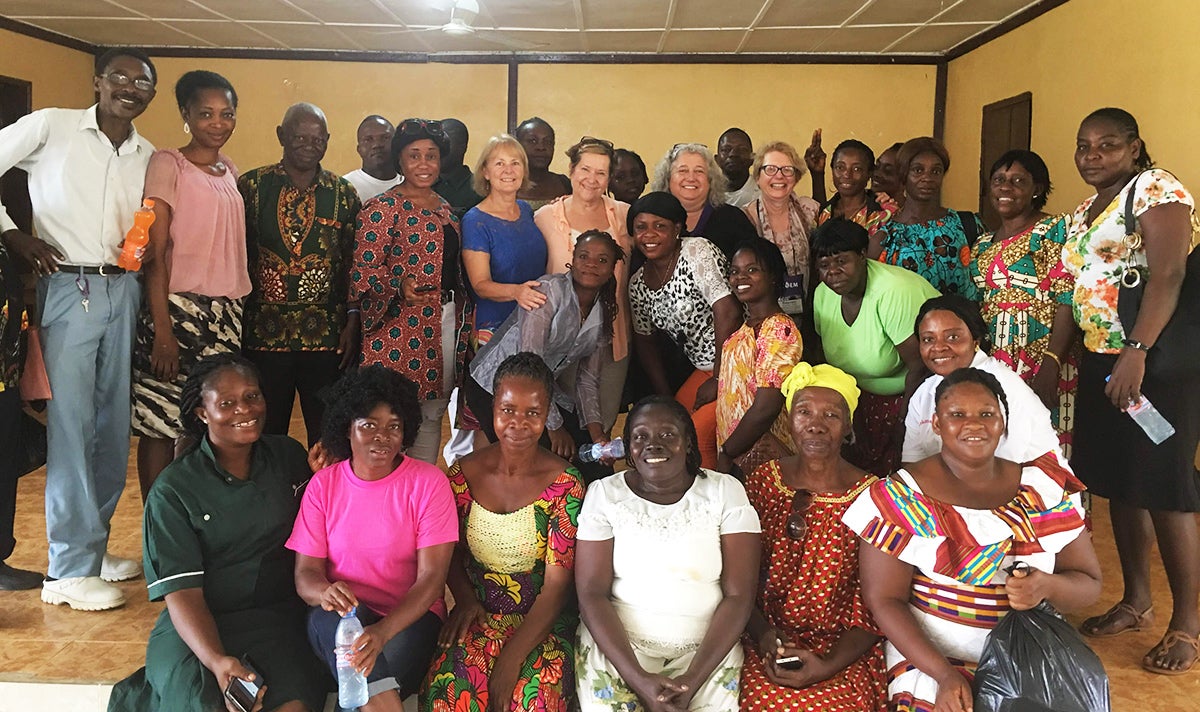 Posted in GUMC Stories | Tagged global health, population health, School of Nursing & Health Studies
(December 7, 2018) — The team from Georgetown's School of Nursing & Health Studies (NHS) didn't know what to expect when they set out in early November for Caldwell, Liberia, to conduct a three-day workshop for local midwives and health care workers.
What they knew: that the scars of a protracted civil war and a massive Ebola epidemic are still fresh in the country, which has struggled to rebound from the devastating effects of both crises on its health infrastructure. That, according to the World Health Organization, Liberia has fewer than 200 trained midwives for more than 4 million people, and the country's maternal mortality rate is among the highest in the world.
However, the team of three midwives and an occupational health physician didn't anticipate how much one workshop could affect them.
"This was a game-changer for me," said Debora Dole, PhD, CNM, FACNM, vice chair and associate professor in the department of advanced nursing practice at NHS, and one of the workshop leaders. "I have been a midwife for a long time, and I always felt I had been working in a way that was community-focused. But this experience has changed my view of what help looks like."
Deep Jesuit Roots
The idea for the workshop is rooted in a relationship between the Georgetown faculty and the Holy Family Parish — Liberia's only Jesuit parish—located in the town of Caldwell on the outskirts of the Liberian capital of Monrovia.
When Ebola hit in West Africa, a handful of Georgetown faculty, led by Rosemary Sokas, MD, MOH, professor of human science at NHS, connected with Holy Family with the aim of raising funds to support the community through Jesuit channels. Since then, Sokas has maintained a relationship with the parish leadership. Earlier this year, she saw an opportunity for Georgetown to help repair Liberia's hobbled health care system.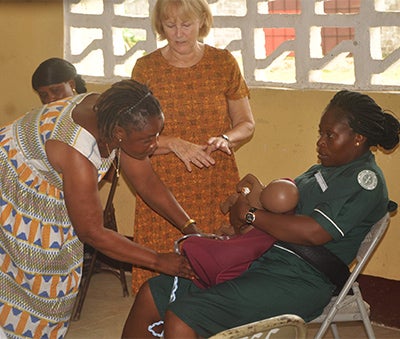 The workshop included hands-on midwifery training using low-tech simulators, which were then given to partners in Liberia.
After seeing a request for proposals from Georgetown's Office of the Vice President for Global Engagement for a series of institutional grants called International Collaborative Grants, Sokas reached out to colleagues to gauge interest in applying. She promptly heard back from Dole and two others: Julia Lange-Kessler, DNP, CNM, FACNM, director of the nurse-midwifery/women's health nurse practitioner program, and Cindy Farley, PhD, CNM, FACNM, associate professor in the nurse midwifery program.
Under Dole's leadership, the foursome put together a successful proposal to cover the costs of a three-day workshop to focus primarily on needs assessment and hands-on midwifery training using low-tech simulators, which were then given to partners in Liberia. Health care worker safety and health was also integrated into the program.
As the host of the workshop, Holy Family reached out to the Catholic Health Secretariat to engage local midwives, health care workers and regional nurse midwife educators in an exchange of technical information and skills training. The Georgetown group also planned to meet with key Liberian stakeholders to assess opportunities for future collaboration.
The Challenge
After being decimated by armed conflict, Liberia had begun rebuilding its health care system by doubling the number of health care workers between 2006 and 2010. However, the ratio of health care workers to population remained among the lowest in the world when Ebola hit in 2014. The epidemic proved so paralyzing that medical facilities were forced to shut down as health care workers were dying at an alarming rate. Part of the parish, the Holy Family Health Center, is one of the few in Liberia that remained open throughout the Ebola crisis.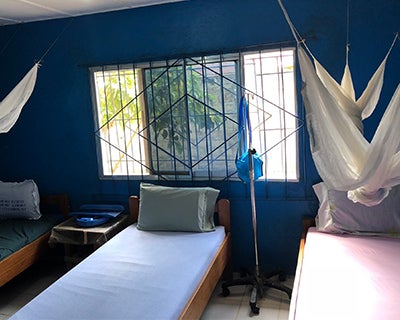 Open 24 hours a day, the Holy Family Health Center operates in Caldwell on the outskirts of the Liberian capital of Monrovia.
Holy Family was established by Jesuit Refugee Services after the civil war, with support from Stephen Cashin (SFS'79), an alumnus and board member of the School of Foreign Service. Cashin has been recognized by Liberian President Ellen Johnson Sirleaf for his philanthropic efforts.
The clinic operates 24 hours a day with a staff consisting of three nurses, one midwife, three nursing assistants, and a scant cleaning and security crew, according to Rev. Timothy Baghrmwin, SJ, the parish's former pastor. It serves the community of Caldwell, which has about 10,000 people, and beyond, he said, with about 10 beds for maternity and general cases. Before the Ebola crisis, the clinic had hired a doctor to come once a week, but they were forced to let him go about six months later, in 2013.
Baghrmwin, who led Holy Family through the Ebola crisis, credited the health center's founding midwife, Beatrice Kroma, CM, with the decision to continue to provide care during that trying time. Now finishing a sabbatical at the Jesuit School of Theology, Berkeley, Baghrmwin said activities such as the workshop "boost the morale of the place" by helping train nurses and midwives, and strengthen connections with Liberia's national health system.
Modest Expectations
The Georgetown team traveled to Caldwell hoping to build on an existing relationship with Holy Family to make small inroads in addressing a "tremendous need." Recognizing the logistical and cultural hurdles they faced, they hoped for 20 workshop attendees — 30 attended.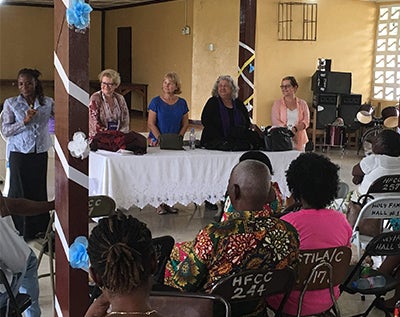 Thirty local midwives and health care workers attended the workshop led by the team from the School of Nursing & Health Studies.
Those from Georgetown stressed that this visit was more about gauging the community's needs and priorities than trying to impart knowledge. As such, they spent a significant portion of their time there learning about the challenges that midwives and health care workers face in caring for childbearing women and their newborns, infants and other health care workers with severely limited staff and resources.
Rev. Michael Edomobi, SJ, the current pastor of Holy Family, said attendees were very energized by what they learned and have taken the knowledge back to their communities.
"That has a ripple effect," Edomobi said. "The knowledge has spread and will go a long way to helping the community render better services."
Continuing the Connection
In addition to leading the workshop, the Georgetown team met with stakeholders from entities including the National Public Health Institute of Liberia, the Catholic Health Secretariat, the Board of Nursing and Midwifery and the Liberian Midwife Association to assess opportunities for ongoing collaboration and support.
Echoing Dole's "game-changing" comment, Sokas described the trip as "life-changing."
"It was an incredibly profound experience that opened up a world of need and challenge, but also of joy," Sokas said. "By virtue of being able to physically be there, we opened a door that was impossible to open before."
She added that, since establishing the connection through the workshop, she has been working with occupational health colleagues in Liberia's public health institute to provide input on their occupational safety and health guidelines, and connect them with U.S. counterparts.
"Professionally, this has felt like an enormous opportunity to make use of everything I have ever done in the past, and to help make connections for a government agency that is trying to address in realistic terms the very real challenges they face," Sokas added.
She and Dole believe that the sustained value of the partnership will lie in the long-term connections emerging between Holy Family, Georgetown and the Liberian health system as a result of this workshop.
"In order to help enable this community to achieve what they have told us they need and want — in order to build capacity — we will need to continue to explore broader national coordination," Dole said. "I think Georgetown is well-positioned to work with them on this — and I am so grateful to the university for taking a chance on this proposal."
Lauren Wolkoff
GUMC Communications