Georgetown Physician 'On Call' to Assess Separated Immigrant Children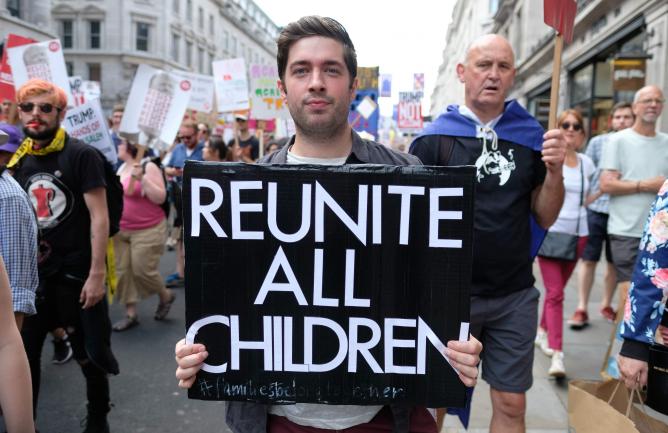 Posted in GUMC Stories | Tagged School of Medicine
(July 19, 2018) — Child psychiatrist Matthew Biel, MD, MSc, wasn't at all surprised to learn from news reports in early July that two children separated at the U.S. border from their Central American parents and sent to Connecticut were diagnosed, by a Yale University psychiatrist, with "full blown acute post traumatic stress disorder."
Biel, associate professor of clinical psychiatry and pediatrics at Georgetown University School of Medicine, worries that the symptoms exhibited by the children, ages 6 and 14, of depression, anxiety, sleeplessness and a lack of hope are likely common among the thousands of separated child detainees, and that the youngest of them may have significant and long-lasting impact as a result of forced separation from their parents.
Lasting Impact
"The longer the separation is, the worse it is, but an acute unexpected separation that a kid and the family can't prepare for, even if it is for a few days, can be massively disruptive and have an effect that might last days, weeks, and months. A separation that lasts for months or longer may affect kids for years to come," says Biel, who is also chief of adolescent and child psychiatry at MedStar Georgetown University Hospital.
"It is absolutely terrifying from a public health standpoint to think about the numbers of kids experiencing sudden and prolonged separation," he says.
Biel, an expert in childhood development, trauma and resilience, co-leads the Early Childhood Innovation Network (new window) (ECIN) (with Lee Savio Beers, MD, of the Children's National Health System). ECIN has been identified by the Alliance for the Advancement of Infant Mental Health (new window) to connect families and children with providers in the D.C. area after they receive assessments.
Biel hopes that ECIN will be able to contribute to supporting impacted children and families.
Preventing Adverse Childhood Experiences
"I know that there are professional organizations all over the country who are pulling together responses and resource lists for every state, every city, so that experts in infant and early childhood developmental health can provide support," he says. "There is a big response being mounted but this is a very significant number of kids."
ECIN is an alliance of health and education providers, community organizations, researchers, and advocates promoting resilience in families and children from pregnancy through age 5 in D.C. It seeks to prevent the damage to long-term health and development that exposure to poverty, trauma, and adverse childhood experiences can wreak in early childhood.
The network, which is run by the Children's National Health System with MedStar Georgetown University Hospital and Georgetown University Medical Center, was launched in 2016 with a $6 million, five-year grant from the J. Willard and Alice S. Marriott Foundation.
Toxic Stress in D.C.
Biel says that a key mission of ECIN is to recognize the signs of "toxic stress" in children and families. Toxic stress describes chronic exposure to adversity in a child's life — everything from having a parent with a mental illness or addiction, living with domestic violence or neglect or in an unsafe neighborhood.
"These are common experiences that exist all over the country, certainly in DC and in every neighborhood in DC, not just among low-income families," Biel explains.
Acute stress seen in family separation can become toxic stress if prolonged, but the two conditions share one dramatic element of risk — separation from a parent or caregiver.
"All kids, and particularly young children under five, need to be in the presence of consistent, capable, and familiar caregivers. Being separated from caregivers is fundamentally traumatic for young kids. It makes young kids feel in danger, confused, disoriented, unsafe, with an imperiled sense of security. That security is a prerequisite, a fundamental requirement for kids' brains to develop optimally," he says.
Reversing Trauma
Being abruptly separated from parents at the U.S./Mexican border, after an arduous journey, defines the epitome of mental health risk, Biel adds. "It is hard to conceive of a more noxious experience for kids under the age of five."
Trauma can be reversed, he says, but it is not easy. "There are clinical strategies for helping families to reunite and re-establish security. But it is not automatic and it takes intensive psychological and social support to recover from intense experiences of loss of love and security."
Renee Twombly
GUMC Communications