Georgetown Lombardi Breast Cancer Expert to Lead ASCO
Posted in GUMC Stories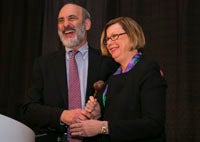 Sandra "Sandy" M. Swain, M.D., a member of Georgetown Lombardi Comprehensive Cancer Center and a professor of medicine at Georgetown University Medical Center, assumed the presidency of the American Society of Clinical Oncology (ASCO) June 4 during its annual meeting in Chicago. ASCO, which has 30,000 members, is the world's leading professional organization representing physicians who care for people with cancer.
"I am delighted to assume the role of president of such a prestigious society and represent the membership on many different issues such as health care policy, global health equity, workforce shortages in oncology, research, and education," Swain says. "My theme is 'Building Bridges to Conquer Cancer' since we represent all cancer specialties and patients in every setting. ASCO bridges the gaps in patient care and physicians training so that all patients receive high quality cancer care."
Swain is medical director of MedStar Washington Hospital Center's Washington Cancer Institute, and adjunct professor of medicine at the Uniformed Services University of the Health Sciences.
Along with Georgetown Lombardi Director Louis M. Weiner, M.D., Swain co-chairs a strategic planning committee charged with expanding Lombardi's cancer care services throughout the MedStar Health hospital system's southern region.
Swain's interest in health disparities research, in particular, resonates with Georgetown's commitment to service to others and the Jesuit principle of cura personalis, or "care of the whole person." She has been recognized by the National Institutes of Health and Susan G. Komen for the Cure® for her work in this area.
"Sandy is the ideal person to address the overarching issues we are all grappling with in our field, and I wish her all the best in this prominent leadership position," says Weiner, a 25-year member of ASCO. "Having worked closely with Sandy for some time now, I am confident that ASCO will benefit tremendously from her dedication and commitment to education, policy and clinical research."
An internationally renowned researcher and clinician focusing on inflammatory breast cancer, Swain says one of her priorities during her 2012-2013 term as president is to work with groups including the National Cancer Institute and the U.S. Food and Drug Administration to define new ways to measure drug success in clinical trials (endpoints) with the goal of maximizing patient benefit.
She says her diverse professional experience affords her a unique advantage in this new position.
"I've seen research and practice from many different viewpoints, and I've worked with many different constituencies," she explains.
Swain has led more than 20 clinical trials and published more than 200 articles in prestigious medical journals, including the New England Journal of Medicine, Journal of Clinical Oncology, Clinical Cancer Research, and the Journal of the National Cancer Institute. Her research focuses on adjuvant therapy for breast cancer and molecular targeted therapy for advanced and inflammatory breast cancer.
Swain says she was "ecstatic" when learning that she was elected to be president of ASCO. "I've been very committed to the organization for a long time, and it's great to have the opportunity to take a greater leadership role."
By Karen Mallet, GUMC Communications
(Published June 18, 2012)