Georgetown Launches New Course in Regulatory Science
Posted in GUMC Stories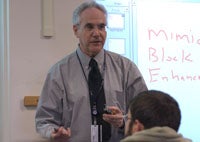 Georgetown University's Center of Excellence in Regulatory Science and Innovation, a joint effort between the university and the U.S. Food and Drug Administration (FDA), is offering its first graduate-level course at the School of Medicine titled Introduction to Regulatory Science.
The course launches a new master's degree in regulatory science, expected to be available beginning in fall 2013.
Sharing of Knowledge
Introduction to Regulatory Science (PHAR 620) will examine the myriad issues that arise in the field of regulatory science. Students will learn the fundamental principles of regulatory science, understand the distinctions between the science and regulatory affairs, as well as receive an overview of the innovative research tools of regulatory science.
Ken Dretchen, PhD, chair and professor of pharmacology and physiology, will direct the course. He says Introduction to Regulatory Science will broadly examine the emerging field.
"Regulatory science is such a dynamic field with a range of issues from bioethics, regulatory affairs, and law, to clinical research tools, bioinformatics, and personalized medicine," explains Dretchen. "Students with a wide range of interests and diverse backgrounds – anyone interested in the development of innovative and safe medical products, food, or tobacco products – will benefit from this course."
The FDA has defined regulatory science as the "science of developing new tools, standards, and approaches to assess the safety, efficacy, quality, and performance of all FDA-regulated products." The FDA has public health responsibility to ensure the safety and quality of medical products, food, tobacco products, veterinary products, and cosmetics.
Methods and Approach
More resources are invested now in medical product research than ever before, yet scientific breakthroughs prove increasingly elusive. This phenomenon has been termed the "valley of death," indicating the chasm between promising basic science research and the development of effective medical products. As such, Georgetown University works closely with the FDA to promote regulatory science efforts that aim to narrow or close the gap.
Because of this partnership, the Introduction to Regulatory Science course will be unique, says Ira Shoulson M.D., director of GUMC's Program for Regulatory Science and Medicine, and principal investigator of the Center.
"Introduction to Regulatory Science is a first-of-its-kind graduate course – expert lecturers from FDA, Georgetown, and other universities will lecture, guide discussion, and mentor students on key issues," says Shoulson. "The course will prepare students for a wide range of employment opportunities in academia, government, or industry."
Interdisciplinary
Advancing regulatory science will provide scientific methods, models, and technologies to enhance the development of safe, effective, and innovative medical products, and ensure safe food.
"Regulatory Science relies on an interdisciplinary community of scientists to collaborate in new ways and generate new knowledge," says Shoulson. "These issues have worldwide impact and international implications for safeguarding and improving health."
Students interested in learning more about the course can contact Erin Wilhelm, CERSI Project Director, eew6@georgetown.edu. Or go online to view course details, including a link to the online application
(Published August 27, 2012)