Georgetown Introduces Biotechnology to High School Students Through New Partnership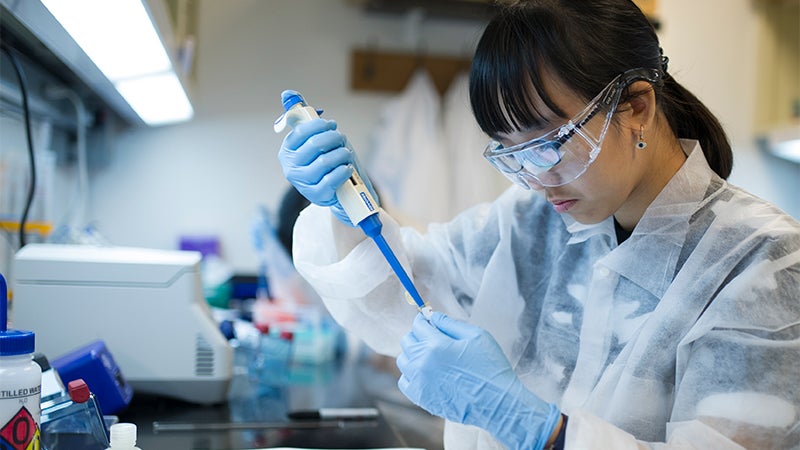 Posted in GUMC Stories | Tagged Biomedical Graduate Education, biomedical research, biotechnology, education, high school programs, School of Continuing Studies
(August 2, 2019) — In collaboration with Biomedical Graduate Education (BGE), Georgetown's School of Continuing Studies (SCS) recently launched the Experiences in Biotechnology Academy, a two-week summer program for high school students.
The inaugural cohort of 32 students began coursework on June 24 and concluded on July 6. Accepting both residential and commuter participants, the program has attracted students from across the country, including as far away as California, in addition to several international students.
Like the other over 20 high school programs SCS offers, the Experiences in Biotechnology Academy is designed to give students an immersive way to learn about a topic that reflects, or can help shape, their personal and career interests, drawing on subjects they have learned in school.
In doing so, the program demonstrates SCS's commitment to experiential learning, demystifying concepts like DNA electrophoresis directly in the lab setting through experiments and other hands-on activities.
The Experiences in Biotechnology Academy arrives at a critical time for the industry at large. In the coming years, innovation and demand in health care is expected to prompt a dramatic increase in new employment opportunities for professionals prepared to enter the field.
"Of course, the most important component in our students' learning is their instructors — our devoted faculty," said Esteban Olivares, assistant dean of high school programs at SCS.
"But we're also proud to have a devoted team of staff who help make programs like the Experiences in Biotechnology Academy possible, by ensuring students' needs are met while they're with us at Georgetown, including their transitions, both to our program and back to their respective high schools."
Achieving Broad Results Through Intercampus Collaboration
Alliances among academic units at Georgetown, like that of SCS and BGE, foster opportunities for experiential learning and immersion. Accordingly, after a successful pilot program, planning for the Experiences in Biotechnology Academy began in 2017.
The late Jack G. Chirikjian, PhD, founder of the MS in biotechnology program who served as its director at the time, brought together faculty and staff from his team, including Vasna Nontanovan, the program's associate director, along with colleagues from BGE, to present SCS with a proposal for a high school component.
Compelled by the proposal, Olivares and other leaders from SCS agreed to lend their support. This included a plan to help spread awareness about the program, an effort that involved creating a strong digital presence, like a website, in addition to physical promotional materials like brochures and flyers.
"We're thrilled that the Experiences in Biotechnology Academy could be fully realized after so much planning and synergy between SCS, our department and our department's administrative parent, BGE," Nontanovan said.
SCS also incorporated its best practices into other aspects of the launch, including the enrollment process and issuance of housing assignments for residential students. "In effect, the faculty and staff from the MS biotechnology program provide the subject-matter expertise, and SCS handles the technical components and logistics," explained Josh Fowler, SCS director of high school programs.
Learning by Doing: Making it Truly Immersive
Nearly every high school program at SCS has an experiential learning component. In the Experiences in Biotechnology Academy, for example, students learn about DNA extraction using strawberries. "One of the best features of our curriculum is that students spend nearly all of their time in the lab," said Robert Donahue, a research instructor with the MS in biotechnology program who was also involved in early planning efforts for the Experiences in Biotechnology Academy.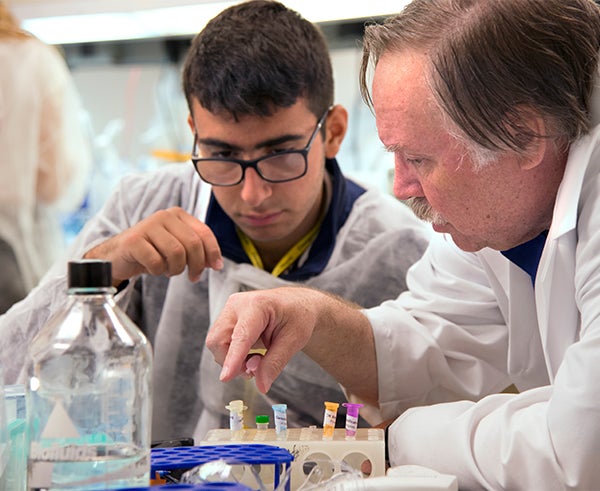 Such hands-on experiments make lessons explicit and straightforward. They're combined with field trips, group discussions and off-site visits, including one to the National Institutes of Health (NIH). "Being strategically located in the nation's capital is a huge draw for many parents," said Fowler.
"There's just a lot of resources here for students interested in law and politics, and of course, for health and science we've got the NIH nearby and numerous connections to it through our faculty."
As an extension of the immersive experience during the day, SCS provides residential coordinators for students living on campus. These coordinators help emulate the college experience by providing evening activities like game nights and movie screenings. They also offer opportunities for students to explore D.C. by organizing visits to museums and sporting events.
In addition, students have dedicated, supervised time to work on college applications and learn more about aspects of college life, like deciding on a college major and how to create and follow a budget.
"While students' sole focus is biotechnology, we also do our best to make a contribution to their core academic, career and social development," Olivares said.
Seren Snow
GUMC Communications