Georgetown University Medical Center Presents Top Honor to John Ruffin
Posted in GUMC Stories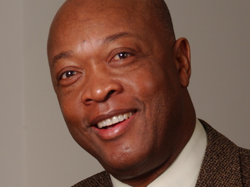 Georgetown University Medical Center will confer its highest honor, the Cura Personalis Award, on John Ruffin, Ph.D., director the National Institute on Minority Health and Health Disparities. The Cura Personalis medal and citation will be presented during the medical center's annual Convocation on Thursday, November 15, 2012 at 3:00 p.m.
The Cura Personalis Award is bestowed upon a health professional who has made outstanding contributions to human health guided by compassion and service. The Catholic, Jesuit concept of cura personalis, which translates as care of the whole person, suggests individualized attention to the needs of others, distinct respect for unique circumstances and concerns, and an appropriate appreciation for singular gifts and insights. This is the founding principle of Georgetown University Medical Center (GUMC), and has special significance for the scientific and educational missions of the university.
"Dr. Ruffin uniquely embodies qualities those of us at Georgetown hold dear — namely his dedication to improving the health of those often underserved," says Howard J. Federoff, M.D., Ph.D., executive vice president for health sciences at GUMC and executive dean of Georgetown's School of Medicine. "It is an honor to present him with the Cura Personalis Award and to have him take his place among past winners who represent some of the best human qualities."
A Visionary Leader
Ruffin is a renowned leader and visionary in the field of health disparities. He has devoted his professional life to improving the health status of minority populations in the United States and to developing and supporting educational programs for minority researchers and health care practitioners.
Ruffin's success has been due in large part to his ability to motivate others and gain the support of key individuals and organizations, as well as to his expertise in strategic planning, administration, and the development of numerous collaborative partnerships.
For more than 15 years, Ruffin has led the transformation of the National Institutes of Health (NIH) minority health and health disparities research agenda from a programmatic concept to an institutional reality.
A Transformative Commitment
Ruffin's selection for the Cura Personalis Award comes at a time when Georgetown University is engaging in a transformative commitment addressing disparities in health. In the spring, the university announced the Georgetown University Initiative to Reduce Health Disparities. Shortly after the initiative's launch, the medical center received a $6.1 million grant from the NIH to establish the "Center of Excellence for Health Disparities in Our Nation's Capital."
In October, Georgetown Lombardi Comprehensive Cancer Center announced the opening of the Office of Minority Health and Health Disparities Research in southeast Washington, D.C. The community-based office is a commitment to engaging underserved and ethnic minority populations in research focused on reducing cancer disparities. The office is located about a mile from Capital Breast Care Center (CBCC), a breast screening initiative of Georgetown Lombardi and an important component of its health disparities research program.
Convocation Activities
All Convocation activities take place on the GUMC campus. The day begins at 10:00 a.m. with a colloquium titled "Addressing Health Disparities: Local and Global." Ruffin joins other panel members including Phyllis Magrab, Ph.D., and Lucile Adams-Campbell, Ph.D., co-directors of the Georgetown University Initiative to Reduce Health Disparities; and Jane H. Aiken, J.D., professor of law at Georgetown University Law Center and director of the Community Justice Project. The colloquium will end at 11:30 a.m.
The Convocation Awards ceremony follows at 3:00 pm in the New Research Building Auditorium. In addition to the Cura Personalis Award, faculty and staff will be recognized with two awards: the GUMC Leadership in Research Award and the GUMC Research Recognition Award.
Convocation activities end with a reception from 4:00 to 5:30 p.m. in the podium-level foyer of the New Research Building.
For more information about Convocation and the day's activities, please visit: https://gumc.georgetown.edu/events/convocation.
By Karen Mallet, GUMC Communications
(Published Nov. 4, 2012)