Georgetown Expert: Smithsonian's "Outbreak" Exhibit Should Inspire Hope, Not Fear
Posted in GUMC Stories | Tagged biomedical research, global health
(September 21, 2018) — A silent killer — invisible to the human eye — is drawing thousands of onlookers in our nation's capital. And it's beginning to spread.
Fear not — this is nothing more than an epidemic of curiosity, spurred by an exhibit the Smithsonian's National Museum of Natural History that is the brainchild of a Georgetown infectious disease expert.
Open since May, "Outbreak: Epidemics in a Connected World," features a dynamic tapestry of disease case studies, personal stories from epidemic-fighters around the world and interactive games challenging visitors to help identify or contain an outbreak.
Realizing a Dream
"Outbreak" is a longtime dream realized for Daniel Lucey, MD, MPH, adjunct professor of medicine at Georgetown University School of Medicine and senior scholar with Georgetown's O'Neill Institute for National and Global Health Law. Lucey is also a research associate in anthropology at the National Museum of Natural History.
Lucey, who has worked on the frontlines of emerging viral pandemics and epidemics such as AIDS, SARS, avian influenza, Nipah virus, Ebola, Zika and MERS, among others, saw a unique opportunity to educate the public on an often stigmatized topic.
"My hope with this exhibit was to take the first couple of steps up the mountain of decreasing fear and stigma that come with every epidemic. We need to reach out to different audiences — young people in particular — to help them understand what causes epidemics and what they can do as individuals to help fight them," Lucey explained.
Journey to opening day
The odyssey to May 18, when "Outbreak" opened, started roughly four years ago with an idea to create an exhibit focused on zoonoses, diseases transmitted to humans by domestic animals and wildlife. Lucey dreamed of a space where the public could learn how human health is wholly interdependent on the health of animals and the planet — a concept often referred to as "One Health" — and take some of the mystery and fear out of viral disease.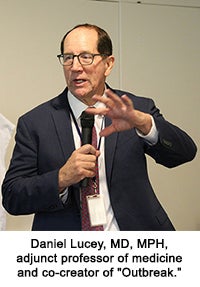 In August 2014, in the midst of preparing to leave on the first of several trips to West Africa to care for Ebola patients, Lucey approached the Smithsonian with the idea. Thus the long road to raise funds for the exhibit, and subsequently to launch the painstaking process of developing the content, was born.
Lucey collaborated with Sabrina Sholts, PhD, the exhibit's curator, and Jonathan Epstein, PhD, DVM, MPH, a veterinarian and epidemiologist, along with a team of exhibit and education specialists with the museum, to produce an exhibit that was informative yet accessible.
The balance they sought, he said, is to educate the public about "scary" diseases without scaring them away.
On the Up Side
Visitors enter into a 90-second multiscreen video display introducing them to the concept of "One Health." Divided into nine segments, the exhibit takes visitors through several major global zoonotic diseases — including the medical, cultural and economic ramifications — and concludes with solutions to epidemics and what outbreaks might come next.
Roughly two-thirds of the content is devoted to how the global community is fighting back and working together to stay ahead of what is coming next.
Throughout the exhibit, prominent yellow signs that read "On the Up Side" signal positive aspects of what the global health community has done to combat epidemics, such as discovering potential Ebola vaccines, and what the general public can do to prepare.
Lucey notes the 42 personal testimonials and images on display of people working in various capacities to combat epidemics worldwide. In 100 words or less, these blurbs and photos tell a rich and varied story of courage and tenacity, mixed with urgency and some sadness.
"About 30 of these are people I have worked with personally. It means a lot to me to have friends and colleagues featured in this exhibit, to have their practical wisdom distilled into 100 words — and I think it's powerful to have a human face on the issue," he said.
Front-row seat
On September 14, Georgetown's multidisciplinary Global Health Initiative organized a lunch and museum tour hosted by Lucey.
Maya Craig-Lauer (G'19), who just started the yearlong master's degree program in biohazardous threat agents and emerging infectious diseases at Georgetown, was one of about 20 undergraduate and graduate students from across the university that gained a rare behind-the-scenes glimpse.
"It's amazing — everything I am looking at today is what I have been reading about for the past few weeks," said Craig-Lauer, who is considering a career in emergency management. "It's really nice to be studying in a hub like Washington, where everyone you meet could be connected to this topic in some way."
Sara Rotenberg (NHS'20), a global health major, is starting a student fellowship this fall through the Global Health Initiative. This summer, she was the first Georgetown student to intern with the Coalition for Epidemic Preparedness Innovations (CEPI), which along with Georgetown announced in March a new agreement to explore joint academic and research initiatives.
The recent museum tour was her second visit to "Outbreak."
"It's an incredible opportunity to come back and see the exhibit with Dr. Lucey, who has been so influential in creating the exhibit and in global health," Rotenberg said. "Being able to hear about his experiences in the field, as a student, is exhilarating, as it really brings the material we learn about in the classroom to life."
Global spread
The museum has launched a parallel initiative called "Outbreak DIY" (short for "do it yourself"), a condensed version of the exhibit that can be downloaded, printed and installed anywhere. Organizers say the downloadable version has already been accessed more than 40 times in the United States and around the world, including Thailand, Finland, Benin, Papua New Guinea, and India. There is also a local DIY version that is making its way around the District.
Lauren Wolkoff
GUMC Communications