George Schreiner: Nephrology Pioneer
Posted in GUMC Stories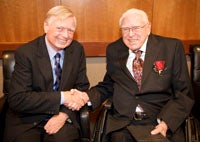 The dignified buildings, the bustling laboratories and the high-traffic classrooms of Georgetown University Medical Center are not among the first pictures that come to mind at the mention of a "second family." That is, of course, unless one emerges from a certain sort of biological family with a strong physician leader, a large number of children, some of whom also grow up to be doctors, and an abiding commitment to a lifetime of learning and service to others.
Meet the multi-generational family of Dr. George E. Schreiner, legendary physician, medical lobbyist and founder of Georgetown's nephrology department. He recently was honored for countless contributions to the university, the practices of medicine and mentoring and the arts of family and friendship.
A reception intended for the many residents and fellows that Schreiner taught, mentored and molded from the 1950's spontaneously grew into a mini-reunion of physicians of the post-Korean War era from here and abroad and their families. Three of Schreiner's children addressed guests gathered in the Warwick Evans Room.
"Dad always had two families: us and his Georgetown family," said George F. Schreiner, touching on a theme of GUMC as second family and second home echoed by others. The younger Schreiner is a nephrologist in California.  
A group of six white-coated medical students who are beneficiaries of Schreiner scholarships enlivened the evening with their energy, enthusiasm and appreciation of their tribal leader. Like him, they had graduated from Canisius College, a Jesuit institution in Buffalo, New York. They presented their benefactor a plaque and took turns at the mike thanking him with personal stories about their own calling to medical school.
John Nayda, a third-year medical student considering surgery, grew up in Buffalo, attended both Canisius High School and Canisius College and was a leader of the debate team – just like Schreiner. "Thank you, Dr. Schreiner, thank you again for sharing such a tight lineage," the young, aspiring doctor said to the elder physician whose generosity was making his career dreams reality.
Schreiner, a handsome man with a profusion of pure white hair, smiled broadly and warmly greeted his past residents and fellows, colleagues and friends. Each of them received a copy of his autobiography, "A Life of Learning: The Dr. George E. Schreiner Story," written with Michael DeMarco.
The "roaring 50's" saw the establishment of nephrology as an independent specialty, creation of GU Hospital's own ground-breaking department, and Schreiner as a pioneer in its development and growth, Dr. Howard Federoff, executive dean for health sciences, told the guests.
After returning from Korea, Schreiner (M'46), then an Army Captain in the Medical Corps, left his position at Walter Reed and joined Georgetown to set up the nephrology department, which had the second-ever artificial kidney in the nation. Schreiner, Medical School Dean Ray Mitchell noted, was inspired in part by the alarming statistic that the leading cause of death among US troops in World War II was trench nephritis, an inflammation of the kidneys. "Good science and good scholarship — it's a legacy for America, not just Georgetown," Mitchell said of Schreiner's lengthy career.
Federoff, noting that Schreiner was a multi-tasker long before the concept was in vogue, went on to list a series of accomplishments that sounded more like those of several doctors than just one.  Among them:
Schreiner broke new ground in treating patients with alcohol and chemical poisoning by putting them through life-saving dialysis.
He was the first doctor ever to dialyze a baby less than one-year-old. In the 1960's Schreiner launched the Georgetown Fellowship Program that has trained more than 380 nephrologists.
He pioneered new techniques in the biopsy of kidneys and for 23 years performed all of the kidney biopsies performed at the National Institutes of Health (NIH).
Schreiner administered dialysis to Samson, a kidney-disease-ridden tiger at the National Zoo.
Schreiner proved a powerful medical lobbyist. Working with NIH, he helped develop the National Donor Card so crucial to organ donation and worked to get the Uniform Anatomical Gift Act passed. In the early 1970's, Schreiner worked tirelessly to convince Congress to amend the National Health Insurance Act to provide federal payment for dialysis and organ transplants, throwing open these life-saving procedures to people regardless of their ability to pay.  
In 1981, Schreiner and his wife, Joanne, created the George E. Schreiner Chair of Nephrology, now held by the medical center's Dr. Christopher S. Wilcox. "Many of you may remember I published my first paper with George," Wilcox said with obvious affection. "Georgetown became a double home for me; initially putting me on this path…and then cemented my career here." Wilcox also is director of Georgetown's Center for Hypertension, Kidney and Vascular Health and chief of Nephrology and Hypertension.
By Victoria Churchville, GUMC Science Writer
(Published )