Genetic Testing of Women Diagnosed with Breast Cancer Could Be 'Impactful'
Posted in GUMC Stories | Tagged breast cancer, cancer
(March 3, 2019) — All women diagnosed with breast cancer should be offered genetic testing for hereditary cancer risk, according to new guidelines published on February 14, 2019, by the American Society of Breast Surgeons.
These new guidelines are broader than the widely used current practice guidelines by the National Comprehensive Cancer Network, which recommend genetic testing only for women diagnosed with breast cancer at specific ages and/or those with a strong family history.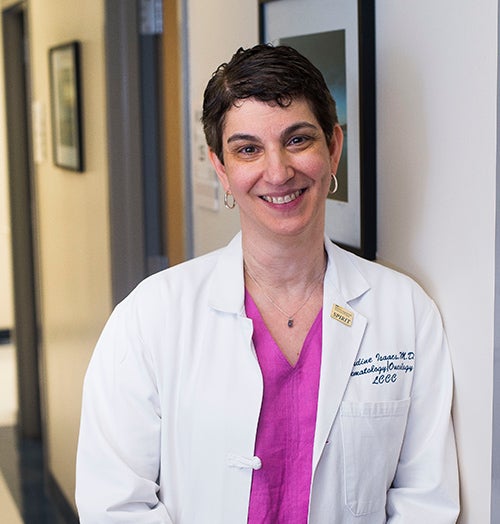 "Testing women with breast cancer for variants in several genes linked with hereditary cancer risk could be impactful," says breast cancer specialist Claudine Isaacs, MD, a professor of medicine at Georgetown Lombardi Comprehensive Cancer Center. "The science has rapidly advanced. Relying only on a woman's age at diagnosis or her family history of cancer to determine the need for genetic testing misses many women who have a hereditary risk for cancer."
She says genetic testing results could immediately affect a woman's treatment for breast cancer and might also identify future cancer risks.
"Genetic testing could inform not only treatment decisions, such as breast surgery options, but could help guide future preventive strategies for women, as some of the gene variants can increase the risk for other cancers in addition to breast cancer," Isaacs says. "For example, genetic testing may reveal that a woman has a high risk of ovarian cancer, which could not have been determined based on her family history. In such instances, removing the ovaries as a preventive step can be lifesaving."
However, Beth N. Peshkin, MS, Director of Cancer Genetic Counseling at Georgetown Lombardi cautions that proper genetic counseling is a critical piece of genetic testing so that women and their providers have a clear sense of how to act on the findings, as it is unknown if or how some of the identified gene variants affect the chance of developing cancer.
"With more patients becoming candidates for genetic counseling, we are looking at ways to broaden and streamline access to genetic counseling, while still providing state-of-the-art information and care," she says.
The American Society of Breast Surgeons said its guidelines follow a recent study published in the Journal of Clinical Oncology that found a similar rate of harmful genetic variants in breast cancer patients who did not qualify for testing under widely used recommendations (from the National Comprehensive Cancer Network) as those who did.
In its statement, the society said, "a large number of patients with pathogenic variants remain undetected and some patients and their family members may develop cancers that could have been prevented with testing under the new broader guidelines."
Isaacs agrees. "One of the main reasons women with breast cancer choose to be tested is for the benefit of relatives, such as children and siblings. Genetic counseling helps women understand these implications."
Peshkin says it is unclear whether insurance companies will cover genetic testing for this broader group of breast cancer patients. However, the cost of genetic testing has dropped significantly in the last few years. She added that some labs offer testing for dozens of cancer-risk genes for $250 or less, making it affordable for many patients.
Isaacs serves as medical director of the MedStar Georgetown Cancer Institute's cancer genetics program. She and Peshkin are the medical and education director, respectively, with the Jess and Mildred Fisher Center for Hereditary Cancer and Clinical Genomics Research at Georgetown Lombardi. The center's faculty conduct research and education in hereditary cancer and clinical cancer genomics to leverage advancements in genomic medicine.
For more information about genetic counseling and testing or to make an appointment, please call MedStar Georgetown Cancer Institute's genetic counseling program at (202) 444-0023.