Gale's Legacy Honored Through Presidential Fellows Medal
Posted in GUMC Stories
OCTOBER 16, 2014—A longtime member of the Georgetown University Medical Center (new window) community was honored for her significant contributions to the field of epilepsy research and interdisciplinary scholarship at the University's Fall Faculty Convocation this week.
Karen Gale, PhD, a GUMC professor of pharmacology and physiology who passed away in August, was one of three Georgetown professors awarded the prestigious Presidential Fellows medal by Georgetown President John J. DeGioia, PhD (new window), and Provost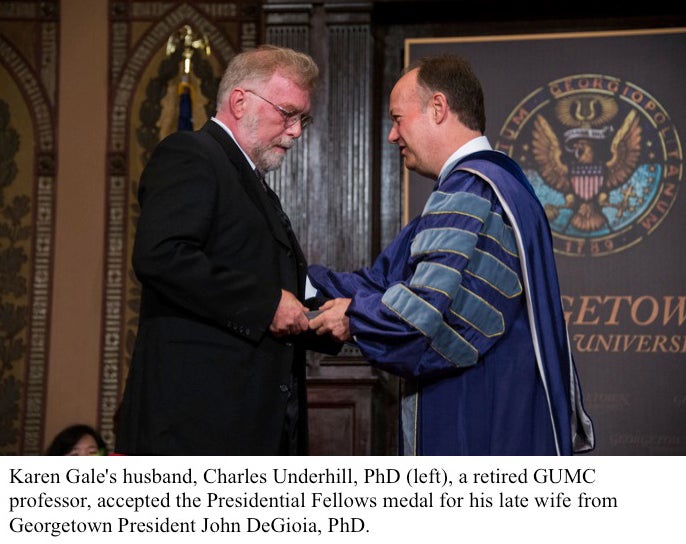 Robert Groves, PhD (new window), at the Oct. 14 ceremony.  The convocation also celebrated the promotions of 22 faculty members, including nine within GUMC.
Calling her "one of the most beloved members of our community," DeGioia said Gale was informed that she had been selected for the award before she passed away.
"We had the extraordinary privilege of Dr. Gale's leadership and service at our University for more than four decades, and there is no one more deserving of an award that celebrates scholarship and teaching than Karen," DeGioia said.
Gale's husband, Charles Underhill, PhD, a retired tenured professor of cell biology at Georgetown who holds an adjunct professor position in the Department of Biochemistry and Molecular & Cellular Biology, accepted the medal for his late wife following a video (new window) about her contributions to Georgetown.
A New Tradition
This is the second year that Georgetown has awarded the Presidential Fellows medals, designed to recognize faculty who excel in both research accomplishments and teaching effectiveness. The other Fellows honored this year were James Collins, PhD, professor of history and Philip Schrag, LLB, Delaney Professor of Public Interest Law of Georgetown University Law Center.
Last year, Richard Schlegel, MD, PhD, chair of the department of pathology and professor of oncology at Georgetown Lombardi Comprehensive Cancer Center, was one of just two faculty members from across the University selected for this award (new window).
Enduring Legacy
Gale joined the Georgetown faculty in 1977. She earned tenure in 1984 and became full professor in 1988.
The NIH funded her projects for more than 20 years and awarded her more than $10 million to conduct her seminal research, according to DeGioia. She had served as a chartered member of a National Institutes of Health (NIH) study section and a regular reviewer for the NIH director's New Innovator Awards.
Gale was also a founding member and immediate past co-president of Georgetown Women in Medicine (new window).
In 1994, Gale founded Georgetown's Interdisciplinary Program in Neuroscience (new window) and served as its first director. Now ranked the nation's 14th highest doctoral program in neuroscience by the National Research Council, the program is one of only 28 neuroscience graduate training programs to receive NIH funding and boasts more than 50 faculty members from 11 departments campus-wide.
Lauding the breadth of her scholarship in the field of epilepsy, DeGioia also noted that "Karen cared deeply for each of her students."
"She was known for her commitment to mentoring junior faculty members, showing them as much attention and care as predoctoral and postdoctoral trainees," he said.
By Lauren Wolkoff
GUMC Communications