For Service of Others
Posted in GUMC Stories
May 22, 2016–After the best and brightest of the Class of 2016 were recognized for their exemplary work on Friday, they were quickly reminded that they would need to remain selfless to succeed in medicine.
The Warwick Evans Award Ceremony honors excellence in basic sciences and clinical departments, as well as exceptional achievement in academic performance, service and leadership within the graduating class at the School of Medicine.
Not For Yourself
Guest speaker Michael M. Karch, (SOM'95) chair of orthopaedic surgery at Mammoth Hospital in California, held the audience of students and families in rapt attention as he urged the soon-to-be-doctors to develop a "north star" to guide their careers.
"I read the Hippocratic Oath every January," he said. "If I could sum up the Hippocratic Oath on an index card I would say Non sibi sed omnibus: not for yourself but for the service of others."
Karch described the scenario of a modern physician distracted by technology and frustrated with regulations who is called into the emergency room on Superbowl Sunday for a broken leg. He gets in and out as fast as he can, asking himself "what kind of fool breaks his leg on Superbowl Sunday?"
He urged students to return to non sibi, meaning not for oneself, in difficult situations.
"When it is past midnight and the baby will not come out: non sibi. When you're in the operating room and you just want to give up, non sibi.  In 48 hours you're going to walk across that stage into a place of higher responsibility and power. From that point forward you have given up your right to be an angry doctor on Superbowl Sunday."
True Physicians
After thanking deans, faculty and families for supporting the Class of 2016 though medical school,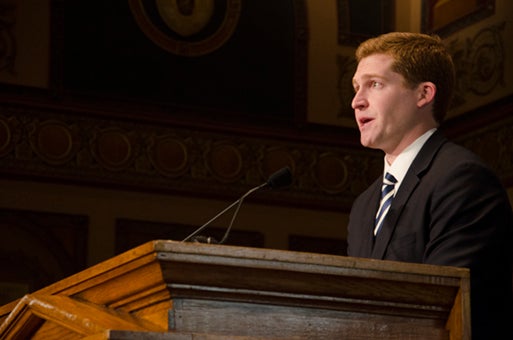 student speaker and class president Mark Connor (SOM'16) echoed Karch's call for selflessness.
"We have entered into a profession solely dedicated to others and I know that as graduates from Georgetown, none of us will lose sight of our calling to heal and be men and women from others," he said.
Connor also highlighted the unique education his classmates received at Georgetown.
"When we walk across the stage on Sunday, we will be proud not only because we'll forever be known as doctors, but because we're Georgetown doctors; true physicians. Physicians who embody cura personalis."
To see the full list of student awardees click here (new window). 
Leigh Ann Renzulli
GUMC Communications