Fitness Instructor and Former Felon Shares His Story With Medical Students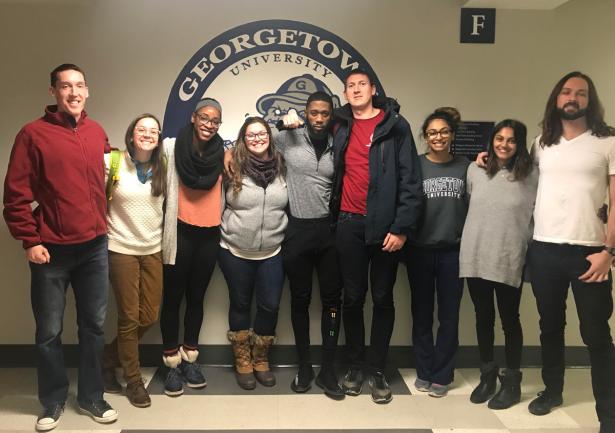 Posted in GUMC Stories | Tagged advocacy, community outreach, Inmate Wellness Interest Group, population health
January 30, 2018 — While serving a five-year sentence, Dontrell "Trell" Britton started exercising regularly to cope with the stress of prison life. Since his release in December 2015, Britton has been pursuing a career as a personal trainer and helping former felons who share his interest in fitness with their reentry into society.
At a lunchtime talk hosted by the School of Medicine's Inmate Wellness Interest Group (IWIG) on January 17, Britton spoke about his journey and some of the challenges former felons face. Aisha Lott (M'20), IWIG co-organizer, invited Britton to speak. "We invited Dontrell to come speak with our group because we currently give monthly health talks to incarcerated individuals, but there is only so much we can do within the walls of the prison," she said. "Part of our mission with IWIG is to build relationships not only with inmates, but also returned citizens to help reduce some of the frustrations associated with re-entry."
"I came across Trell on social media, saw the work he was doing to reduce recidivism and had to learn more about him," Lott added. "We hope hearing Trell's story helps all of us understand the unique difficulties of people returning and remind us to remain perceptive to people's stories as we enter our clinical years."
Robert Hagerty (M'20), an IWIG member, was drawn to the talk by his interest in prisoners' rights. "The chance to hear someone speak who had experience navigating the prison system and the subsequent difficulties after release, seemed like a great opportunity," he said.
Growing up, Britton described himself as a bad kid. "I was so bad, I got kicked out of elementary school," he said. Years of hanging out with the wrong crowd and getting into trouble caught up with him when he was arrested and charged with a felony weeks before his graduation from Woodrow Wilson High School in Washington, D.C.
"I had police march down my door with guns pointed at my whole family," Britton said. "I had a judge telling me that I was going to jail for 20 years." After accepting a plea deal, Britton found himself serving a five-year sentence in federal prison.
Prison Life
At the talk, Hagerty asked Britton about nutrition in prison. Pancakes, waffles, eggs and fruit were typical breakfast from the prison cafeteria while lunch almost always included beans and rice. When possible, Britton would buy the most nutritious foods available at the commissary like peanuts and mackerel. "I never heard of mackerel until I went to prison but it's a good source of protein and not a lot of fat," he said.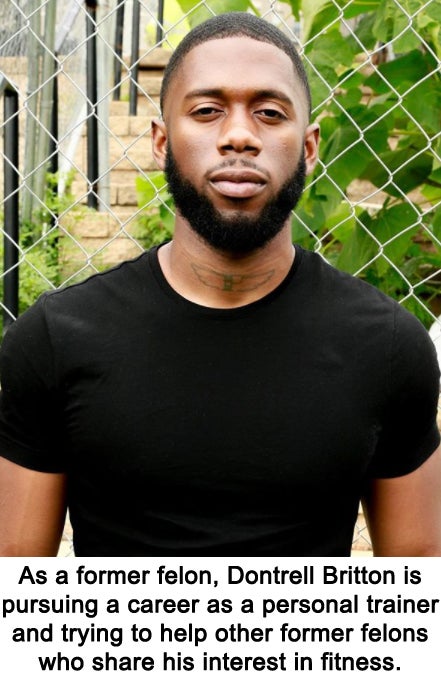 Students also asked Britton about the medical care he received. He couldn't recall seeing a doctor while he in prison, though he saw a dentist when he needed to have a tooth pulled. Prisoners could see nurses but usually they would only prescribe Tylenol. "As a medical student, I think about the lack of access to doctors in jail and the limited medicines they have access to," Hagerty said. "It seemed like a prime situation for infectious disease outbreaks as indeed it has proven to be on a larger scale."
Working out became an escape for Britton, who focused on exercises he could do in his cell using his body weight like crunches and pushups. "It just helped me stay grounded," he said. "Believe it or not, I exercised like three times a day and it just happened for me. My body just started transforming. I didn't even notice it."
Other inmates saw that Britton was getting in shape and asked if they could work out with him. Before he knew it, Britton was leading twenty inmates in through his workout routine. When he was released on good behavior, Britton was determined to turn his life around.
"I've already been through the worst"
Participating in a nine-month intensive drug treatment program helped Britton plan for life after incarceration. After his release, Britton briefly stayed in a halfway house, then moved in with his mother. Required to wear an ankle monitor and abide by a curfew, he started training people in the laundry room of her apartment building. Months later, Britton moved in with a friend and trained clients in the gym in the building's basement. Several months later, he had 25 clients.
Today, Britton trains clients and leads classes at a hotel gym. He also launched a fitness company called TWENTY3N1 which hires ex-felons to teach prison-style boot camp classes for all fitness levels. In the future, Britton hopes to help more former felons re-enter society after their release. "I don't know any other business hiring ex-felons," he said. "My message is all about reform because I know how hard it was for me and if I can help the next person through fitness, something positive, that works for me."
"At this point, I feel like I can't lose," he added. "I've already been through the worst."
Former felons are excluded from society in a variety of ways and often face challenges related to employment, housing, voting and more, said Abi Norwoord (M'20), an IWIG member. "Hearing Dontrell's stories gave real meaning to those obstacles," she said. "What I will remember most is how he has blown through many of those barriers and is now having a direct impact on people's health through exercise."
Kat Zambon
GUMC Communications