First-Year Medical Students Confront Health Disparities Through Interactive Course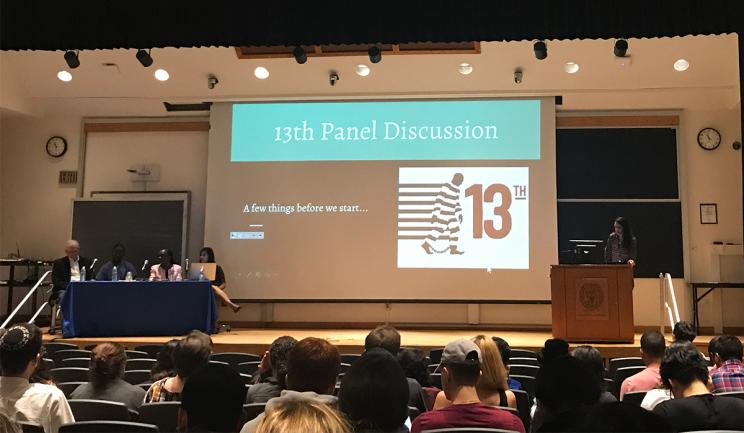 Posted in GUMC Stories | Tagged health disparities, population health, School of Medicine
(October 20, 2018) — A hunger simulation facilitated by the Capital Area Food Bank on October 9 gave first-year students at Georgetown University School of Medicine (GUSOM) an opportunity to experience the varied circumstances surrounding food insecurity in Washington, D.C., in an interactive and intimate way.
The simulation was part of the Health Disparities and Health Equity intersession, one of two weeklong intercessions that make up the Patients, Population and Policy course.
Sarah Kureshi, MD, MPH, assistant professor of family medicine at GUSOM, co-leads the course with Kenny Lin, MD, MPH, professor of family medicine, and decided to make this first weeklong intersession interactive to create a "deeper, richer learning experience for students."
Students Face Hunger Insecurity Head On
In the hands-on simulation, each student was assigned a budget, a family to feed, and instructions to buy enough food for the day. It also included "stations" such as a benefits office for the Supplemental Nutrition Assistance Program (SNAP), a bank, a station for emergency money and a corner store.
Following the simulation, several students commented that they waited in line for most of the simulation without being able to secure any food at all. That experience wasn't far from the reality for individuals facing food insecurity, the facilitator said.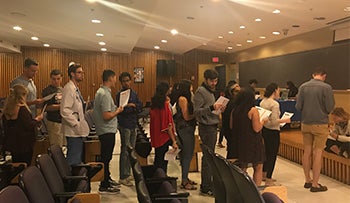 "We only had about $5 per day to buy food, and that was for the two of us and two kids," said Michelle Brosnan (M'22). "It ended up being pretty chaotic because I was in one line for the bank and my 'husband' was trying to get SNAP benefits."
"It definitely makes you more aware of what people are going through — it's not black and white," Brosnan added. "Sometimes people need to choose between food and a prescription they may need. I think this experience can help us feel more empathetic as physicians."
According to Kureshi, cultivating empathy was one of the goals of the intersession.
"We hope the students can use these experiences to better empathize with various patient populations, especially vulnerable populations," she said. "So, when they have a patient who is homeless or food insecure, they can be creative with how they approach solutions."
Gaining New Perspectives
In addition to the hunger simulation, the intersession included a visit to a pair of exhibits at the National Building Museum: "Evicted," a collection of images and audio interviews that explore the causes and impacts of eviction, and "Community Policing in the Nation's Capital," which looks at urban policing and community participation in Washington, D.C. Students also attended a screening of the documentary "13th," which examines the prisons system and racial inequality in the U.S.
Panel discussions and small group sessions on race, identity and other social, structural and political determinants of health also made up a large part of the intersession. The "Vulnerable Populations" panel featured patients from LGBTQ, refugee and disability populations as well as individuals who have experienced homelessness.
"I had the opportunity to speak with the panelists afterward, which made an impact on me," said Brandon Klein (M'22). "They each emphasized that while it's typical for others to see their disability, gender or social status first, it can sometimes be the only thing they see."
"Their point was to be aware of what your patient may be experiencing, but remember to see the whole person — the human being — first," he said.
Jerome Murray (M'22) was also struck by the varied perspectives on the panel. "We often look at marginalization through a singular lens, but it was interesting to see them overlap and [come to understand] how it can disproportionately affect certain communities."
"It was powerful to hear from [these individuals] directly," he added. "I can't think of a time when I've had an extended conversation with someone who's been homeless."
Creating Empathetic and Knowledgeable Physicians
How can this experience make medical students better physicians in the future?
Dr. Kureshi hopes it will help expand empathy, awareness and an understanding that health is affected by a complex web of external factors.
"We can talk to our patients about changing behaviors, but there are all these structures in place that make it hard for them," she said.
"That's what we want our students to learn. The work we do in the clinic and in the hospital is so important, but it's just a small piece of the puzzle. I'm honestly hoping that this inspires our students to be advocates and to advocate for these issues on behalf of their patients."
This goal appears to be aligned with the student experience.
"[The intersession] helped us understand that lack of access or lack of representation can impact health outcomes just as much, if not dramatically more, than the things we see and treat," said Klein.
"We need to take into consideration someone's whole story and take action, advocate, when we see disparities," he added. "This can also be a fundamental part of the equation when trying to heal someone."
Giuliana Cortese
GUMC Communications