First Cohort of Online Nursing Students Graduates
Posted in GUMC Stories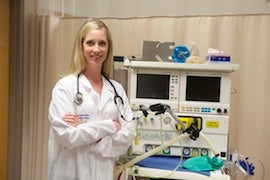 Katherine Skiff (NHS'08, G'12) says her long-term plan is to use her master's degree in nursing to provide health care globally with a focus on refugees.
Along with five classmates, Skiff graduated at the end of September from the online nursing program at the School of Nursing & Health Studies – the first cohort to do so since the program began in March 2011.
"I am so proud of the first group and hold my head up high when talking about this program," said Skiff, who also completed the school's on-campus accelerated second degree BSN program. "The ladies in my cohort are amazing and challenged me every class meeting."
Commitment to Excellence
Kathryn K. Ellis, DNP, APRN, FNP-BC, ANP-BC, directs the Family Nurse Practitioner program, which was the first of Georgetown's graduate nursing specialties to launch in the online modality.
She says teaching the first cohort of full-time students has affirmed for her the potential of online education.
"It is a professional highlight for me to have taught the first cohort of online FNP students," Ellis said. "Their commitment to excellence in education and practice is commendable. Their academic performance is impressive and confirmed in my mind that the distance education model we have adapted is working."
Across the Nation
Currently, there are nearly 600 students in the online program from 43 states, the District of Columbia, and the U.S. Virgin Islands.
Since the launch, other specialties have been added in the online format, including Adult Gerontology Acute Care Nurse Practitioner/Adult Gerontology Clinical Nurse Specialist, Nurse Educator, and Nurse-Midwifery/Women's Health Nurse Practitioner.
"The online program has allowed us to expand the reach of our campus-based graduate programs to educate more advanced nursing leaders with the goal of positively impacting the health of communities around the country," said Jeanne Matthews, PhD, RN, chair of the Department of Nursing at NHS. "Our first online graduates have set the bar high, and we congratulate each of them on this milestone."
Dynamic, Personalized Learning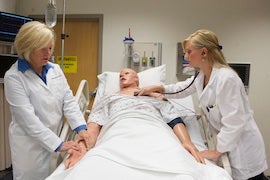 Matthews noted that the program – which is Georgetown's first online degree program – has the same admissions standards, emphasis on quality, and values-based curriculum as the on-campus program.
Faculty members have worked hard, she said, to create a dynamic learning experience through face-to-face class sessions over the computer with an approximate 10-to-1 student-to-faculty ratio and highly produced academic content.
Students visit Georgetown's campus during the program for educational activities and learning assessment – called on-campus intensive weekends, and they complete their clinical education at sites in or near their own communities.
Graduates said the experience has been a positive one.
"The on-campus intensive was one of my greatest experiences," said Leslie Clark (G'12), who plans to go in to family practice. "It was obvious that Georgetown was working hard to provide the best learning experience. While on campus, I had the opportunity to meet the people behind the scenes. Everyone was interested in our experience and eager to make this the best program."
Skiff, whose immediate plans include working in primary care, agreed she enjoyed being a part of that fine-tuning process and the quality of the online experience.
"I initially thought this would be like other online classes that I have taken, but was pleasantly surprised when this turned out to not be the case," she said.
By Bill Cessato, NHS Communications
(Published Sept. 26, 2012)