Film Screening Celebrates Patient Safety Pioneer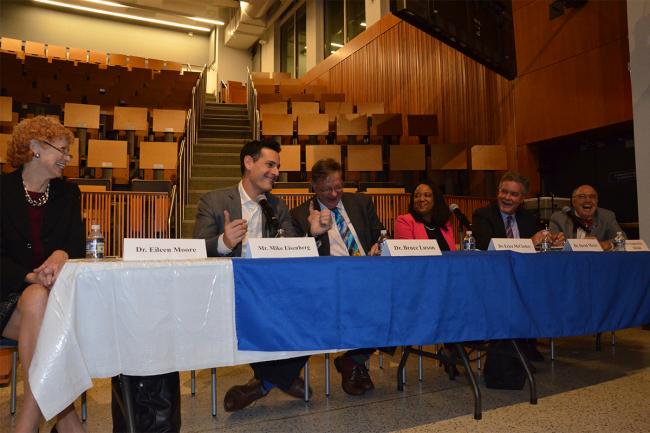 Posted in GUMC Stories | Tagged patient safety, population health, School of Medicine
(November 2, 2018) — The late John M. Eisenberg, MD, MBA, former chair of the department of medicine at Georgetown University School of Medicine (GUSOM) and physician-in-chief at MedStar Georgetown University Hospital (MGUH), had an outsized impact on the fields of health care and patient safety. Inspired by his father's work, a documentary by Mike Eisenberg addresses issues related to patient safety and ways to prevent medical errors.
Following an October 23 screening of his film, "To Err is Human," which is named after a groundbreaking 1999 report by the Institute of Medicine (now National Academy of Medicine), Eisenberg participated in a panel discussion with medical educators and health care professionals in the W. Proctor Harvey Clinical Teaching Amphitheater.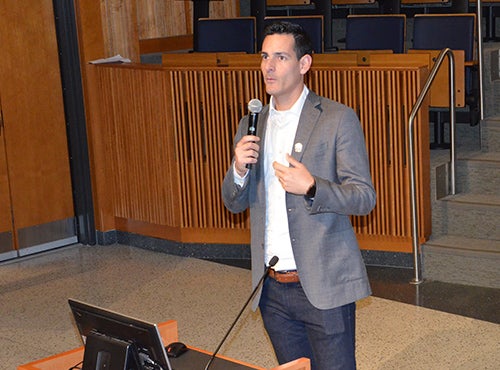 "We didn't just want to make another documentary that was negative, that looks at a problem and only focuses on the problem, but a film that contributes to the solution by lifting up the people who are working so hard to improve this area of health care — people so many don't even know about," Eisenberg said.
"John would be so pleased to be here," said Stephen Ray Mitchell, MD, MBA, dean for medical education at GUSOM who served as residency director for Eisenberg during his time as chair of the department of medicine. "He would get so excited about this and be so enthusiastic and he was so infectious to all of us."
"I congratulate Michael on this work," added Mitchell.
A Leading Cause of Preventable Death
According to the documentary, there are over 440,000 deaths every year caused by medical mistakes, which makes it the third leading cause of death in the United States. Drawing on experts from policy organizations, universities and federal agencies, the documentary blended patient safety data and anecdotes.
"In sharing the film at a number of hospitals and universities, we're hearing what people are doing across the country in patient safety and that's been incredibly inspiring because you realize it's not just an anomaly when an institution gets it right — there are a lot of institutions doing well," Eisenberg said.
Highlighting Patient Safety Initiatives
Among the experts featured in the film was David Mayer, MD, vice president of quality and safety for MedStar Health, who also participated in the panel discussion. Mayer explained three patient safety initiatives in place at MedStar Health, including training 28,000 people within the organization — everyone from parking attendants to surgeons and top executives — on high-reliability science.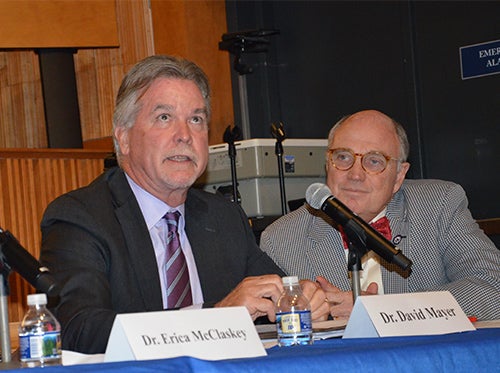 Both Georgetown University Medical Center (GUMC) and its clinical partner, MedStar Health, work together to ensure today's patient safety best practices and principles are instilled early and often from medical school through residency training.
For example, third- and fourth-year medical students participate in patient safety simulations in GUSOM's Integrated Learning Center alongside physicians and nurses from MGUH, Mitchell explained, and can involve mannequins, task trainers and actors.
Residents who work under the direction of Bruce A. Luxon, MD, PhD, chair of the department of medicine at GUMC and chief of service for the department of medicine at MGUH, use a reporting system where they can submit notes about "near-misses" or more serious issues. Luxon believes this system has been key to making patient safety not just a practice but a norm.
"If you don't know about it, you can't possibly stand a chance of fixing it," he said.
Agreeing with Luxon, Erica L. McClaskey, MD, associate professor in the department of family medicine at GUMC and the director of the family medicine clerkship, discussed the "patient safety rounds" she has conducted with family medicine residents at Providence Hospital. The initiative was funded by a grant which was part of Ascension Health's collaborative work with the Centers for Medicare & Medicaid Services aimed at improving the quality and safety of patient care. The rounds involved identifying patients who are at the highest risk of a safety incident such as catheter infections, and proactively identifying solutions.
"One of the most important things we learned is that proactively identifying patients who are at high risk for safety concerns is one of the best methods to prevent incidents. This led to residents being more aware of potential safety issues with all patients," McClaskey said.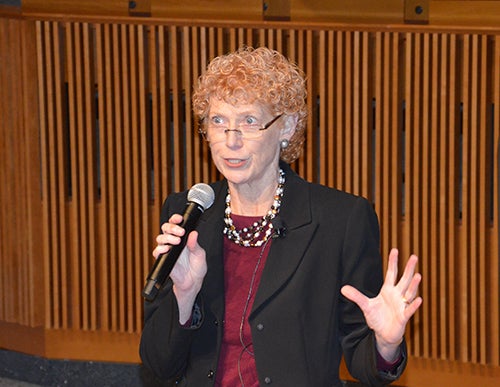 The moderator of the panel discussion was Eileen Moore, MD, who is the associate dean for community education and advocacy at GUSOM and also serves as a patient safety officer at MGUH. She leads the Care for the Caregiver program there, which exists to ensure health care providers feel supported and empowered when they are experiencing difficulties.
"Too often we blame people for mistakes. We figure it's so easy to fire a nurse or suspend a pharmacist and we've corrected the mistake," said Mayer. A better approach, he explained, is to offer genuine support and encouragement through programs like Care for the Caregiver, so that when employees are involved in an unfortunate patient safety event, they won't fear speaking up about it and starting the conversation.
Sponsors for this documentary screening and panel discussion included the MedStar Health Institute for Quality and Safety, Georgetown Women in Medicine, the departments of Family Medicine and Medicine at GUMC, and the Office of Diversity and Inclusion at GUSOM.
Seren Snow
GUMC Communications