Family Medicine Professor and Chair Selected for Elite Executive Leadership Program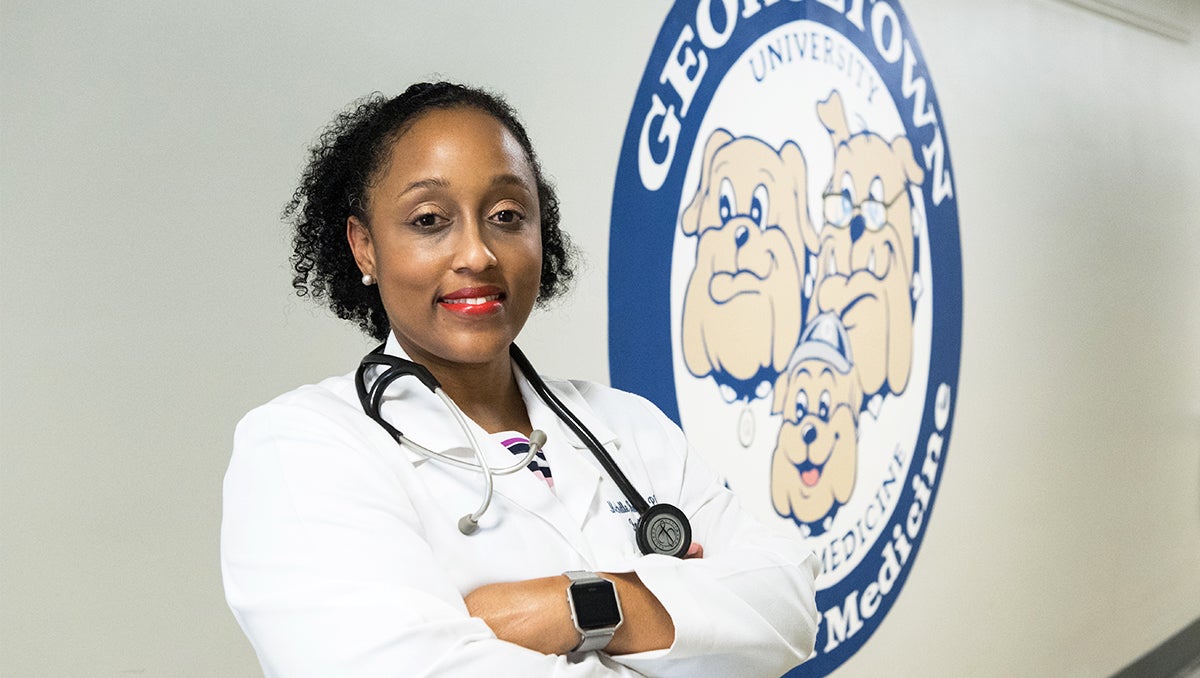 Posted in GUMC Stories | Tagged faculty honors, School of Medicine, women in STEM
(June 17, 2021) — Michelle Roett, MD (M'03), MPH, professor and chair of the Department of Family Medicine at Georgetown University School of Medicine and clinical chief of family medicine at MedStar Georgetown University Hospital, joins the Hedwig Van Ameringen Executive Leadership in Academic Medicine (ELAM®) Program for Women as a fellow in the 2021-2022 class.
ELAM, offered by Drexel University College of Medicine, is the only longitudinal program in North America dedicated to preparing women for senior leadership roles who demonstrate the greatest potential for assuming executive leadership positions at academic health centers within the next five years. It is committed to helping women develop the professional and personal skills required to lead and manage in today's complex health care environment, with special attention to the unique challenges facing women in leadership positions.
"At every stage in my career, it has been important to strive for improvement, for personal and professional growth, to collaborate and network with colleagues, and seek to operationalize personal and institutional values in clinical work, teaching, research and service," says Roett.
Roett has taken on several leadership roles while at Georgetown. She is director of the DC Area Health Education Center (AHEC), medical director of the HOYA Clinic, co-chair of the Racial Justice Committee for Change, and leads the GUMC Faculty Development Committee subcommittee on mentoring.
"I see mentorship, sponsorship, allyship, collaboration and representation as critical for women leaders, particularly women of color, for creating an inclusive culture and a sense of belonging for students, residents, early career faculty, women and faculty groups underrepresented in medicine and biomedical research," she adds.
The effectiveness of ELAM's distinctive approach to leadership preparation is broadly recognized within the academic health community. ELAM alumnae number over 1,000 and serve in leadership positions at 259 academic health centers around the world.
Nancy D. Spector, MD, executive director of ELAM, says the 2021-'22 class is the largest ever.
"The women are exceptional leaders who are capable of making critical systemic change in their institutions," Spector says. "The need for the highest-quality leaders in academic health care has never been greater, and we are doing everything we can to help meet that need by providing outstanding and innovative leadership training for women."
In order to be accepted into the program, each fellow must be nominated and supported by the dean or other senior official of her institution.
"I have been very fortunate to have supportive leaders and peers at GUMC and MedStar Health," Roett says. "Edward B. Healton, MD, MPH, executive vice president for health sciences and executive dean of the School of Medicine, sponsored me for ELAM and has been especially supportive as a mentor."
ELAM continues to cultivate strong partnerships with participating institutions throughout the yearlong fellowship. One aspect of this relationship is the curricular requirement to conduct an Institutional Action Project, developed in collaboration with the fellow's dean or other senior official. These action projects are designed to address an institutional or departmental need or priority. Roett has identified health equity programs and racial justice as her focus areas.
The work for Roett's class of fellows began last month with online assignments and community-building activities that continue through the end of the program in April 2022.
"As a family physician, advocating for my patients, community and specialty is exceptionally important to me, particularly for improving health outcomes and advancing health equity," Roett says. "My goals are to soak up the knowledge, skills, mentorship and coaching from the ELAM program, build on professional goals and grow collaborative partnerships."