Family Foundations Unite to Support Hypertension Research at GUMC
Posted in GUMC Stories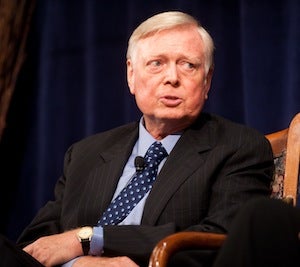 Georgetown University Medical Center (GUMC) has received an important boost for research in hypertension and associated conditions, thanks to a total of $1 million in gifts from two related family foundations.
The Robert H. Smith Family Foundation and the Robert P. and Arlene R. Kogod Family Foundation have joined together to establish a new research fund to advance the work of the existing Hypertension, Kidney & Vascular Research Center at GUMC. Their gifts will enable researchers to develop and test new drugs needed to fill critical treatment gaps among patients who have heart disease, kidney disease, stroke, dementia, hypertension (high blood pressure) and related complications.
Led by Christopher Wilcox, MD, PhD, chief of nephrology and hypertension and the George E. Schreiner Chair of Nephrology at GUMC, the Center's focus is to illuminate the common mechanisms underlying high blood pressure, kidney and vascular diseases, and to translate basic research findings into studies that benefit patients. Wilcox recently received the GUMC Leadership in Research Award for his important work.
"This allows our research to move forward into new fields associated with hypertension and its devastating consequences," Wilcox says.
This work is unique in that it embodies the full cycle of translational medicine, says Howard J. Federoff, MD, PhD, executive vice president for health sciences and executive dean for the school of medicine at GUMC.
"There are few such vibrant examples of how a great clinician like Dr. Wilcox can continue to make fundamental observations that have the potential to dramatically improve patient care."
A Shared Toxic Trigger
The vision behind the research is that high blood pressure, kidney and vascular diseases — together the most common causes of death and disability worldwide — share a trigger called oxidative stress. Oxidative stress refers to a malfunction in the way oxygen is used by cells that leads to the production of toxic molecules that damage cells, genes and tissue in the body.
The philanthropic support will foster the development of a novel therapy to prevent or reduce oxidative stress linked to hypertension, stroke, dementia, cardiovascular and kidney diseases. Wilcox has found that all these conditions are connected to the same toxic oxygen underlying hypertension and related disorders.
The therapy links an antioxidant drug that has been a focus of Wilcox's work for 20 years with a long-acting, multipurpose blood pressure medication.
"D.C. has the highest rate of CKD [chronic kidney disease] in the nation. The first intention for this drug will be to treat hypertension and prevent the associated conditions, including CKD," Wilcox says.
A Family Commitment 
This combined $1 million in gifts represents the vision of two noted philanthropic families, the Smiths and the Kogods. Both individually and together, their foundations have enriched the local community through myriad gifts to the arts, higher education and medicine.
"Our family is committed to both medical research and the Washington Metropolitan Area," they say in a statement. "The Hypertension Center investigation by Dr. Wilcox and his associates offers a unique opportunity to advance basic research and translational outcomes for the benefit of all mankind."
By Lauren Wolkoff, GUMC Communications
(Published December 19, 2013)