Faith Organizations Gather in Rome to Discuss Ways to Fight Antimicrobial Resistance
Posted in GUMC Stories
December 15, 2016 – A Georgetown co-sponsored workshop examining ways faith-based organizations might address the growing global health threat of antimicrobial resistance (AMR) can help "bring God's healing to a world so much in need."
The four-day gathering in Rome this week brought together Catholic organizations, health associations and practitioners, scientific experts, government representatives and nongovernmental organizations to increase awareness of the AMR challenge and to develop and support implementation of plans to combat it.
To thwart the crisis, the workshop participants addressed the significant need to develop and implement best practices in concert with local providers along with better education and communication of lessons learned.
Medical, Ethical and Social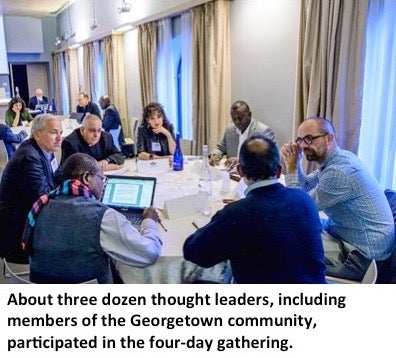 AMR, occurs when a bacterial, viral, parasitic or fungal organism evolves to resist treatment that previously worked.
Once easily treatable infections, such as those that can occur after surgery, can become life threatening or even untreatable, while common infections like pneumonia and gonorrhea are becoming increasingly difficult to treat.
"In order to address these very complex problems, we need to bring people together, including community health workers, to develop and tailor solutions to local conditions and cultures," says Dr. Jesse Goodman, professor of medicine and director of the Center on Medical Product Access, Safety and Stewardship at Georgetown University Medical Center (GUMC). "The faith-based organizations that are hard at work around the world can contribute a tremendous amount."
Goodman, a recognized expert engaged in fighting AMR, joined a group of about three dozen thought leaders at the meeting.
Georgetown bioethicist and molecular biologist Kevin FitzGerald, S.J., the Dr. David Lauler Chair of Catholic Health Care Ethics in GUMC's Pellegrino Center for Clinical Bioethics, also attended the workshop.
"In addition to the scientific and medical aspects of AMR, this global health threat involves deep social, pastoral and ethical considerations," he notes.
Faith and Opportunity
The workshop was organized by Georgetown and its Berkley Center for Religion, Peace, and World Affairs,the U.S. Embassy to the Holy See, the U.S. Department of State Office of Religion and Global Affairs and Caritas International. The GHR Foundation provided funding.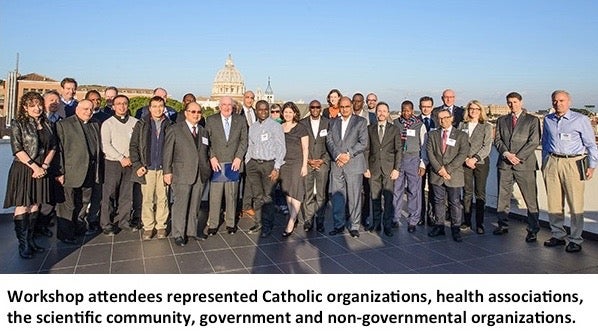 "What's most exciting for Georgetown is the opportunity to convene a range of religious NGO leaders, scholars, and policymakers to address a critical global health issue that has significant social justice impact, especially since AMR disproportionately affects low-income and impoverished people," managing director of the Berkley Center Michael Kessler says.He says the gathering brings Georgetown's core principles.
Challenges and Principle 
AMR is a deepening global crisis, according to the World Health Organization (WHO) global action plan.  
Antibiotics, when available, are often improperly used, contributing to development of resistant strains of disease, often in precisely the areas least equipped to handle outbreaks, WHO says, and questions also surround the quality and safety of the medication, as well as the overuse and improper use accompanying access to treatments without a prescription.
"Many of the same challenges and principles apply to fighting antimicrobial resistance and preventing other outbreaks such as identifying and filling in gaps in science, supporting a well-trained base of primary health care workers, and supporting and collaborating across multiple sectors, disciplines and nations," Goodman explains.
Goodman adds that community engagement and awareness to ensure culturally appropriate and effective actions is critical.
"Antibiotics are a precious resource that, used well, are lifesaving, but, if squandered, will be lost, jeopardizing the health of our entire planet," he says.
Goodman says the group also prioritized the need to reduce antibiotic needs through prevention, with the use of safe and effective vaccines, and by ensuring sound infection control practices in all care settings.
Shared Calling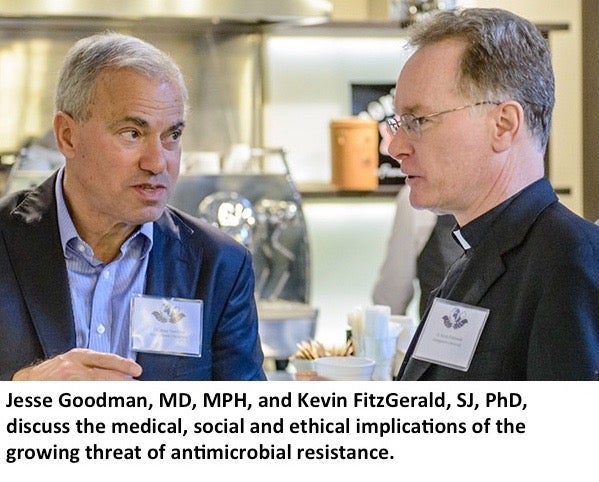 FitzGerald says the workshop "will help the Catholic Church to better fulfill its foundational mission tobring God's healing to a world so much in need."
He says the workshop was a great opportunity to join with "experts and experienced people from a variety of disciplines and geographical regions to reaffirm our shared calling to care for all people facing healthcare challenges." 
"AMR threatens the health of everyone," says FitzGerald, "and since this threat is global, it is fitting that the Catholic Church with its global health network engage with others to generate and disseminate best practices in AMR that will be tailored to the specific needs and characteristics of local communities around the world."