Exciting Research Finding Ushers in New Era in Breast Cancer Treatment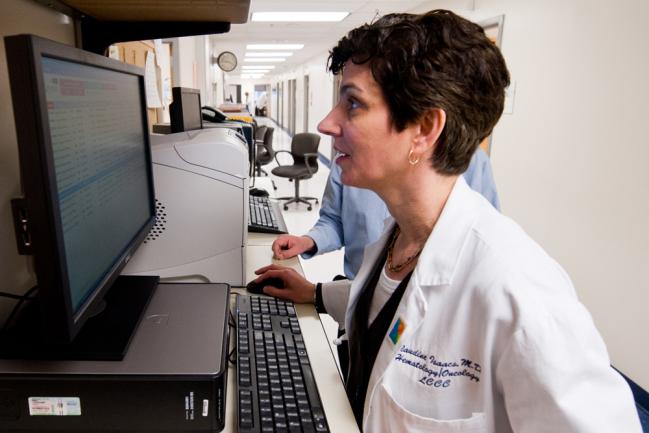 Posted in GUMC Stories | Tagged School of Medicine
(June 3, 2018) — Definitive results from a large international breast cancer study show that a genetic test (OncotypeDX®) can help determine the course of a woman's treatment and will ultimately spare 70 percent of women with the most common subtype of breast cancer from receiving chemotherapy.
The results of the clinical trial, which included women who participated at Georgetown Lombardi Comprehensive Cancer Center, were presented today as part of the 2018 ASCO Annual Meeting in Chicago.
"These robust findings give us much needed clarity on which women will live longer if they receive chemotherapy after surgery and which can forgo chemotherapy with confidence knowing it offers almost no benefit," says Claudine Isaacs, MD, co-director of the Breast Cancer Program and Medical Director of the Jess and Mildred Fisher Center for Hereditary Cancer and Clinical Genomics Research at Georgetown Lombardi.
The clinical trial outcome impacts only women with early stage breast cancer that is hormone positive (ER/PR+), HER2neu negative, and has not spread to the lymph nodes.
"We are greatly indebted to the women who participated in this study so that thousands of women could be spared both short and long term toxicity," Isaacs says. "It is through this kind of research, and patients who participate in clinical trials, that progress against cancer is made."
The study known as TAILORx, or the Trial Assigning IndividuaLized Options for Treatment (Rx), began enrolling women in 2006 and ultimately enlisted about 10,000 women at over 1,200 centers worldwide.
Tumor tissue collected at the time of diagnosis was assessed using the OncotypeDx gene test. The test results enabled the researchers to stratify women by level of breast cancer risk depending on their OncotypeDx scores.
Study results for women with the lowest OncotypeDx scores, between 0–10, were reported in 2015 and showed that they did extremely well with hormone therapy alone and could skip chemotherapy. But the majority of women — about 70 percent of the study participants — had moderate scores of 11 to 25, and it is in this group of women that clinicians have had the most uncertainty about the benefits of treatment with chemotherapy.
"Today's results convincingly demonstrate that women over the age of 50 with early-stage hormone-driven breast cancers and scores of 11 to 25 – considered moderate risk – can also avoid chemotherapy after their initial treatment is completed," Isaacs says.
The trial also looked at outcomes by age group and, in another significant finding, showed that women age 50 or younger with a score of 16 or higher benefited from chemotherapy and hormone therapy.
Lastly, 13 percent of women with scores of 26 or higher, in which chemotherapy and hormonal therapy were necessary, saw their cancers return, indicating a need for better treatment options.
The OncotypeDX test carries a price tag of about $4,000 and many insurers, including Medicare, cover the cost for appropriate patients.
These results come on the heels of findings last month from a large trial in Great Britain focusing on women who test positive for the HER2neu gene and receive the targeted therapy Herceptin. The results showed that 89 percent of the women survive 4 years with no sign of disease regardless of whether they took Herceptin for 6 months or the current standard of 12 months. Importantly, taking Herceptin for just 6 months cut cardiac side-effect risk in half.
According to Isaacs, added to the TAILORx results, these findings allow breast cancer clinicians to move to a new era for treating many women with breast cancer.
"The concept of TAILORx could most likely be adapted across many malignancies," concludes Isaacs. "I think our goal should be to not only mitigate treatment toxicity but also financial toxicity due to the expense of many of these drugs."
TAILORx was funded by the National Cancer Institute, the Breast Cancer Research Foundation and the Komen Foundation. Isaacs is on the speakers' bureau for Genentech, the maker of Herceptin.