Everything Old is New Again: Repurposing Drugs Against COVID-19
Posted in GUMC Stories | Tagged 2019 Novel Coronavirus, biomedical research, coronavirus, COVID-19, drug repurposing
(April 30, 2020) — Time is of the essence. With thousands of new cases of COVID-19 being diagnosed worldwide along with hundreds of deaths each day as the first wave of the pandemic spreads in the U.S., finding drugs that prevent or counteract the virus that causes the disease has tremendous urgency for the research community.
While developing new therapies and putting them through clinical trial and regulatory processes is an important path toward treatment, determining if compounds or drugs already approved by the Food and Drug Administration (FDA) could work against the virus is another potentially more expedient path.
To that end, three of the 15 teams of researchers at Georgetown University Medical Center chosen to receive initial COVID-19 funding for research proposals will focus on "repurposing" drugs to speed efforts against the disease. Repurposing, or investigating drugs approved by the FDA or international entities that were developed for other diseases or indications, is a key concept in each of the three teams' approaches.
Artificial Intelligence
One research effort is being led by Sivanesan Dakshanamurthy, PhD, director of Georgetown's Computational Chemistry Shared Resource. His team's goal is far-reaching: having already developed a high-powered artificial intelligence tool to explore and parse existing libraries of FDA-approved, international or clinical trial drugs to act against a number of different diseases, the team is now adding COVID-19 to their search. They hope to find a drug to block SARS-CoV-2, the virus that causes COVID-19, from taking over and infecting healthy cells.
"If we can identify a drug that blocks translation of the virus' RNA into protein, hinders replication of viral particles and, most optimally, blocks viral entry into human cells, we'll have hit a home run," said Dakshanamurthy.
Back in 2004 during the SARS epidemic, a disease caused by SARS-CoV-1, the researchers used now-rudimentary techniques to look for therapies. "We are applying what we learned in 2004 to study COVID-19, but with greatly advanced technology and a greatly expanded library of approved drugs, which makes our outlook more hopeful than if we were starting from scratch," he noted.
"Also, some basic compounds, such as vitamins D and B, have shown potential protective effects against the virus in predictive laboratory studies, and we hope to explore their promise as well," Dakshanamurthy said.
Exploring Sex Differences
Of particular interest to researchers are the sex differences seen in infection and death rates, with men having worse outcomes than women.
"We're exploring the mechanisms and potential of how female sex hormones might confer some protective benefits against COVID-19," Dakshanamurthy said.
Kathryn Sandberg, PhD, director of Georgetown's Center for the Study of Sex Differences, agrees that once a drug is tested and validated as being active against COVID-19, researchers should consider the variable of sex.
"Drugs can have sex-specific effects due to sex differences in drug metabolism and interaction with their targets in the body," she noted.
Known Target
As part of a separate project, Sandberg has teamed up with Robert Speth, PhD, an adjunct professor at Georgetown and professor of pharmaceutical sciences at Nova Southeastern University in Florida. They are approaching the use of repurposed drugs by aiming at a known target.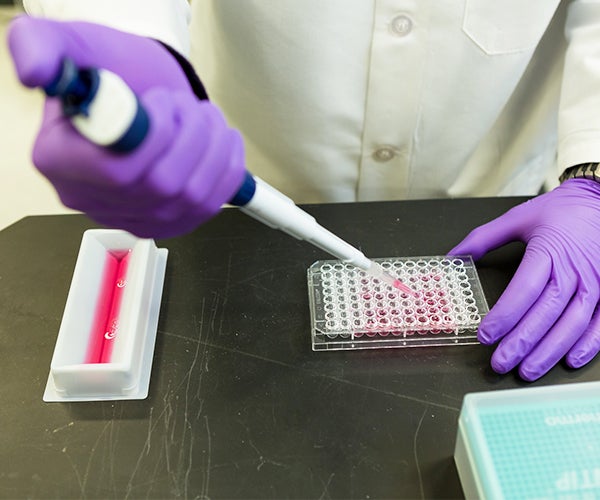 Speth explains that angiotensin-converting enzyme 2 (ACE2), which is related to the ACE molecule (around which effective hypertension drugs are built), has been identified as a receptor, or gateway, by which SARS-CoV-1 and SARS-CoV-2 enter cells and replicate. Therefore, the research team will test about 2,800 FDA-approved drugs housed in a library at the National Institutes of Health (NIH) to see if any of them have affinity for the SARS-CoV-2 binding site on ACE2, which in turn could help block entry of the virus into human cells.
"We hope to move fairly quickly with our testing — a key component of our assay has already been produced and could be in place in several weeks," Speth said. "Then it's a matter of testing the drugs in cells that express ACE2 and, if successful, in a laboratory animal model to see if any of the drugs will prevent the SARS-CoV-2 protein from binding to ACE2."
After that, Sandberg says, the drug candidate would be tested in male and female animal models. "We recently found that ACE2 regulates the angiotensin system in a sex-specific manner, which has implications for hypertension, a major risk factor portending poorer outcomes for COVID-19 patients."
Models and Simulations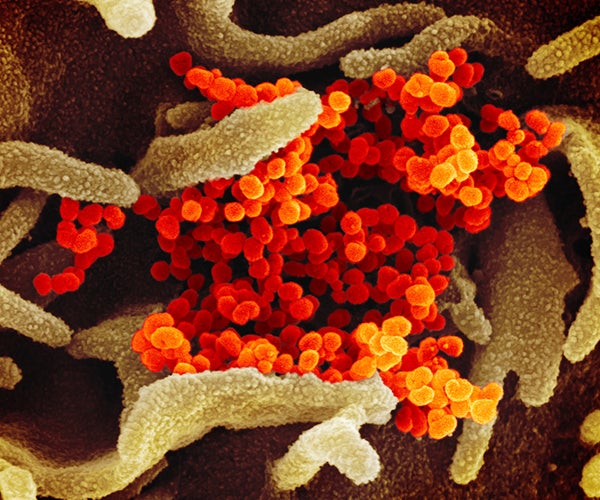 For a number of years, Radhakrishnan Padmanabhan, PhD, professor of microbiology and immunology at Georgetown, and his team have been focusing their laboratory studies on antiviral compounds that could be effective against mosquito-transmitted diseases such as dengue, West Nile and Zika, all of which are caused by RNA viruses. SARS-CoV-2 is also an RNA virus.
Through testing such drugs against dengue, West Nile and Zika viruses, and studying the mechanisms of viral replication side-by-side, Padmanabhan and his team have gleaned several clues regarding the life cycle of RNA viruses that could be applied to SARS CoV-2.
"In our new research, we will use computational-based modeling and simulations, and a library of FDA-approved compounds available at NIH, to identify drugs potentially effective against SARS-CoV-2," said Padmanabhan. It's a method often used to avoid costly experiments.
Pivoting to COVID-19
Elliott Crooke, PhD, professor and chair of biochemistry and senior associate dean of faculty and academic affairs at Georgetown, commends the researchers for quickly pivoting to focus on the urgent need to address COVID-19.
"While this pandemic is a true tragedy, it would be even more tragic if we did not employ our full range of expertise to study how to lessen the impact of this outbreak and mitigate or prevent future such outbreaks," said Crooke.
Michael Miller
GUMC Communications
These are some of the many COVID-19 research efforts underway at Georgetown University Medical Center. If you'd like to support this and other research, visit our giving website.