Embracing the 'Little Things' at Georgetown Lombardi's Poetry Café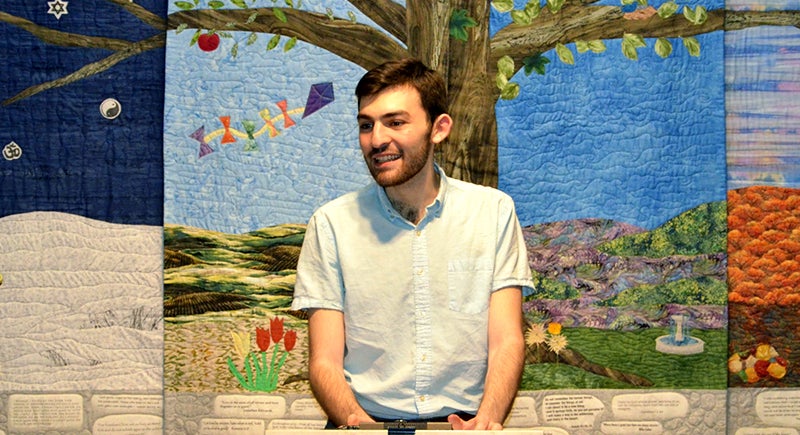 Posted in GUMC Stories | Tagged Arts & Humanities Program, Georgetown Lombardi, poetry cafe, School of Medicine
(June 14, 2019) — Colorful felt berets were sprinkled amongst the crowd as Deacon Thomas (Tom) Devaney, director of Mission and Pastoral Care at the hospital, welcomed members of the Georgetown Lombardi community to the fourth annual Poetry Café in the chapel at MedStar Georgetown University Hospital.
"We come together annually each year in the hope that the written word will help people recognize the holiness of life, bring comfort and peace to those who are sick, and comfort those who mourn," he said at the June 6 event.
Intentionally broad, the theme of this year's event was "A Journey of Expression and Meaning," which invited members of the Georgetown Lombardi community to interpret "meaning" for themselves.
"There is so much meaning-making in the hospital, and our intention with the poetry café is to encourage people to express what they're feeling; the difficulty of working, visiting and being in the hospital," explained Julia Langley, faculty director of the Georgetown Lombardi Arts & Humanities Program, prior to the event.
Small Moments, Big Impact
The poem that kicked off the event was titled "Love is a Cup of Tea" by Karen Ashbrook, one of the resident musicians in the Georgetown Lombardi Arts & Humanities Program. In her poem, she expressed how offering tea in her home is her way of showing love to those who visit her.
"There's a common theme of gratitude and finding joy in smaller things," said Morgan Kulesza, program specialist of the Georgetown Lombardi Arts & Humanities Program.
"There's a poem about how one person's act of kindness and smile influenced the rest of the poet's day. Another person wrote about her daily interactions with people and how she thinks about those interactions," Kulesza said.
"We want to remind people that small gestures make an enormous difference, and they also have a huge ripple effect. We see that all the time at the hospital — even just at the coffee machine," said Langley.
Elizabeth Burgess, a nurse in the intermediate care unit for hepatology and vascular patients at MedStar Georgetown, echoed this idea by writing about the joy she felt in the simplest moments.
"My second poem, 'At Times,' is about that feeling you have when you're just lying there and you're not thinking about anything at all," she said. "It just feels nice to lay in the grass, not worrying about the stresses of life."
Writing as a Sacred Practice
For many of this year's poets, taking part in the Poetry Café was both a creative outlet and an opportunity to express themselves outwardly, allowing others to experience their work.
"Writing, for me, is usually like an overwhelming feeling or thought that I need to get out. It's almost like a stream of consciousness," Burgess shared. "This will be my first time reading my poetry at an actual event. It's something I've always wanted to do."
"We're excited to give people a venue. We know there are a lot of writers out there, and it's a unique opportunity for them to express themselves," said Sarah Burt, office administrator of Mission and Pastoral Care at MedStar Georgetown.
"Not only is there healing in writing and performing your work, but there's also healing that comes from hearing others' stories," she said.
Benjamin Hack (M'22), a student at Georgetown University School of Medicine and president of the Arts and Medicine student group, performed his poem, "All the Little Things," as both a way to deal with the stress of medical school and to offer people hope in the midst of life's stressful moments.
"I was feeling overwhelmed with all the little things that I had to do in my life, and I had this funny thought that everyone can feel like God sometimes, going through creation and having to manage so many things at the same time. It's overwhelming," he said.
"I'm hoping that this poem will help people get through the day, dealing with all the little things," he said.
While Hack has performed poetry in the past, this was his first time participating in the Poetry Café.
"I'm glad to see the way that the arts are being used in the hospital," he said. "I hope to continue to stay involved in this way as I practice medicine."
Giuliana Cortese
GUMC Communications