Donors Get Firsthand Look at How Funds for New Medical Research Are Used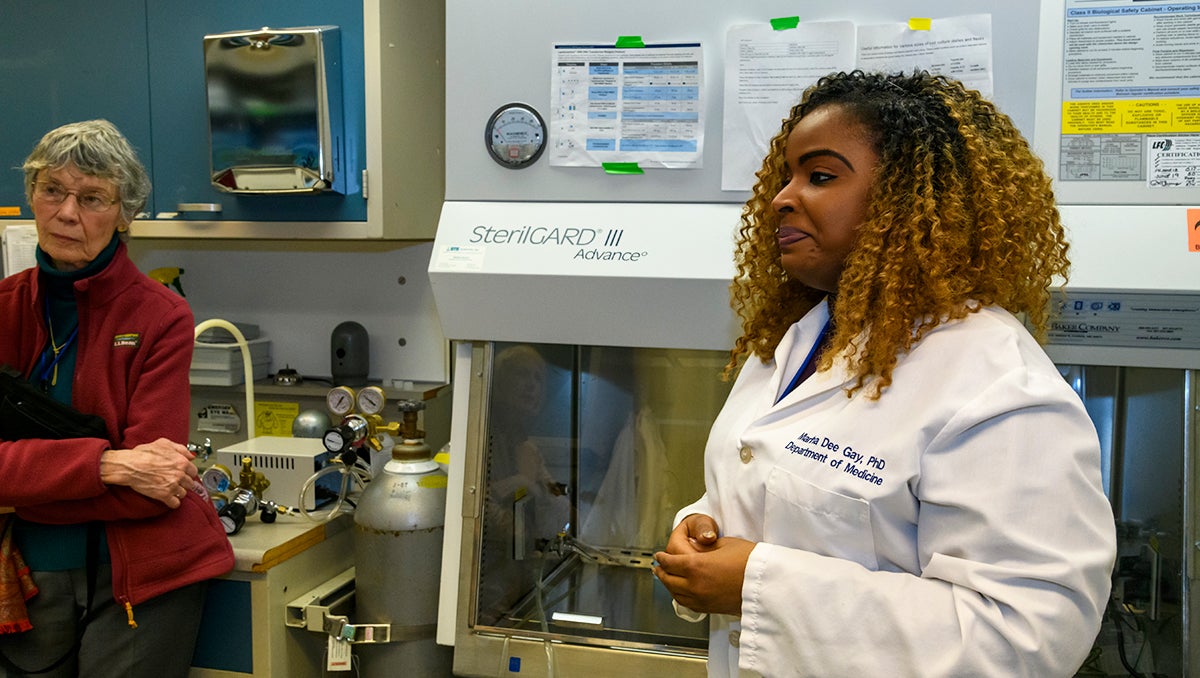 Posted in GUMC Stories | Tagged Alzheimer's disease, biomedical research, cancer, philanthropy
(February 10, 2020) — Current and potential donors to the Partners in Research program were given a rare look into the laboratories where medical tests and drug trials get their start.
During the recent "Night at the Lab" tour on the Georgetown University Medical Center campus, participants walked down white halls lined with posters of research presentations before filing into brightly lit rooms filled with lab benches and chemical fume hoods to get a taste of how memory and cancer research is conducted.
In 2010, GUMC developed the Partners in Research program, which uses private donations to fund grants averaging $20,000 to $30,000 specifically for early stage biomedical research. It helps address a catch-22 scientists face: They need to do preliminary research and provide early evidence of success before they can apply for larger grants, but to get preliminary results, they need funding. Funding for new ideas that might not lead to new therapies is hard to come by, especially for early career faculty.
To date, the program has funded 38 projects and 55 scientists, and donors have a vote in which final projects are selected. The program's staff offers "Night at the Lab" events like these several times during the year.
Partners Grant Gives Memory Loss Research a Start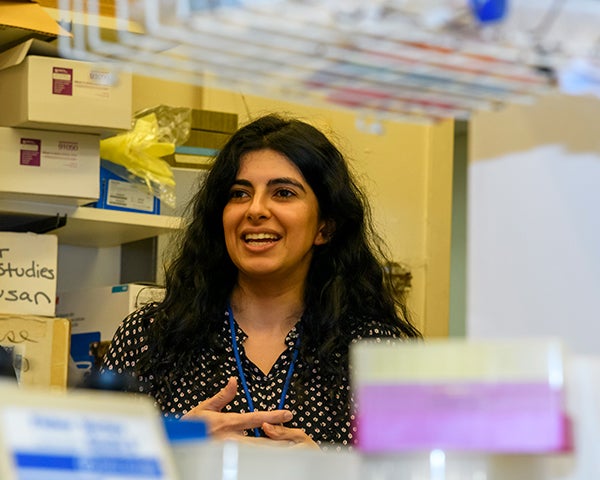 Partners in Research is currently funding three projects: one investigating treatments for age-related memory loss, another developing a method of detecting pancreatic cancer early, and a third devising a method to detect tumor cells that have broken off from a primary site and could cause metastases.
Ann Ittner, a donor from Bethesda who joined the February 4 tour, said she is pleased that one of the current projects is studying medications to help treat age-related memory loss, as her husband died of Alzheimer's disease. "My husband was on two medications, but nothing seemed to really help," Ittner said. "I'm hoping someone can finally find something to really help people."
Ghazaul Dezfuli, PhD, assistant professor of pharmacology and physiology, is using a Partners in Research grant to study how low doses of amphetamine and another repurposed drug impact age-related memory decline. The two drugs affect the availability of brain chemicals, such as norepinephrine, which play a role in focus and forming memories. She and her co-researchers showed attendees her laboratory for studying brain tissue and the maze where they test rats' memories.
"We wouldn't have been able to do this research without the grant's support," Dezfuli says.
Early Funding for Pancreatic Cancer Detection Method May Soon Pay Off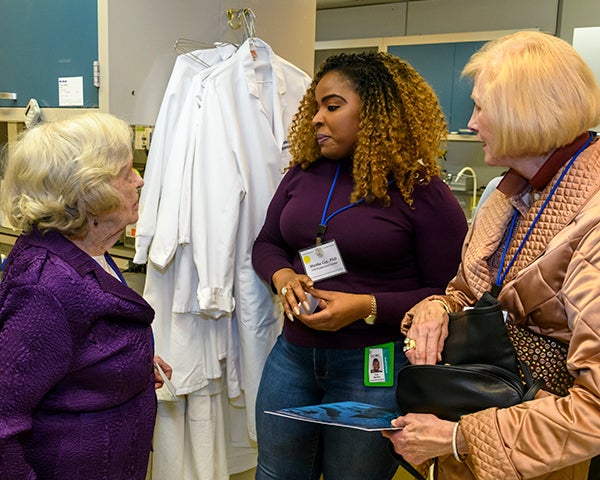 Some "Night at the Lab" participants toured the laboratory of Jill Smith, MD, professor of medicine, with her postdoctoral researcher Martha Gay, PhD. Partners in Research provided funding for Smith to investigate a novel strategy to identify precancerous lesions in the pancreas. Currently, most cases of pancreatic cancer are detected after they have advanced too far to be removed surgically, since they cannot be detected by routine CT scans or MRIs until they have reached a certain size.
Smith is investigating the use of a nanoparticle that binds to receptors in precancerous lesions and cancer in the pancreas. Using the preliminary data from this early work, Smith said she was able to apply for a larger grant from the National Institutes of Health and expects to learn soon if her application was successful.
Endowment Will Help Provide Funds for Years to Come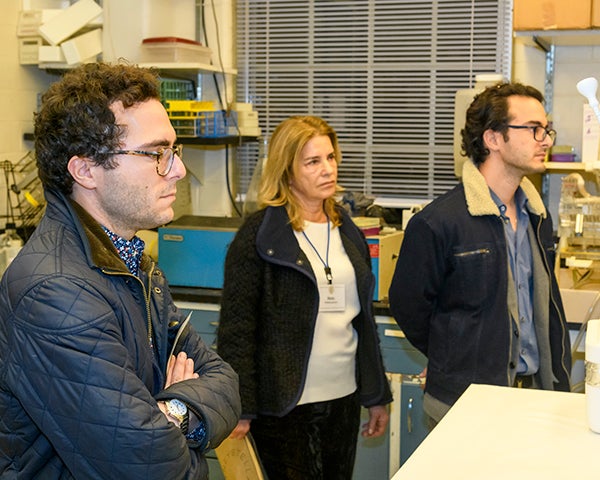 Among the tour participants were members of the Polymeropoulos family, who have established the first endowed fund for the Partners in Research program.
"We are honored to be included in the Georgetown family," say Mahy and Mihael Polymeropoulos, MD. "We have been inspired by Georgetown University Medical Center for its immense contribution to the national and international world of science, humanities and medicine. We are proud parents of two Georgetown medical school alumni, have been involved with the School of Medicine Parents Council, Lombardi Cancer Center, Partners in Research and men's basketball. Our family looks forward to continuous collaboration with GU!"
Distributions from the Polymeropoulos Family Fund will begin to support research projects starting next year and will continue for years to come, says Fiona Zhu, associate director of development for GUMC Advancement. The university hopes to eventually have all grants be entirely funded from an endowed fund, and donations of any amount help, she says.
"When they're combined with many other people's donations, it can really have an impact," Zhu says.
Kathleen O'Neil
GUMC Communications