Donnelly Named Endowed Chair in Pediatrics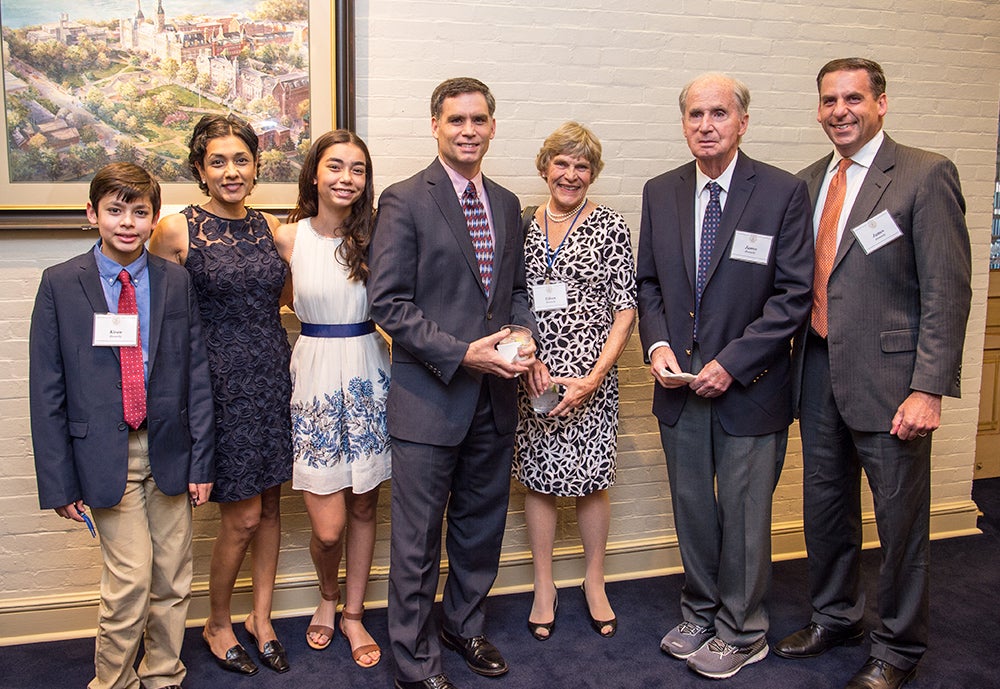 Posted in GUMC Stories | Tagged faculty honors, pediatrics, School of Medicine
(October 4, 2019) — In recognition of his dedication to teaching, research and clinical care, Michael J. Donnelly, MD, FACP, FAAP, was named the Philip L. Calcagno, MD, and Jeane and James Dixon Endowed Chair in Pediatrics on September 19 in Riggs Library.
"The Calcagno Dixon Chair means a tremendous amount to our department," Donnelly said. "Personally, I am humbled to have such an honor bestowed upon me by the university, but more importantly, this gift allows the department to support important research initiatives that will make a difference in the lives of children."
As academic chair and chief of service for the department of pediatrics at Georgetown University School of Medicine and MedStar Georgetown University Hospital respectively, Donnelly is a med-peds physician, meaning that he is board-certified in both internal medicine and pediatrics. In addition to providing primary care to patients of all ages, he instructs Georgetown students during their third-year pediatrics clerkship.
Previously, Donnelly directed the physical diagnosis course at the School of Medicine and served as associate director of the med-peds residency program. He has been recognized with the Golden Apple Award in 2012, the Doctoring Award in 2014 and a Kaiser Permanente award for teaching in 2015. At the national level, Donnelly has chaired the American Academy of Pediatrics section on med-peds for the past three years. He has also served as co-chair of the test material development committee for the National Board of Medical Examiners.
"Mike, thank you for your commitment to Georgetown," said Edward B. Healton, MD, MPH, executive vice president for health sciences and executive dean of Georgetown University School of Medicine. "We look forward to seeing you continue your outstanding work as the Philip Calcagno and Jeane and James Dixon Chair in Pediatrics."
Commemorating a Long-Lasting Friendship
The endowed chair grew out of a friendship between a pediatrician and a philanthropically-minded psychic that started more than 50 years ago. In 1963, Jeane Dixon, the writer of a popular syndicated newspaper astrology column, founded Children to Children, Inc., a charity dedicated to supporting the physical, mental, educational and spiritual growth of children.
Through that organization, Jeane and her husband, James L. Dixon, became friends with Philip L. Calcagno, MD (M'43, H'88), professor emeritus and founder of the department of pediatrics at Georgetown University School of Medicine. Calcagno was appointed the first full-time chair of Georgetown's pediatrics department in 1962. During his 26-year tenure, the department developed more than 25 specialties, including pediatric and neonatal intensive care. In addition to many other awards and honors, Calcagno was recognized with the Georgetown Caring for Children Lifetime Achievement Award in 2001.
The friendship between the Dixons and Calcagno culminated in the establishment of the Philip L. Calcagno, MD, and Jeane and James Dixon Endowed Chair in Pediatrics. In a May 2014 ceremony celebrating the endowed chair, Georgetown President John J. DeGioia, PhD, praised Calcagno for helping "build the department into what it is today — a nationally and internationally recognized pediatrics center."
"The generosity shown by Dr. Calcagno and Jeane and James Dixon in endowing this chair will live on in opportunities that pediatric researchers will have to find cures or to mitigate suffering in children," Donnelly said.
Kat Zambon
GUMC Communications