Doctors Speak Out Panelists on the Progress and Promise of Huntington's Disease Research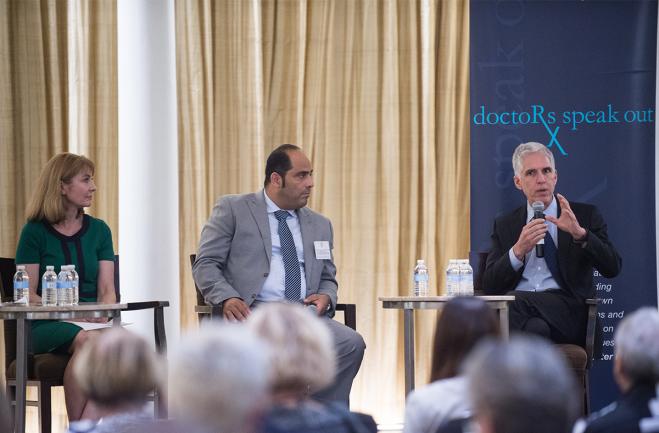 Posted in GUMC Stories | Tagged biomedical research, brain, brain research, Huntington's disease, School of Medicine
(October 1, 2018) — Chris Brown's mother was in her late 30s when he noticed that something was wrong with her health. After receiving emergency surgery for an aneurysm, Brown's mother was treated in a mental institution, where he learned that she had Huntington's disease.
"Finding out about Huntington's for the first time in a mental institution by a man who clearly got his doctorate in poor bedside manner was devastating," said Brown, a board member of the Friends of the Huntington's Disease Care, Education and Research Center (HDCERC) at MedStar Georgetown University Hospital.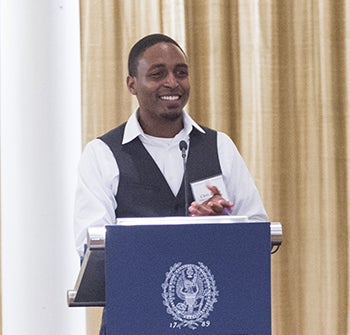 However, the stories shared by Brown and others affected by Huntington's disease at a recent Doctors Speak Out event illustrated the progress scientists have made toward understanding the condition and the promise of recent research developments.
"She just got absolutely no treatment," Brown said about his mother. "Now I have a chance to sit on a board. I have the opportunity to get tested ahead of time. I have support groups and I have resources. I go to a convention and I speak in front of you guys. And it's drastically different, my walk with Huntington's versus my mom's."
"I just want you guys to know that great things are happening for Huntington's," Brown added. "I'm excited and you should be too."
Lori Swain, former president of the D.C. chapter of the Huntington's Disease Society of America, moderated "Unraveling the Complexities of Huntington's Disease," held Sept. 7 at the Mayflower Hotel in Washington. "I'm so proud to work with the Georgetown HDCERC program because I feel that this is the exact kind of work that is impactful, that I want to be a part of," Swain said.
An Inherited Condition
After learning that her father had Huntington's disease, Swain had genetic testing that showed she did not carry the gene that causes the disease. Swain's brother and sister chose not to receive genetic testing, though they were later clinically diagnosed with Huntington's disease.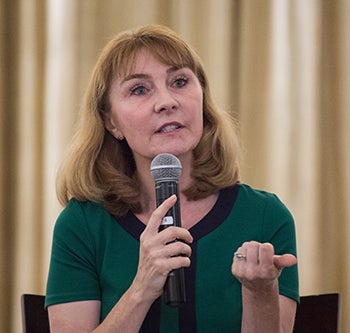 Karen Anderson, MD, director of the Huntington's Disease Care, Education and Research Center.
"Many of the people that we see at our center come in in a situation like Lori's, where they've grown up knowing for probably their entire childhood and beyond that there was Huntington's disease in the family, but there are other situations where people don't know," said Karen Anderson, MD, director of the HDCERC. Because it is genetic condition inherited in an autosomal dominant fashion, there is a 50 percent chance that a parent with Huntington's disease will pass it on to their child, she added.
Fast, jerky, uncontrollable movements, or chorea, is a typical symptom of Huntington's disease, according to Anderson, an associate professor of psychiatry and neurology at Georgetown University School of Medicine. Other symptoms can include personality changes as well as problems with memory, balance and coordination.
Taking a Multidisciplinary Approach
Started in 2012 with a donation from the Griffin Foundation, the HDCERC has a multidisciplinary team dedicated to helping patients and families affected by Huntington's disease, including a full-time social worker, neurologist, psychiatrist, physical and occupational therapists, genetic counselor and speech pathologist. The HDCERC was designated as a Huntington's Disease Society of America Center of Excellence in 2016 and again in 2017.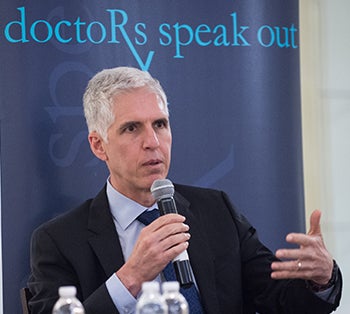 "We've seen firsthand the value of the services provided by HDCERC to individuals and families affected by Huntington's disease and we're beyond excited to be working together to increase awareness and funding for Huntington's disease research and education at Georgetown," said Laura Ford, a Friends of HDCERC board member.
Steven Epstein, MD, chair of psychiatry at MedStar Georgetown University Hospital, explained that the HDCERC reflects efforts to integrate mental health into medical settings.
"We have psychiatrists and psychologists embedded within primary care, pediatric settings, pediatricians' offices, and medical offices because we see so many people who have both neurologic problems and mental health problems, chronic pain and depression, cancer and demoralization and anxiety," said Epstein, also professor and academic chair of psychiatry at Georgetown University School of Medicine. "So one of the core themes of our department is integration of mental health into these other medical and neurologic settings."
Ongoing and Upcoming Clinical Trials
Huntington's disease patients can also participate in clinical trials at the HDCERC, including an ongoing trial studying the effect of an IV antibody on motor function, behavior and functional abilities. A clinical trial of a drug delivered through an intrathecal infusion is pending approval.
An upcoming clinical trial at the HDCERC that was recently approved aims to reduce the protein in cerebrospinal fluid associated with Huntington's disease with a repurposed cancer drug called nilotinib.
That study is based on research conducted by Charbel Moussa, MBBS, PhD, an associate professor of neurology and director of the Laboratory of Dementia and Parkinsonism at Georgetown University Medical Center.
For more than a decade, nilotinib, approved by the U.S. Food and Drug Administration, has been used as a maintenance drug for leukemia patients.
"A few years ago, we started doing experiments with this drug because one of its main mechanisms is to flush out the proteins that lead to the development of a tumor or cancer," said Moussa, who also serves as clinical research director of GUMC's translational neurotherapeutics program.
A small proof-of-concept study conducted at Georgetown University in 2015 provided molecular evidence that nilotinib significantly reduced neurotoxic proteins linked to disease progression in two neurodegenerative diseases — Parkinson's disease and dementia with Lewy bodies. Similarly, the accumulation of neurotoxic proteins, including the huntingtin protein, is a factor in Huntington's disease neurodegeneration.
Recruitment for the early phase clinical trial testing the safety and tolerability of nilotinib in patients with Huntington's disease is expected to start later this year.
"When I first started working in Huntington's disease in 1996, there was one trial that would come up every five years or so, there was a giant waiting list of people and if you didn't get into that one trial, you really felt like you'd missed out," Anderson said. "It was really, really difficult. So it's great that we have a range of trials to offer people."
Kat Zambon
GUMC Communications
Moussa is the inventor on a U.S. patent owned by Georgetown University and on other pending U.S. and foreign patent applications for use of nilotinib and other tyrosine kinase inhibitors for the treatment of neurodegenerative diseases.