Doctors and Lawyers Speak Out for Health Justice Alliance
Posted in GUMC Stories
September 22, 2017–At Doctors and Lawyers Speak Out, representatives from Georgetown's medical and law centers came together to celebrate the launch of the Georgetown University Health Justice Alliance (new window), a medical-legal partnership dedicated to training future generations of lawyers and medical professionals to work together to improve the health and wellbeing of children and families.
The mission of the Health Justice Alliance ties together the medical center's focus on cura personalis, or care of the whole person, with the law center's motto "law is but the means, justice is the end," explained William M. Treanor, JD, PhD, executive vice president and dean of Georgetown University Law Center.
"Georgetown Health Justice Alliance exists to pursue health justice and racial equity by bringing together faculty, clinicians, policy experts, health care professionals and students from the law and medical centers," Treanor said.
Edward B. Healton, MD, MPH, executive vice president for health sciences and executive dean of Georgetown University School of Medicine, moderated the panel discussion, which was held September 13 at Georgetown University Hotel and Conference Center.
"The intertwining of the social and economic determinants of health with the seemingly intractable problem of health disparities that continue to persist in many communities across the country, particularly here in Washington, DC, remains one of the most important health care and health equity challenges of our time," Healton said. "This is one of our most important initiatives and a wonderful partnership."
"There is an undeniable urgency to this work of addressing the pervasive and persistent health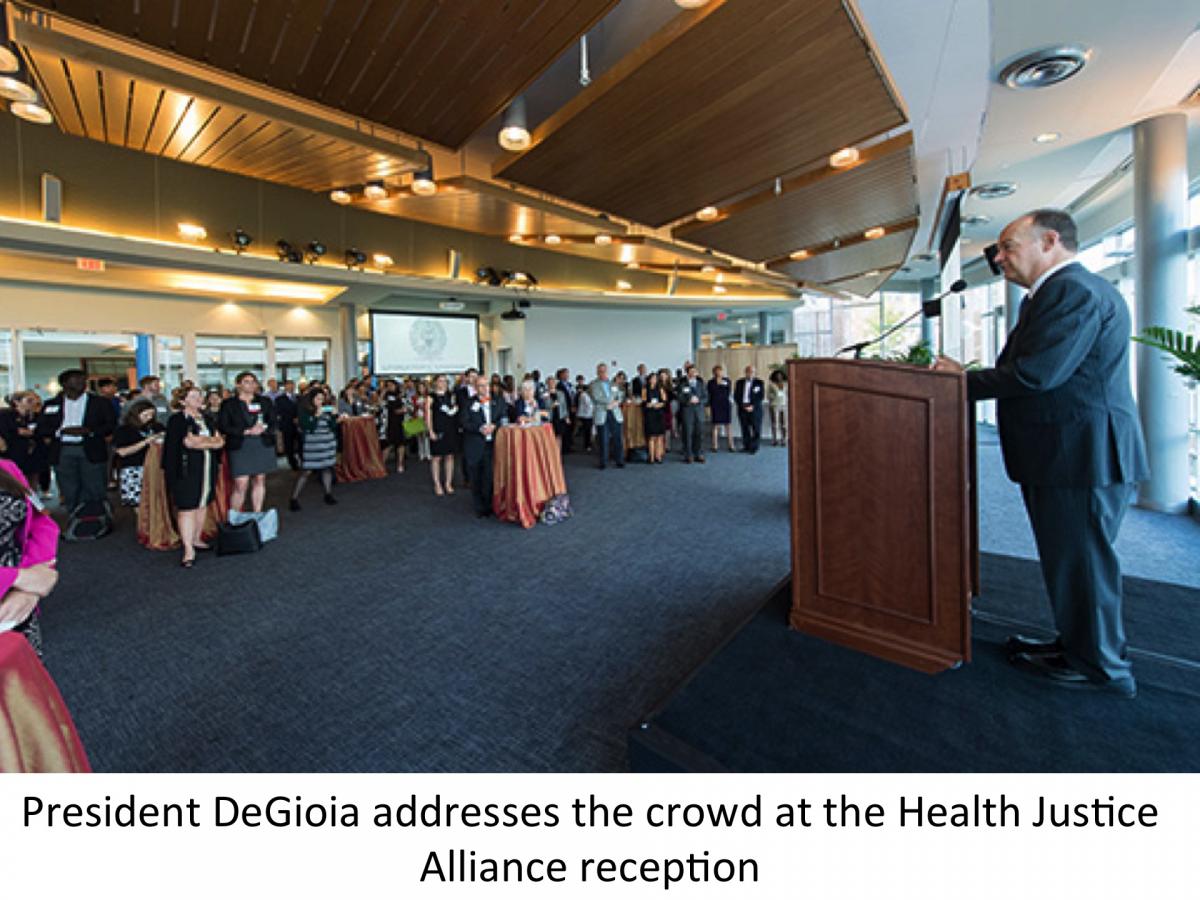 disparities facing our communities today, disparities influenced by factors related to food security, housing, education and access to health care, medical and legal challenges that demand collaborative, interdisciplinary and community-based solutions," said John J. DeGioia, PhD, president of Georgetown University, at a reception after the panel discussion. "Bringing together students and faculty from our law center and medical center, we are able to prepare the next generation of attorneys, doctors, nurses and other health professionals, young women and men who are willing to collaborate together to achieve greater health justice in our world."
"… Thank God for our lawyer partners"
Before she had heard about the concept of medical-legal partnerships, Eileen S. Moore, MD, associate dean for community education and advocacy at Georgetown University School of Medicine, recognized their value while trying to help get a patient's asthma under control at the HOYA Clinic.
"We were this close to sending her to the emergency department for treatment because we were out of tools in our box," said Moore, who also serves as medical director of the Georgetown University Health Justice Alliance. Finally, Moore and a student from the Hoya Clinic visited the patient's home and discovered that a broken glass window had been repaired with cardboard and plastic bags. "Therein lied the difficulty in keeping her asthma under control," Moore said.
Moore wrote two letters to the patient's landlord, explaining the patient's medical condition and imploring them to fix the window, but received no response. She then asked a friend who works as an attorney to write a letter on the patient's behalf. When Moore saw the patient the following week, the window had been fixed.
"I figured out that we quickly needed a medical-legal partnership to take that whole, true care of the whole person, beyond my skill set, because that wouldn't have gotten the window fixed," Moore said. "And so thank God for our lawyer partners."
Promoting the "Leading Causes of Life"
A report on the health of African Americans in Washington, DC requested by the DC Commission on African American Affairs carried out by Christopher J. King, PhD, FACHE, assistant professor at Georgetown University School of Nursing & Health Studies, identified many health disparities but one stood out to King. There is a 15-year difference in the life expectancy between black men and white men and a 9-year difference between black women and white women.
The medical community is not solely responsible for these types of outcomes, since clinical care is estimated to impact 20% of a patient's health status over the lifespan, said King, who also serves as director of the master's program in health systems administration. "The rest is shaped by social factors called the social determinants of health, but I like to reframe my thinking and refer to them as the leading causes of life – a good education, employment with livable wages, safe and affordable housing and convenient access to healthy foods, just to name a few," he said.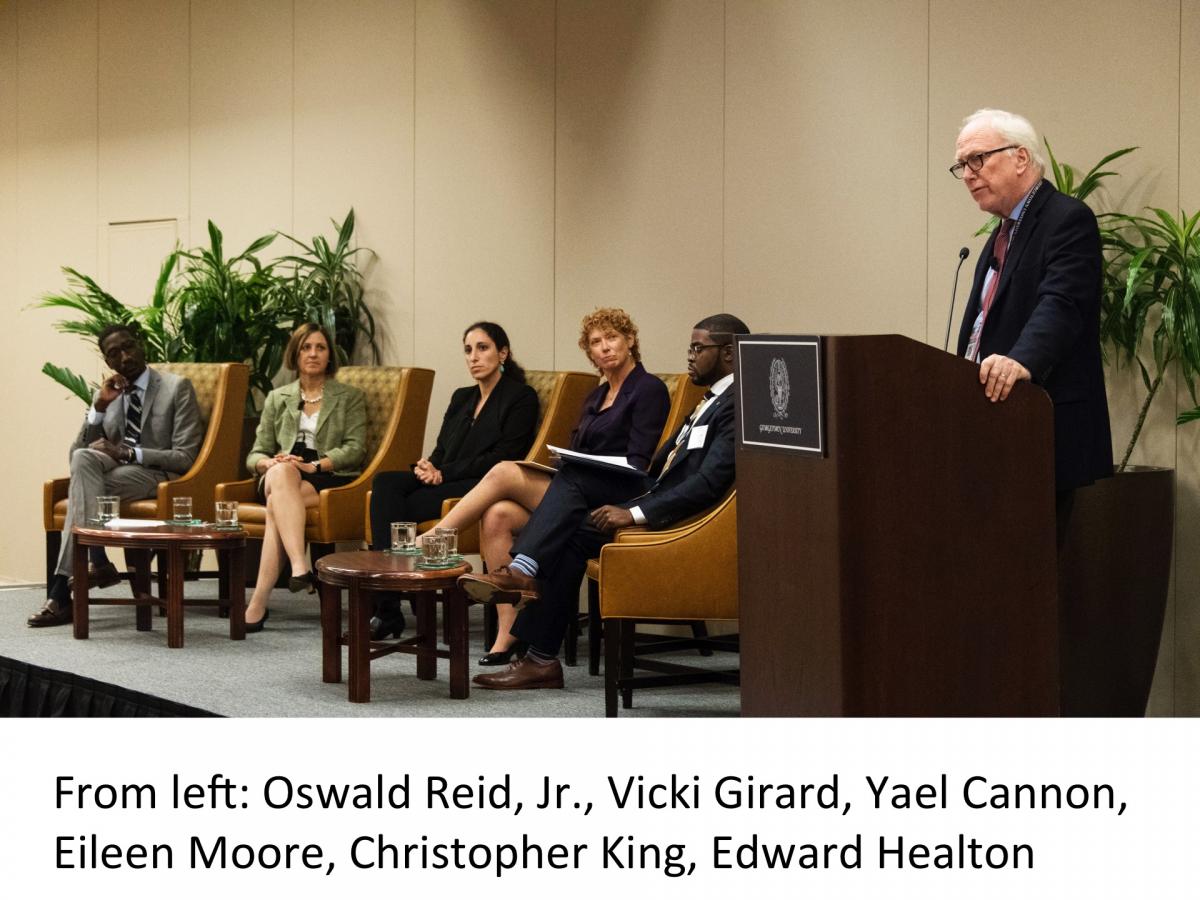 The Health Justice Alliance will empower patients and address the leading causes of life, King said. "We're talking about people who have been without a voice for a long time and there's a generational psychology that's associated with it, which is why we see social ills and these types of differences in health outcomes," he said. "And so medical-legal partnerships help address that root cause."
Through pilot projects at the HOYA Clinic, located within the DC General Emergency Family Shelter, and the MedStar Georgetown School Health Center at Anacostia High School, the Health Justice Alliance will work with high-needs populations including homeless children and families as well as students living in one of the most underserved neighborhoods in the city.
"We treat all of the patients that come to us," Moore said. "And now we have the ability to do that on a much more profound level, to really reach beneath the surface and pull out the things that are standing in the way of health."
Empowering Students to Work Together
While students from the School of Medicine operate the HOYA Clinic, the first student-run free clinic in Washington, DC, Georgetown Law runs the largest and most highly regarded in-house clinical law program in the country, which gives law students a leadership role in providing legal representation.
"Both the law school and the medical center have incredible presence in low income communities in DC and we realized as we started talking across our campuses that we can do this work better if we do it together," said Yael Cannon, JD, co-director of the Georgetown University Health Justice Alliance and visiting associate professor at Georgetown University Law Center.
By working together, medical and law students will also be able to teach each other. In one of his classes as a student on the Health Justice Scholar track at the School of Medicine, Oswald Reid Jr. (M'20) and his medical school classmates spoke with law students about how lead poisoning may have affected the late Freddie Gray, whose 2015 death in police custody sparked protests in Baltimore.
"Going forward as physicians, we need to know the science but in order to really take care of the patient in today's society, we need to have other aspects," Reid said. "And of course, that's great to know that we can have a lawyer there that we can call and say, I need your assistance with this, can you help me out?"
Broadening the Impact
In addition to providing educational and leadership opportunities for students, the Health Justice Alliance will promote policy solutions to systemic challenges patients face and conduct research on the Alliance's effectiveness and best practices.
To conduct that kind of research, the Health Justice Alliance is working with the Center for Child and Human Development as well as MedStar Health Research Institute, according to Vicki W. Girard (L'87), JD, co-director, Georgetown University Health Justice Alliance and professor of legal research and writing at Georgetown University Law Center.
"Lawyers don't know anything about surveys and measuring and returns on investments," Girard said. "They're really helping us think carefully about longitudinal studies that will be able to show the impact that we're having and ways that we can justify moving forward."
"We know this works," King said. "We know it. But in order to take it to scale, the work will require rigorous evaluation by a third party. We need that corroboration to show this work is making a difference."
"We have a vision and we're not shy about it," Cannon said. "We think that a person's race or zip code should not determine their health. And that's something that we hope is going to change in the District of Columbia and that we hope we can change around the nation and around the world."
Kat Zambon
GUMC Communications