Doctoral Students Hone Presentation Skills and Build Community at Student Research Day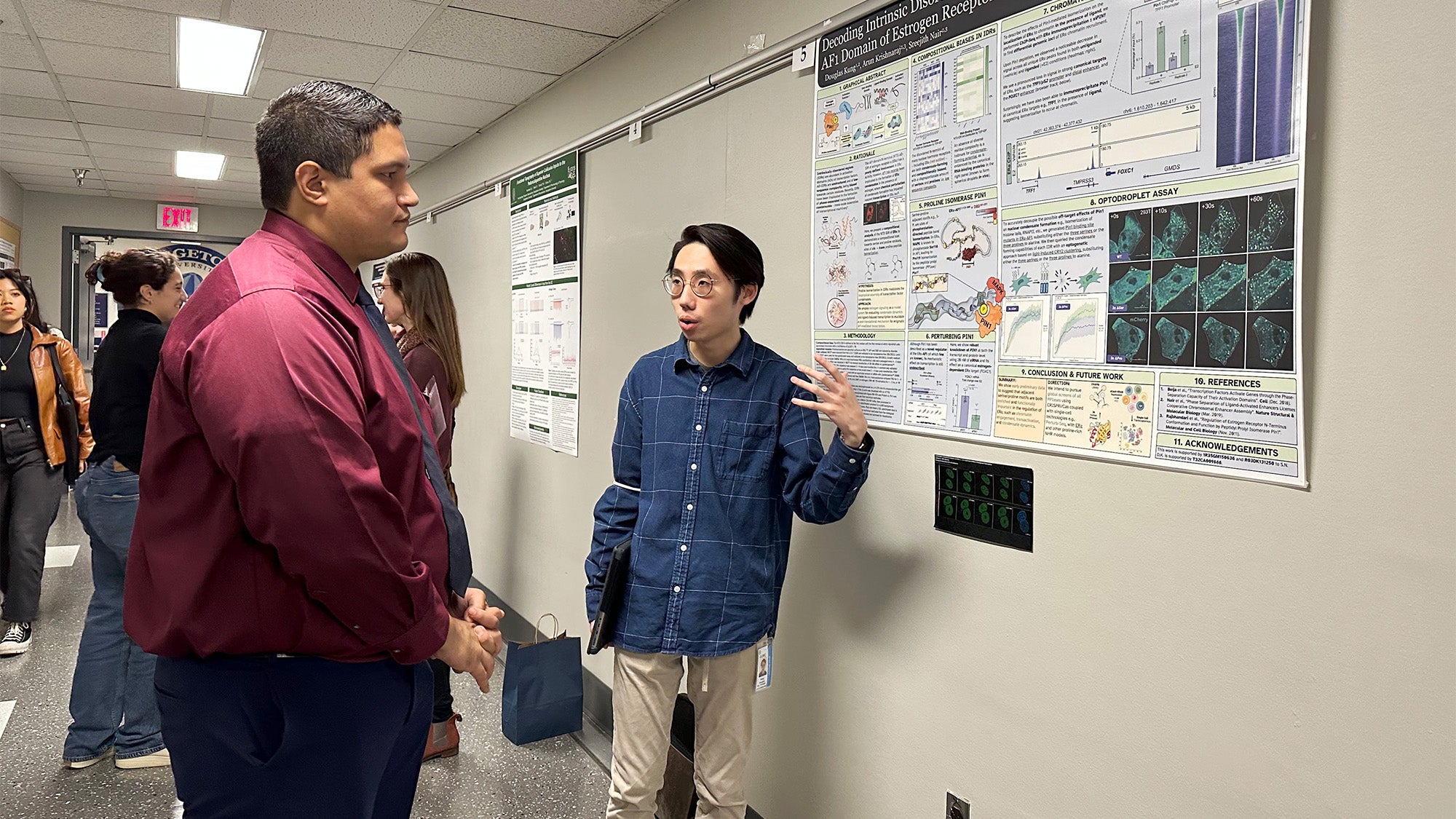 Posted in GUMC Stories | Tagged biomedical education, Biomedical Graduate Education, biomedical research, epilepsy, Interdisciplinary Program in Neuroscience, neurodegenerative disease, research
(October 20, 2023) — With presentations on sex differences and anti-seizure medications, aging and bone regeneration, potential therapeutic targets for pediatric brain tumors, the circuitry of the pedunculopontine nucleus and more, participants in Student Research Day 2023 agreed that it was a valuable chance to practice sharing their research in an informal setting.
Hosted by the Georgetown University Medical Center Graduate Student Organization (MCGSO) and Office of Biomedical Graduate Education (BGE), Student Research Day took place October 11 on the Medical Center campus.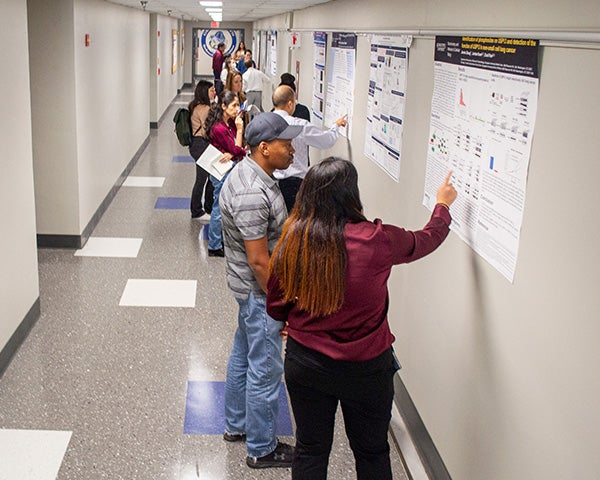 "Student Research Day is a great opportunity for students to network with each other as well as other members of the BGE community," said Zoe Malchiodi (G'24), a doctoral student in tumor biology and former MCGSO president (2022-'23).
In addition to being able to connect with classmates in other disciplines, Student Research Day is a time for students to gain experience discussing their work. "It's important for students to learn how to present their science to a broad audience," Malchiodi added.
"Student Research Day works to both build a sense of community among our medical center graduate programs, as well as develop important skills in academic research," said Zac Colon (G'25), a doctoral student in the Interdisciplinary Program in Neuroscience and MCGSO president.
Moreover, Student Research Day is a way to celebrate students along the way as they pursue their doctoral degrees, Colon said.
"It is easy to feel defeated from a failed experiment or that the data analysis is never-ending, but with a sense of community from fellow students, we can bond over both our triumphs and failures," he said. "I want people to look forward each year to hearing about other people's research and be excited to share their own."
Research on a Lifelong Interest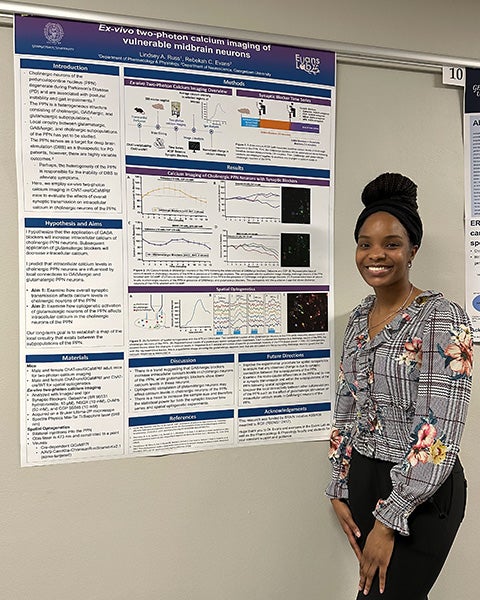 Neurodegeneration has always interested Lindsey Russ (G'27), a doctoral student in pharmacology & physiology. "I think it's interesting how something as complex as the brain can degenerate," she said.
At Student Research Day, Russ presented her poster, titled "Ex-vivo two-photon calcium imaging of vulnerable midbrain neurons."
The pedunculopontine nucleus is a target for deep brain stimulation in patients with Parkinson's disease, but people's responses to deep brain stimulation vary widely, she said. Noting that the pedunculopontine nucleus is made up of different kinds of neurons, Russ hypothesized that the relationships between the neurons affect how Parkinson's disease patients will respond to deep brain stimulation.
"We're still uncovering what they do alone, but it's completely unknown how they work together," she said.
Russ hopes that her research will contribute to scientists' understanding of neurodegeneration and ultimately lead to clinical applications for patients. "I've seen neurodegeneration plague my loved ones," she said. "There's so many researchers out there working hard to find cures. Any contribution that I provide for the field will be rewarding for me."
Studying Senescent Cells to Prevent Epilepsy
In one-third of individuals with epilepsy, medication does not control seizures, making it imperative for researchers to study ways to prevent the development of epilepsy in those who suffer from an epilepsy-inducing illness or injury, said David McFall (M'28, G'28), a doctoral student in the Interdisciplinary Program in Neuroscience.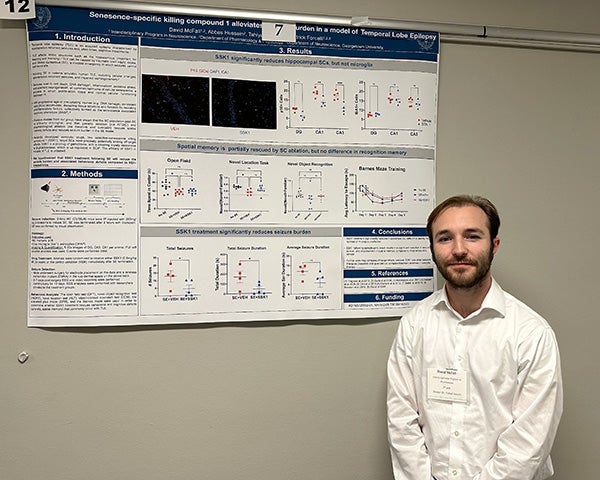 When the body experiences extreme stress or injury, senescent cells develop, leading to a decline in normal function and increased inflammation. However, senescent cells haven't been studied in relation to the development of epilepsy.
McFall presented his poster, "Senescence-specific killing compound 1 alleviates seizure burden in a model of temporal lobe epilepsy," at Student Research Day. "I signed up for Student Research Day to get in the swing of presenting my research before moving on to larger conferences," he said.
On his poster, McFall presented findings that suggest administering a drug to those who suffer from an epilepsy-inducing illness or injury may lead to the presence of fewer senescent cells in the hippocampus, fewer spatial memory deficits and lower overall seizure burden.
"Student Research Day was a very low-stakes, casual atmosphere," he said. "It almost felt like a watercooler chat with coworkers. Overall, I felt energized to return to the lab after having the chance to geek out about my work with other members of the GUMC community."
Student Research Day Presentation Award Winners
Oral Presentations
1st Place (Tie): Zac Colon (G'25), "Implications of aging on inflammation, perineuronal nets, and parvalbumin interneurons"
1st Place (Tie): Michel Fallah (G'25), "Basal ganglia inhibition of the rostral and caudal pedunculopontine nucleus"
Poster Presentations
1st Place: Micaila Curtis (G'25), "Mechanical and Biological Regulation of Bone Extracellular Matrix by Aging"
2nd Place: Douglas Kung (G'26), "Decoding intrinsic disorder in the AF1 domain of estrogen receptor α"
3rd Place: Lindsey Russ (G'26), "Ex-vivo two-photon calcium imaging of vulnerable midbrain neurons"
Kat Zambon
GUMC Communications