Discussion on Pharmacogenomics Kicks off Third Annual GUMC Convocation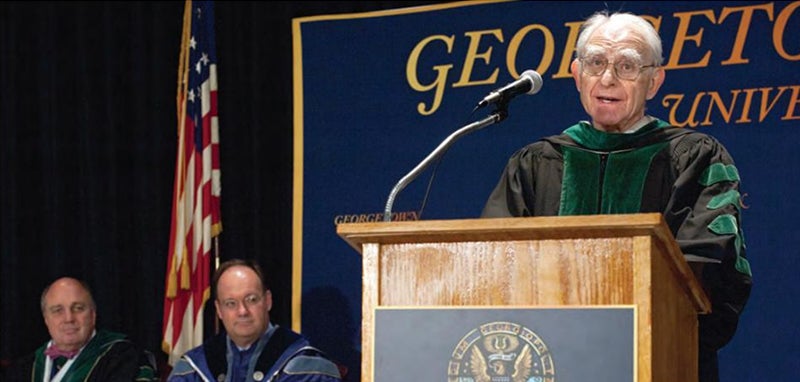 Posted in GUMC Stories | Tagged cura personalis, pharmacogenomics, university awards
(March 16, 2011) — Despite having been in existence for more than half a century, in some ways the field of pharmacogenomics is practically in its infancy.
Pharmacogenomics, which explores the way genes influence one's response to drug therapies, is still years away from providing consistently reliable personalized therapies. At the March 15 colloquium to mark Georgetown University Medical Center's Third Annual Convocation, a panel of experts discussed how far the field has come — yielding tremendous information to facilitate personalized medicine — and how far it needs to go.
Arno G. Motulsky, MD, DSc, professor emeritus of medicine and genome sciences at the University of Washington, is known as one of the founders of the field. He concluded that genetic breakthroughs such as Gleevec for chronic myelogenous leukemia are few and far between due to the multi-factorial and highly complex nature of many diseases.
"There was hope that there would be many more Gleevecs. Unfortunately, we are not very good yet at fully defining the environment that a person lives in," he said.
Motulsky, who later in the day was awarded Georgetown University Medical Center's Cura Personalis Award, was joined on the panel by Michael Pishvaian, MD, PhD, and Arnold L. Potosky, PhD, both of Georgetown Lombardi Comprehensive Cancer Center, and Joseph G. Verbalis, MD, professor of medicine. Howard J. Federoff, MD, PhD, vice president for health sciences and executive dean of the Georgetown University School of Medicine, moderated the event.
During the afternoon awards ceremony, Federoff welcomed the assembly with a review of medical center achievements including the renewal of Lombardi's cancer center status under the leadership of Louis M. Weiner, MD, and the awarding of the $38.2 million CTSA grant, an effort led by Verbalis.
In his remarks, University President John J. DeGioia framed the celebration of GUMC's unique and outstanding achievements in research, education, and service in the context of the central aspects of the Jesuit traditions embodied in three phrases, Ad majorem de gloriam, inque hominum salute, and cura personalis. "In our tradition, we are always asked to look for the 'more.' What more can we do? What more can we be?" he said. Perhaps the most important idea that infuses Georgetown's medical center community, he said, is cura personalis, which reflects "the holistic approach we aspire to bring to every aspect of our teaching and learning – across all of our campuses."
In his keynote address, Motulsky also spoke about the importance of cura personalis – to his career as a physician. "An excellent doctor must be both scientific and holistic," he said. "I would like to think that my interest in pharmacogenetics, with its emphasis on a unique genetic make-up and practice of personalized medicine, fits well with the spirit of cura personalis."
Other awards given to faculty members and students for their outstanding achievements in research, education, and service were as follows:
For Outstanding Achievement in Research:
GUMC Leadership in Research Award:
Lucile Adams-Campbell, Ph.D. – Department of Oncology

GUMC Research Recognition Award:
Aykut Uren, M.D. – Department of Oncology
Offie Soldin, Ph.D. – Department of Oncology

GUMC Outstanding Service Award:
Judith Baigis, Ph.D., R.N., FAAN – Department of Nursing

For Outstanding Achievement in Education:
The MAGIS Society of Master Teachers honors physicians and biomedical scientists dedicated to the care of others and society. MAGIS, Latin for "more greatly," is a shortened form of ad majorem Dei gloriam or "towards the greater glory of God." The 2010 MAGIS honorees are:
Yvonne M. Hernandez, Ph.D. – Department of Pharmacology
Princy N. Kumar, M.D. – Department of Medicine
Michael D. Lumpkin, Ph.D. – Department of Biochemistry and Molecular & Cellular Biology
Jean-Gilles Tchabo, M.D. – Department of Obstetrics and Gynecology
The Kaiser Permanente Award:
Each year a group of professors, previously honored with the Kaiser Permanente Award, select two new members to receive the teaching award and $1,000 from the Kaiser Permanente Foundation. The 2010 honorees are:
Jean Wrathall, Ph.D. – Department of Neuroscience
Carlo Tornatore, M.D. – Department of Neurology
Faculty Achievement, School of Nursing & Health Studies:
Zihuan Jennifer Huang, Ph.D. – Department of International Health
Alex Theos, Ph.D. – Department of Human Science

Student Achievement, School of Medicine:
Margaret Gatti, (M'11)

Student Achievement, Biomedical Graduate Research Organization:
Jason Michael Warfel, Ph.D. – Department of Microbiology
Julie Simmerman Lowe, Ph.D. – Department of Biochemistry and Molecular & Cellular Biology
Hannah Hathaway, Ph.D. student – Department of Pharmacology
Peter Alexandrov (SMP'10, M'14)

Student Achievement, School of Nursing & Health Studies:
Philip Morris (G'11) – Department of Health Systems Administration
Karen Jose (G'11) – Department of Health Systems Administration
Deanna Jenkins (G'12) – Department of Health Systems Administration
By Lauren Wolkoff, Georgetown Lombardi Comprehensive Cancer Center Communications