Defining Financial Toxicity in the Context of Health Care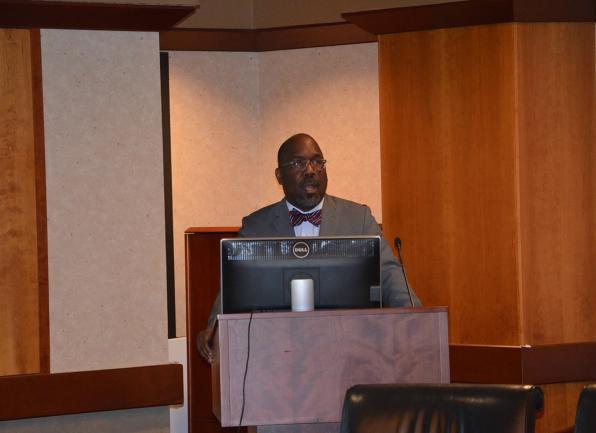 Posted in GUMC Stories | Tagged cancer, cancer research, survivorship
(November 2, 2018) — Before researchers consider issues related to financial toxicity and health care, they need to identify the experiences they're trying to understand and define their terms, said Reginald Tucker-Seeley, ScD, at a meeting co-hosted by Georgetown Lombardi's Survivorship Research Initiative and the Georgetown University Population Health Scholar Track.
Tucker-Seeley, the Edward L. Schneider chair in gerontology and assistant professor of gerontology at the University of Southern California's Leonard Davis School of Gerontology, gave a talk titled "Conceptualizing and Measuring Financial Well-Being: Implications for Cancer Survivorship" on October 15 in Warwick-Evans.
"There are no standard or agreed-upon measures of financial hardship in the public health and medical literature," he said. "So work in this area presents many conceptual and operational challenges."
Choosing the right words
While "financial hardship," "economic strain," "financial toxicity," "financial distress" and "economic insecurity" are a few terms researchers have used to describe challenges that people face related to health and money, some terms are used more frequently than others within a specific context, Tucker-Seeley said.
"In the cancer space, we use terms like 'financial toxicity,' which I think is a term that has gained a lot of traction with medical oncologists because they get the toxicity piece of it," he said. "We have a term called 'cost-related non-adherence,' which we hear a lot about in prescription drug research, in diabetes-related research."
It's important to define the terms used to describe financial toxicity to ensure that researchers agree on the experience they are studying and ultimately develop recommendations for potential interventions, Tucker-Seeley said
"If an intervention is focused on improving the material conditions, that intervention may be the addition of financial resources for specific hospital expenses or things that they [patients] are having a particular hardship in," he said. "If the intervention is around stress reduction or reducing financial stress, that intervention may be improved stress reduction strategies."
Initial findings
Tucker-Seeley looked at research from psychology, sociology, public health, medicine, consumer science, economics and social work to develop a financial well-being conceptual model and assessment tool for the Money-Health Connections Study, funded by the National Cancer Institute.
The survey that Tucker-Seeley developed for the study asked participants questions in three different domains: material, which referred to the resources accessible to the participant; psychosocial, related to how the participant felt about those resources; and behavioral, addressing what the participant did with their resources. After surveying more than 600 people, Tucker-Seeley found that the three domains were statistically correlated but not completely overlapping, suggesting different elements of financial toxicity.
Researchers have repeatedly asked Tucker-Seeley to share the measures he used to study financial well-being, which he has done on his lab's website. Next steps in the research include shortening the survey and evaluating financial toxicity among different populations, including racial and ethnic minorities, as well as low-income adults.
Communicating about policy implications
Before the Survivorship Research Initiative meeting, Tucker-Seeley spoke with students from the GEMS program about his career path, including his recent experience as a Robert Wood Johnson Foundation Health Policy Fellow.
As a first-generation college student, he chose to major in accounting at the University of Tulsa because he knew he'd be able to find a job in the field. Tucker-Seeley earned his master's degree in human development counseling at Saint Louis University before starting graduate work at the Harvard T.H. Chan School of Public Health, where he earned his doctoral degree in public health.
Reflecting upon his experience as a health policy fellow in the office of Democratic Sen. Dianne Feinstein of California, Tucker-Seeley told the students that using consistent terminology helps researchers communicate about the potential policy implications of financial toxicity and health care. However, he learned from his fellowship that policymakers are more likely to express concern about the topic if they have personal experience with it.
"It seems that if a policymaker has had an experience related to the thing that you're talking about, they're suddenly interested and they start to pay attention," he said. "So try to figure out ways to ensure that policymakers you're targeting either have experienced that particular issue so that they kind of understand the challenges involved and the high out-of-pocket costs that can result from that particular care."
Kat Zambon
GUMC Communications