Dean Ray Mitchell Receives Arthritis Foundation Lifetime Achievement Award
Posted in GUMC Stories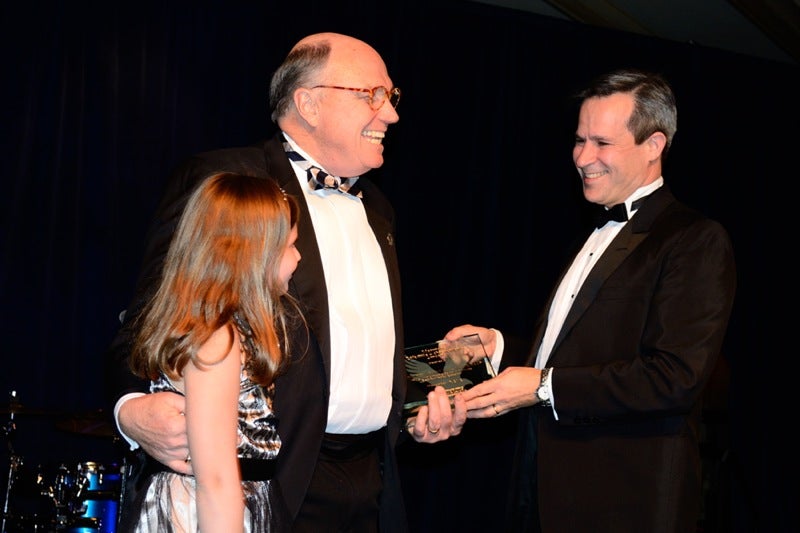 Stephen Ray Mitchell, M.D., Georgetown University School of Medicine's Dean for Medical Education, was honored with the Arthritis Foundation Mid Atlantic Region's 2012 Marriott Lifetime Achievement Award on Saturday, November 17 in Washington.
The award recognizes and pays tribute to an outstanding citizen or organization for their lifetime achievements and to encourage support in the fight against arthritis.
"That's very humbling to me," says Mitchell, "because this organization has spent its lifetime taking care of children and their families. And I'd like to think that's what I've done, but it's humbling."
Mitchell, who for 30 years has cared for children with rheumatic diseases, teaches and practices pediatric rheumatology at Georgetown.
"There are a few of us, about 300 in the country now, I think, who are certified to do pediatric rheumatology," he says. "So, there aren't many of us. And the Arthritis Foundation has been very important, because they really have always had the patients at the center of things, and they've been very good advocates and have provided a lot of services, including helping to pay for care for the sickest patients. So the Arthritis Foundation's always been there as a good friend."
Juvenile rheumatoid arthritis (JRA) afflicts only one in 10,000 children, but, says Mitchell, that is many more children than people realize. There are numerous conditions that cause joint pain, including infections, leukemia, and Lyme disease.
"Rheumatologists have to know about the whole person… because these are diseases that affect the whole body," he says.
The shortage of pediatric rheumatologists has created a heavy workload that makes it difficult for communities to care for children with rheumatic diseases. Families often have to travel long distances to get treatment. Clinic hours are long.
"There's a lot of burnout in the field," says Mitchell.
On the positive side, new effective drugs are available that target the inflammatory chemicals in the joints. Mitchell calls them "biologic patriot missiles." He says that as a result "you don't see children in wheelchairs—you don't see children chronically on crutches."
By Frank Reider, School of Medicine
(Published November 18, 2012)