Dean Irma Frank Honored by Alma Mater
Posted in GUMC Stories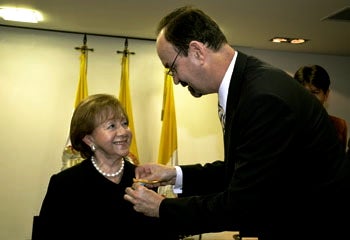 Irma M. Frank, D.D.S., senior associate dean of International Programs at Georgetown University School of Medicine has received the Felix Restrepo, S.J. Medal from her Alma Mater, Javeriana University in Colombia.
The Felix Restrepo, S.J. Medal recognizes individuals who have distinguished themselves for their professional merits, contributed to the progress of the University, and for service to Colombia. She received the honor in Bogotá on October 17.
According to the citation, the medal was awarded to Frank "as an expression of gratitude for her loyalty and extraordinary support to the Javeriana University." This is the third honor she has received from the university. Past recognition includes the highest honors of "Orden de Comendador" and "Orden de Dama."
Frank's career with Georgetown began over twenty five years ago as a professor of pediatric dentistry in the Georgetown University School of Dentistry. Now, Frank chairs the International Programs Committee, which oversees all medical school international programs. She directs the medical school's international electives through which first and fourth year medical students go to Latin America, Africa, Asia and Europe for service and medical experiences with academic supervision.
Frank has actively served on many projects and committees at Georgetown – many with a focus on international medical education. She was one of the initiators of the NASA Telecommunications Project for Distance Education, which linked Georgetown with universities in Latin America. The project carried out many programs in medicine, business, law and political science.
Frank's dedication to her alma mater has been displayed on numerous occasions including her facilitation of donated dental equipment to Javeriana University School of Dentistry – an effort that also impacted the local community of Bogota. The infusion of new equipment allowed Javeriana to donate their surplus equipment for student training in rural clinics.
By Karen Mallet, GUMC Communications
(Published November 19, 2012)