DC Food Trucks to Visit Medical Center During Food Court Renovations
Posted in GUMC Stories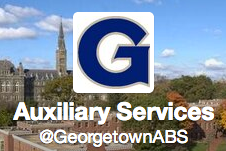 During the ongoing Hoya Court renovations in the Leavey Center, DC-area food trucks will be on the campus of Georgetown University Medical Center to satisfy hunger pangs.
The food trucks are scheduled to be on campus between the hours of 11 am and 2 pm, from August 26 through October 10, while Hoya Court remains closed for renovations.  
The schedule plans for one or two trucks to be on campus each day on a rotating basis for seven weeks. The food trucks will be parked in Lot G by the Research Building, near North Kehoe Field.
Tweet updates will go out each morning with information about the truck that will be on campus with a link to its menu.  Georgtown University's Auxiliary Business Services will publicize the schedule through its twitter account, @GeorgetownABS.
By David Blanco, GUMC Communications
(Published August 22, 2013)