Cura Personalis Award Bestowed at Convocation
Posted in GUMC Stories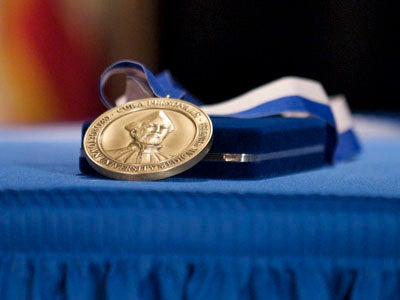 A sea of color paraded into a packed auditorium as renowned researchers, revered faculty members and university leadership donned academic regalia for the ceremonious procession that marked the start of the fifth annual Georgetown University Medical Center Convocation on November 15.
Convocation brings together faculty, students, and staff in a unified celebration of academic prowess, recognizing unique and outstanding achievements in research, education, and service.
"We assemble here today as one community," said Howard J. Federoff, M.D., Ph.D., executive vice president of health sciences and executive dean of the school of medicine. "We gather to reaffirm our common purpose of excellence in our scientific, medical and educational efforts based on the founding principal of cura personalis – care for the whole person."
Federoff and Georgetown University President John J. DeGioia, Ph.D., honored outstanding faculty members and students for achievement in research, education and service.
"Our tradition – our Catholic and Jesuit identity – defines the values that shape the context in which we pursue our work," DeGioia said. "As healers and as researchers … as mentors and as teachers, you embody cura personalis by exemplifying the holistic approach we aspire to bring to every aspect of our teaching and learning across all of our campuses."
Cura Personalis Award
The guiding principal of cura personalis also provides the essential criteria for GUMC's most prestigious award presented annually at Convocation.
"Georgetown University has chosen to confer its highest honor for outstanding contributions to human health guided by passion and service – the Cura Personalis Award – to the pioneering leader in the field of health disparities to Dr. John Ruffin," Federoff said..
Ruffin serves as director of the National Institute on Minority Health and Health Disparities and is a renowned leader and visionary. He has devoted his professional life to improving the health status of minority populations in the United States and to developing and supporting educational programs for minority researchers and health care practitioners.
"It is still my opinion that health disparities exemplify the most urgent national health crisis of our time," Ruffin told the audience in the New Research Building Auditorium.
For more than 15 years, Ruffin has led the transformation of the National Institutes of Health (NIH) minority health and health disparities research agenda from a programmatic concept to an institutional reality.
Still, Ruffin says some of his barriers to greater success have remained the same.
"The toughest part of the job is convincing people who can make a difference that health disparities are real," he said.
But Ruffin said he is witness to a renewed and collaborative effort to address disparities.
"I stand now at a phase where I'm often asked … should we be optimistic or pessimistic of the ability to achieve health equity," he said. "I can quickly tell you that my conclusion is we should be optimistic."
Ruffin's selection for the Cura Personalis Award comes at a time when Georgetown University is engaging in a transformative commitment to address disparities in health.
In the spring, the university announced the Georgetown University Initiative to Reduce Health Disparities. And just last month, Georgetown Lombardi Comprehensive Cancer Center announced the opening of the Office of Minority Health and Health Disparities Research in southeast Washington, D.C.
"Now our focus must be to get down to the business of making modified improvements in people's lives and communities to eliminate health disparities," Ruffin said. "And I'd like to think we did this through the contributions of many of you."
Click here to see the full list of faculty and student awardees for this year's Convocation.
By Karen Mallet, GUMC Communications
(Published November 18, 2012)