Creating Leaders in Health Justice Beyond the Hilltop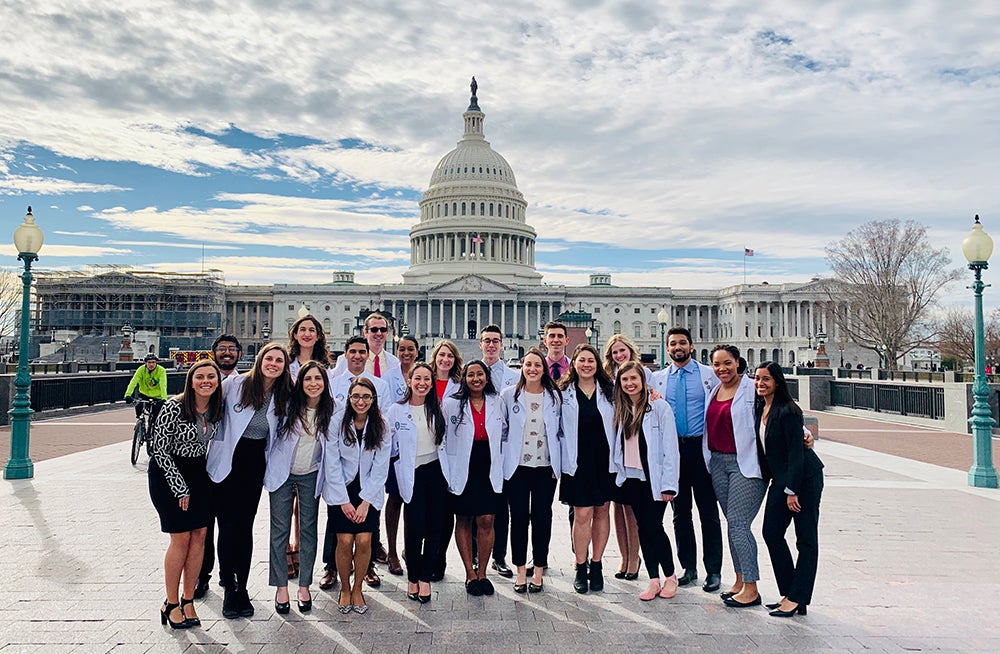 Posted in GUMC Stories | Tagged health justice, Health Justice Scholar Track, School of Medicine
(March 29, 2019) — As a medical school applicant, Hunter Fraker (M'19) was not only interested in learning about medicine but also how to advocate for his patients through policy. He was drawn to Georgetown University School of Medicine by its Health Justice Scholar (HJS) Track, a longitudinal four-year academic track that empowers student physicians to become advocates for justice, going beyond the exam room to improve patients' lives.

"The Health Justice Scholar Track is one of the reasons I came to Georgetown," Fraker said. "It's such a unique track that provides you with opportunities to further explore the health disparities that patients face."

Being a health justice scholar has been a rewarding experience for Fraker, who presented his research capstone alongside his classmates on March 21 during Health Justice Week 2019.

"In addition to research, I am spending four months on Capitol Hill working as a health policy intern. I am learning how policies are formed and how advocacy groups can be most effective," he said. "It has really broadened my perspective."

Capitol Hill Day 2019

Once a year, health justice scholars work with Georgetown law students through the Health Justice Alliance to advocate on behalf of patients on Capitol Hill. After discussing the medical students' interests, the law students identify a relevant bill in the House or Senate to champion. The medical students are responsible for research, preparing talking points and creating materials, while the law student serves as a legal mentor.

This year, the health justice scholars expressed their support for legislation that would increase access to healthy food in underserved communities, support veterans experiencing homelessness, provide school-based mental health services in grades K-12, lower the price of prescription drugs and address temperature control regulations in subsidized housing.

"Effectively advocating for the needs of our patients requires understanding the practice of law that our colleagues study, and presenting our knowledge of medicine to fit their model in a practical manner," said Meredith Njus (M'21).

"Hill Day provides medical students with the opportunity to practice this collaborative effort at the highest level — a process that we can carry with us no matter what field of medicine we end up in."

Health Justice Advocacy Through Research

As part of the Health Justice Scholar Track, fourth-year medical students present their capstone projects during Health Justice Week. For his capstone, Fraker shared his findings on medical-legal partnerships, a health care delivery model to help low-income and underserved patients with legal needs that prevent them from achieving optimum health and well-being.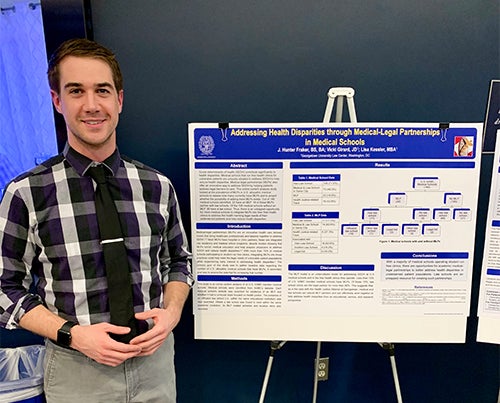 In his research, he found that less than 15 percent of medical schools have a medical-legal partnership, and only 6 percent of those schools have health justice-related tracks.

"Medical-legal partnerships enable us to address the needs of a patients in a holistic, patient-centered way," said Fraker.

"For example, if I find that a 2-year-old was exposed to lead, it's important to figure out the cause," he said. "If it is due to lead-based paint in their apartment, but because of their landlord or other circumstances they cannot remove the paint, we need to find some way to help them, and that's where medical-legal partnerships come in. Our legal partners can petition the courts and advocate on behalf of the family to get their situation remedied."

Empowering Future Physicians

Additional topics covered by health justice scholars' capstone projects include the impact of immigration and detention on Central American children, health care accessibility among an aging population, tracking patterns of opioid misuse, and investigating wait times at underserved clinics.

Lindsey Hastings-Spaine (M'19) focused her project on food insecurity and underserved students in D.C. because of her experiences working with these populations.

"People that are food insecure can look put together," she said. "They're not necessarily the homeless person on the street. But then you ask them follow-up questions, you dig a little deeper and you start to realize where the health issues stem from, that they don't have the resources."

For Hastings-Spaine, health justice is at the core of why she chose the field of medicine. "Health equity is not something that currently exists," she said. "It's a goal and it's going to take people that are willing to get their hands dirty, to push the agenda, in order to make health equity attainable."

The capstone projects also provide students with the opportunity to research specific areas of interest with mentors outside of the School of Medicine.

Since she was an undergraduate student at University of California, Berkeley, Baljeet Rai (M'19) has been interested in environmental issues. Working with Laura Anderko, PhD, RN, professor in the School of Nursing & Health Studies (NHS) and director of the Mid-Atlantic Center for Children's Health and the Environment, Rai researched childhood lead poisoning for her capstone project.

"I met with [Anderko] and we brainstormed several ideas before landing on the lead poisoning issue," Rai said. "She introduced me to different aspects of advocacy within environmental health, brought me to an Environmental Protection Agency hearing and introduced me to the various ways I can stay involved in environmental advocacy as a future physician."

"Health justice is a broad field where physicians can take multiple approaches in fighting for our patients and communities," said Fraker.

"For me, it's through health policy. For someone else, it may be addressing health disparities among refugees. The skill set we are learning through this track can be applied to many different issues and that's what has drawn us to it."

Giuliana Cortese
GUMC Communications