CRAs Add Strength to GUMC Staff
Posted in GUMC Stories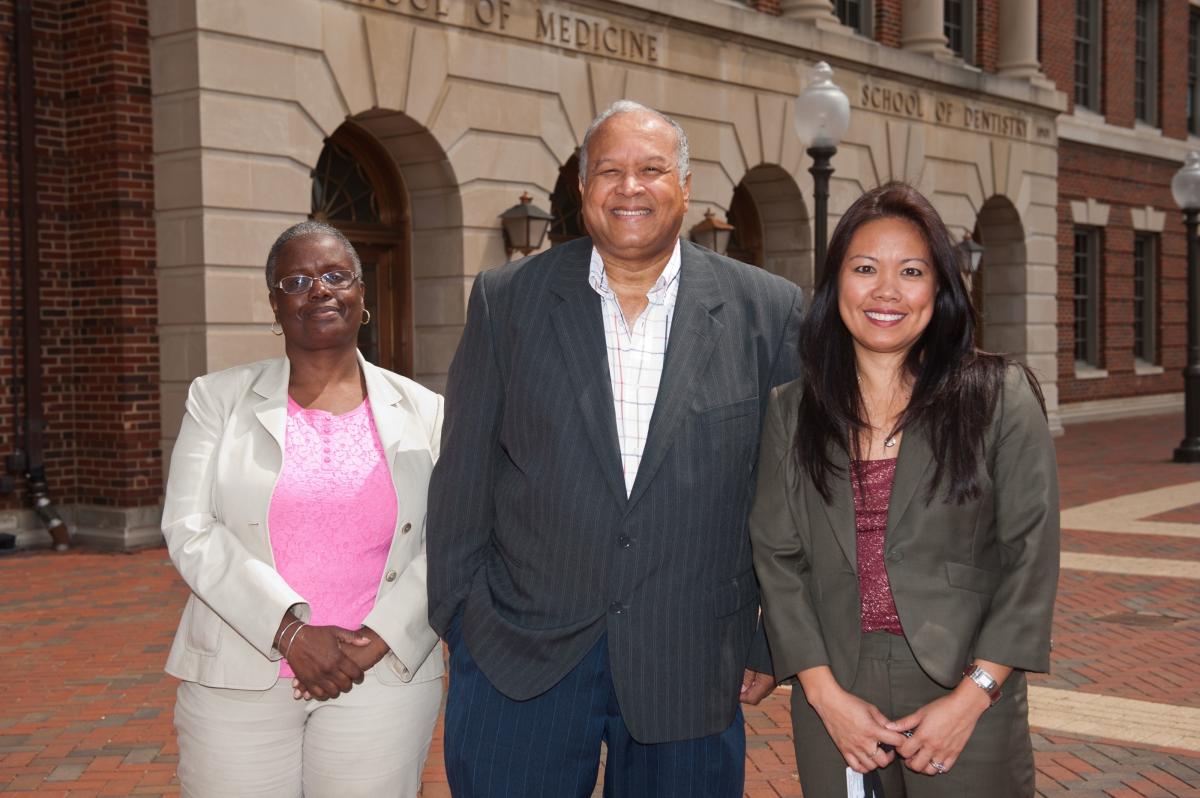 An effort started just over a year ago to increase the number of certified research administrators (CRA) at Georgetown University Medical Center continues to pay off.
Three more GUMC staff members have attained the prestigious professional designation bringing the total number of CRAs at GUMC to 26, a number that greatly exceeds other peer institutions.
The new CRAs are Michel Nau, Valarie Simon, and Fannie Dela Cruz.
In 2011, GUMC began a CRA study program for administrators interested in receiving the professional designation conferred after passing a rigorous exam demonstrating a level of expertise in the research and sponsored programs environment.
Candidates must master a body of knowledge ranging from proposal development to project management to legal requirements to financial management. The curriculum includes such diverse topics as business process reengineering, bioethics, patent and trademark law, and contracts and includes guest lecturers who bring their own expertise to the program curricula.
Guest lecturer Kelly Blevins, associate general counsel to the Office of University Counsel, describes her experience. "The individuals participating in the CRA program always impress me with their thoughtful questions and observations. It is clear that the CRA program helps not only to prepare them for the CRA exam, but also gives them a wealth of new knowledge and perspectives that are useful in their jobs at Georgetown."
Kelly has presented to the CRA group multiple times to explain about legal and regulatory issues including the terms of government grants and contracts, federal acquisition regulations, clinical trial agreements, export controls, and tax exempt bonds/private business use.
Robert Clarke, Ph.D., D.Sc., GUMC's Dean for Research, has provided project development knowledge as a guest speaker for the CRA student body.
"The CRA Program helps to advance the careers and capabilities of our staff, while also ensuring our faculty are supported by many of the best trained individuals in the business," he explained.
"The positive impact the CRAs are having on research administration is most notably seen in their involvement and feedback of the recently instituted GUMC CSR reconciliation and review policy," said Mary Glasscock, assistant vice president and chief business officer at GUMC, who established the highly successful study program. "Their experiences with and knowledge of grants research helped guide my team to design a uniform process across the Medical campus that will ensure the management of university funds are in full compliance with both internal and government regulations."
By David Blanco, GUMC Communications
(Published October 18, 2012)