More CRAs Strengthen GUMC Staff
Posted in GUMC Stories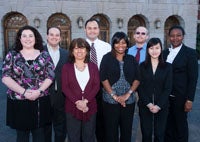 A year ago under the sponsorship of the dean for research and the executive vice president, the Georgetown University Medical Center (GUMC) began a Certified Research Administrators (CRA) study group for administrators interested in receiving this prestigious professional designation that it is conferred after passing a rigorous exam that demonstrates a level of expertise in the research and sponsored programs environment.
To pass the exam, candidates must master a body of knowledge ranging from proposal development to project management to legal requirements to financial management. The curriculum includes such diverse topics as business process reengineering, bioethics, patent and trademark law, and contracts.
Before the study program began, the university had three CRAs. Last year. twelve class members passed the exam, giving the university a total of 15—a remarkable increase.
This past fall, a second study group was organized. After hours of studying before or after the regular work days, eight more staff members passed the Certified Research Administrators (CRA) exam this year. That brings the total of CRA's at 23 for university-wide, a number that puts Georgetown far out in front of its peer institutions.
The new CRAs are:
Lisa Burke, School of Nursing & Health Studies
Deb Carbott, Georgetown Lombardi Comprehensive Cancer Center (LCCC)
Twarnisha Peterson, LCCC
Emily Chan, Biomedical Graduate Research Organization (BGRO)
Ricardo Roques, BGRO
Johnny Toma, BGRO
Zachary Graves, Sponsored Accounting Office
Muftiat Fahm, Medical Center Finance
"Ultimately, we expect to be able to measure the results of this expanded staff capability not only in terms of increased productivity, but hopefully in a steady rise in the success rate for funded research projects," says Mary Glasscock, assistant vice president and chief business officer at GUMC, who established the highly successful study program. "With this strength of expert administrative support behind them, GUMC investigators can focus more of their efforts and attention on their research. Because CRAs have proven that they have the necessary acumen, they provide professional reliability and administrative credibility to the organization."
Their achievements are the result of arduous study and preparation, and much teamwork. During this five-month training program, the study group met during lunch, at night, and on weekends, taking up each successive subject area to discuss the material. To help the group gain a deeper understanding of some of these topics, university administrators and faculty shared their expertise.
GUMC members participating in this effort were Nancy Dawson, M.D., professor of medicine, LCCC; Clairice Lloyd, senior grants and contracts officer, Office of Sponsored Research; Sheila Zimmet, J.D., senior associate vice president, Office of Regulatory Affairs; Claudia Stewart, Ph.D., vice president for technology commercialization, Office of Technology Commercialization; James Reisert, director, Sponsored Programs Financial Operations, University Financial Affairs; Jason Ackerman, chief audit executive, Office of the Senior Vice President; Jan Gnadt, D.V.M., director, Division of Comparative Medicine; Kelly Blevins, J.D., associate general counsel, Office of University Counsel; and Susan Martin, director, Office of Environmental Health & Safety.
Glasscock says, "This second class benefitted from help provided by graduates of the first class who came back as teachers and advisors. In addition, now that we have CRAs who represent different campuses and business units, I am observing a wider range of interaction, administrative collaboration, and peer development."
She points out that the program now has the critical mass of expertise and volunteer strength to sustain itself.
By Frank Reider, GUMC Communications
(Published March 08, 2012)