Coy Bowles of Zac Brown Band Joins Georgetown Medical Students to Give Back
Posted in GUMC Stories
July 18, 2017 — On a recent July day, Coy Bowles, guitarist and keyboardist for the three-time Grammy-winning Zac Brown Band, found himself nervous.
That night, he would join the band to perform hits from their new album for thousands of fans at a Jiffy Lube Live concert in Virginia. But he was anxious about a performance for a much smaller audience. That morning, he was headed to MedStar Georgetown University Hospital to sing and read to pediatric patients.  
On Sunday, July 16, Georgetown University medical school students from the Arts & Medicine Club  made the rounds on the pediatric floor with several guitars, a keyboard and the country star in tow. The group visited 15 patients, some too sick to leave their rooms, and others that gathered in the child-life playroom to hear popular songs like "Happy" by Pharrell Williams and the wildly popular single "Homegrown" by the Zac Brown Band.
When You're Feeling Sick…
Members of the Arts & Medicine Club play music for pediatric patients once a week, but this was the first time they were joined by a professional musician.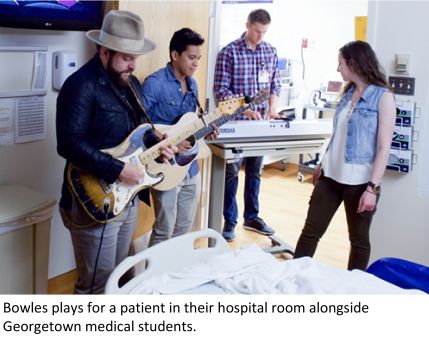 "It was so great to see someone from a totally different context do the same thing we do for the same reason," said John Guzzi (M'19). "What we do is combine the things that we love with giving back, and that's exactly how it is for Coy. "
Bowles is also a children's book author. One of his books, "When You're Feeling Sick," is full of lighthearted, rhyming passages about facing illness with bravery. Bowles read it along with "What's Behind the Little Red Door" his newest book, which will be published in February 2018.
On Being Cool
Bowles met Guzzi's aunt and uncle by chance at a music festival. After they heard about the musician's books and his volunteer work at hospitals, they connected him with Guzzi and the Arts & Medicine Club.
Despite all of his experience performing, Bowles says he still gets nervous before playing for his younger fans.
"Every time I do this I always wake up and think, 'man I hope they think I'm cool,'" said Bowles. "Because if kids don't think you're cool, you're pretty much not cool. But it's amazing every time."
A Positive Force
"I believe that you either help other people out and make the world a better place or you feed off it and take energy away from it," said Bowles. "I want to be a positive force."
Bowles, who has an 8-month-old daughter and another baby on the way, used to be a guitar teacher. That, combined with his experience helping his mom through a weeks-long hospital stay, inspired him to volunteer with children in hospitals in the Atlanta area where he lives.
"My favorite part is seeing the families together. Being in the hospital day in and day out is really hard on people. It tests families to the core," says Bowles. "It feels good to give the family a break from all that."
Leigh Ann Sham
GUMC Communications