Conference Kicks Off Conversation on the Health Care Needs of Transnational Patients
Posted in GUMC Stories
March 12, 2017 - A recent conference at Georgetown brought together an international team of scholars with expertise in transnational science, health promotions, medical anthropology, ethics and international health law to address the needs of transnational patients – a diverse group that includes refugees, migrants, expatriates and medical tourists.
"When in 'Roam' … Transnational Patients: Practical and Ethical Implications for Medical Practices and Health Promotions Policy" was hosted by the Pellegrino Center for Clinical Bioethics, in coordination with the Georgetown-Howard Universities Center for Clinical and Translational Science (GHUCCTS). The event was also the result of a collaboration with researchers from two institutions  in Germany – Niko Kohls and Eberhard Nöfer of Coburg University of Applied Sciences and Hansjörg Dilger and Nina Zeldes of the Free University of Berlin.
The March 9 conference was funded by a Global Engagement Faculty Grant awarded to James Giordano, PhD, MPhil, chief of the neuroethics studies program in the Pellegrino Center and Kevin FitzGerald, PhD, SJ, the Dr. David Lauler Chair of Catholic Health Care Ethics in the Pellegrino Center.
"We're glad to have all of you here for this intimate conversation that is so timely at this moment in our country's history as we face new challenges that will no doubt have legal, ethical, moral and health implications for refugees, immigrants and others," said Edward B. Healton, MD, MPH, executive vice president of health science and executive dean of Georgetown University School of Medicine.
"We are committed to teaching others through classroom instruction and global health outreach opportunities about the care of those fleeing their homeland because of war, violence, oppression or to simply pursue a better life," Healton said.
"A Diverse Population and Diverse Circumstances"
"When we talk about the transnational patient, we're dealing with a diverse population and diverse circumstances," said Giordano, who also serves as professor in the departments of neurology and biochemistry. "Each creates a specific context. And consideration of these contexts needs to be inclusive on broadly biopsychosocial levels, from the subcellular all the way up to the social scale."
The heterogeneity of the transnational patient population was reflected in the conference's agenda, which included sessions on the use of mindfulness practices, diversity of patients and resources, integrating refugees in rural areas, how highly skilled migrants feel about the US health care system and developing a global health promotions model.   
Working with Different Cultures
Transnational patients come from a wide range of cultures and as a scientist studying ethics and genomic medicine, FitzGerald spoke about his experiences with indigenous populations.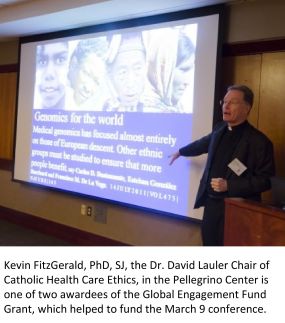 Up until recently, all clinical data came from middle-aged white men, said FitzGerald, who also serves as associate professor in the department of oncology. However, advances in genomic medicine make it imperative that researchers collect data from different populations. "We need the rest of the world to understand better who we are," he said.
Genomic data from indigenous populations in particular may provide unique insights for researchers. For his research, FitzGerald reached out to different indigenous groups to ask if they would be interested in participating in genomic research.
He cited one experience that demonstrates the broader challenges.
Members of the Navajo community, among others around the world, expressed interest but part of their culture includes making decisions as a group rather than on an individual basis, he explained. As a result, currently there are fewer clinical trials conducted in the Navajo community because researchers have not figured out how to engage and educate well the potential participants as a community.
"We have to talk to these groups," FitzGerald said. "We have to understand them and they have to understand us."
Building Trust Through Dialogue
Trust is an imperative part of the doctor-patient relationship but it can be a challenge to build trust with transnational patients, especially those from vulnerable populations. Eileen Moore, MD, associate professor of medicine and associate dean for community education and advocacy at Georgetown University School of Medicine, discussed her work with vulnerable patients at the conference.
More than ten years ago, Moore, working with a group of students and faculty, went to a hospital that had been turned into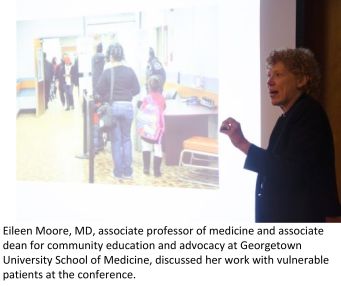 a homeless shelter and asked the residents what they needed. "The feedback we got was, come, come and be here in the space," she said. "And so what we did was absolutely demolish the old CCU [coronary care unit] and built a brand new primary care clinic."
Today, Moore serves as medical director of the HOYA Clinic, a student-run free clinic focused on helping homeless and uninsured patients in DC. All of the faculty and students who serve at the clinic are volunteers, Moore said. "I think that's what engenders the trust, that everyone who is there wants to be there," she said. "I'm happy to say that going on a decade later, I feel that trust is usually there."
Continuing the Conversation
The conference is the first in a series of efforts to develop research, exchange of ideas and scholarship focused on global health and international health promotions. Going forward, the Pellegrino Center, Coburg University and the Free University of Berlin will work with international partners to continue building a diverse network to address issues related to the use and availability of high- and low-tech resources, differing needs and values of international patients and providers, and the ethical, legal and policy implications that are important to advancing global health and health promotions.
Giordano encouraged conference attendees to participate in a working group that will develop a white paper for submission to the World Health Organization and UNESCO, academic resources for students at collaborating institutions and funding proposals for future projects.
"This is not a single event," he said. "This is a launch."
Kat Zambon
GUMC Communications