Compassionate Care by Students For Students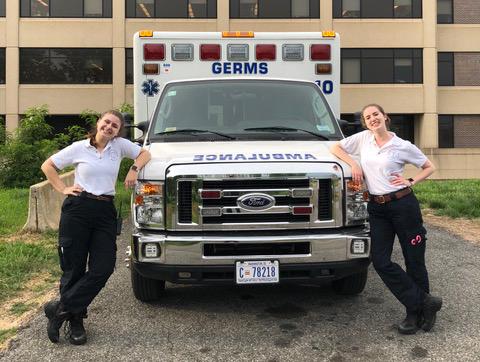 Posted in GUMC Stories | Tagged emergency medicine, service to others
(September 7, 2018) — When Lindsey Caines (NHS '19) went on her first ambulance ride for Georgetown Emergency Response Medical Service (GERMS), she didn't know what to expect. "I remember being very nervous on my first shift, because you never know what can happen," says Caines, a major in human science. "But all senior members in GERMS were very welcoming."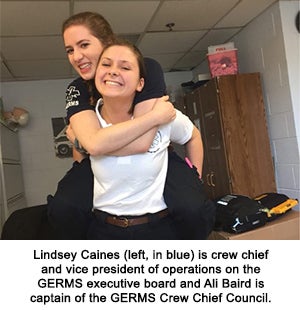 Today, Caines is one of two students from the School of Nursing & Health Studies who serve on the student-run GERMS executive board. As a crew chief and GERMS vice president of operations, she still doesn't know what to expect when she shifts her ambulance into high gear on her way to answer a call, joined by two or three additional undergraduate certified emergency medical technicians (EMTs). But she is ready for anything — because lives could depend on it.
With a two-ambulance fleet and an 88-member trained crew, GERMS represents one of the largest all-volunteer, student-run, university-based emergency ambulance services in the country.
It is also one of the first. After a student's death from an accident, his classmates started a medical emergency response team in 1982. The first iteration was the one most common in universities today: students answer a call for help, go to the person in need, and apply care if possible until an ambulance arrives. Today, GERMS operates their own fully-staffed ambulances.
"This absolutely great group of students handles all types of emergencies and handles them competently," says Jose Victor Nable, MD, an attending physician at MedStar Georgetown University Hospital and medical director of GERMS.
Handling emergencies with confidence
With ambulances that provide basic life support services, GERMS is dispatched by the Georgetown University Police Department to answer calls on campus and the surrounding streets. GERMS also works closely with the Metropolitan Police Department.
Operating 24/7 during the school year and in the summer, GERMS answers hundreds of calls annually, helping students suffering from substance use, sprained ankles, mental health emergencies, critical allergic reactions, asthma attacks, serious car accidents and more. GERMS says they should be called — 202-687-HELP — whenever a person is sick or hurt, or concerned about the health or well-being of another person.
When necessary, GERMS EMTs bring patients to MedStar Georgetown University Hospital or, in the case of critical trauma, to the George Washington University Hospital's tertiary-level emergency department. As a nonprofit organization, GERMS does not bill patients for emergency response, medical assessment, treatment or transportation.
GERMS operates under the supervision of a MedStar Georgetown University Hospital emergency department affiliated medical director and with the guidance of a Georgetown University faculty adviser. Carol Day, RN, MSN, CNS, the director of health education services and an adjunct assistant professor at NHS, serves as GERMS faculty adviser.
"I could not be prouder of these students. They think outside the box, they run to unusual circumstances, they handle everything with ease," says Nable, the GERMS medical director. "It has been a privilege to work with them."
"It is an indescribable feeling"
Like many volunteers, Caines received her EMT training from GERMS itself as a freshman. Every December and May, GERMS seeks 20 new volunteers — but, typically, dozens more apply than can be accepted.
Caines has been with GERMS for three years. Currently, she is in charge of ambulance crews and operations. During the school year, she does several six- or 12-hour shifts a week, plus more in the summer.
She has known she wants be a doctor since she was in middle school, but Caines was still surprised by the delight she has felt in taking on bigger roles with GERMS. "I knew GERMS was student-run, but as I have gotten more involved, I see how much responsibility is placed on us as students," she says. "We treat, we teach. Our role is big and our impact on the community is meaningful. I see that firsthand when I offer help to my peers. It is an indescribable feeling."
Caines believes that GERMS has helped prepare her to become a "compassionate doctor." She hopes to go to Georgetown University School of Medicine and is strongly considering emergency medicine as her specialty.
"I now have a lot of insights into the struggles college students face. It is harder to prepare for an anxiety attack than for a sprain," she says. "I try to be a calming presence, and I now know that every person and situation is different."
Treating a person as a whole
All four of Georgetown's undergraduate schools are represented in GERMS, but the majority of the volunteers hope to go to medical school, says Ali Baird (NHS '19), also a senior in the human science major. As captain of the GERMS Crew Chief Council, Baird serves with Caines on the GERMS executive board.
Like Caines, Baird hopes to attend Georgetown University School of Medicine, noting that the GERMS volunteer service reflects the school's Jesuit values. "GERMS strives for excellence in treating a person as a whole," she says. "It is such an honor and privilege to be a caretaker."
However, unlike Caines, Baird is interested in pursuing a position outside of emergency medicine. "I do enjoy the emergency part of care," she says. "However, my favorite experience is working with patients of all ages, so I will consider family medicine, or possibly OB-GYN."
Responding to mental health crises has been the most challenging part of her GERMS experience, Baird says. "I could see fellow students on the worst days of their lives, when they are struggling with either physical or mental health emergencies," she says. "So many college students struggle in some way and GERMS has the opportunity to support students"
"It is so important, and special, to me that I may be able to provide even a small part of a healing experience," Baird says. "That is what GERMS is all about."
Renee Twombly
GUMC Communications