Community Partners in Discovery
Posted in GUMC Stories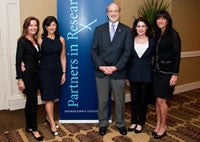 What happens when you partner a group of caring, curious, public spirited women—none of them scientists or doctors—with researchers tackling some of today's most challenging health problems? You create a powerful dynamic team – true partners in research.
That's exactly what has happened at Georgetown University Medical Center (GUMC). Joan Hayman, Nancy Katz, Koula Papadopoulos, and Carol Winer had become increasingly enthralled with medical research so they came up with the idea of donating to GUMC a thousand dollars each and asking their friends and acquaintances to do the same. The collaboration was the birth of the Partners in Research initiative.
The Adventure of Discovery
"I kind of get the whole idea of how you do something scientific and technical and then make it personal so that you can interest the community in supporting it," says Nancy Katz, who has a background in nursing and a degree in public health. "But when we first sat down, we had a hard time trying to understand how we were going to make this work, getting people interested in coming aboard."
They wanted to know how they would be able to garner enough financial support to make a difference since medical research can be costly? Would the scientists even be interested in their help?
"As it turned out, raising money was not an issue. Involvement was the key. We hosted coffees and partners began to join. And, we found out that everyone wanted to be part of the adventure of discovery," adds Carol Winer.
"After explaining the project, everyone was very touched and interested in what we could do as a small group of lay people invested in scientific research that could make a difference.
"They wanted to question and learn, talk to the investigators, go backstage, not just give money and remain passive bystanders," Winer continues. "We encouraged this involvement. Others joined with us, and in a relatively short period of time, we raised $75,000."
A Partnership is Forged
Robert Clarke, Ph.D., D.Sc., dean for research at GUMC, immediately saw the unique value of this nascent partnership and gave it his full support.
Clarke invited a number of top GUMC investigators to submit a five-page research proposal (brief, by the usual standards). The submissions were reviewed by a committee of experts from various research backgrounds that followed the stringent proposal review guidelines used by the National Institutes of Health.
The philanthropists then got a chance to hear directly from the researchers. In September 2011, the researchers with the top five proposals presented their ideas to the assembled community partners.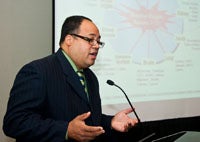 "Among the five, there was at least one [disease or disorder] that hit everyone, a family member or friend who suffered from that disease, or something that has been in the news a lot," says Joan Hayman.
Koula Papadopoulos adds, "Quite honestly, this is my first involvement with supporting medical research. It never occurred to me until my association with this group that I could be this actively involved helping further the work of these brilliant scientists."
Three of the five projects were chosen. The winning proposals received $25,000 each from Partners in Research. The projects involve macular degeneration, hypertension and kidney disease, and Alzheimer's disease.
Half a year later, as agreed, the scientists reported their findings to date to the community supporters.
"As we continue in our inaugural year of the Partners in Research awards, our investigators have made great progress with the proposed work," says Dean Clarke, "This unique partnership, letting our donors have a front row view to biomedical research, is one of the many ways which Georgetown University Medical Center will remain as a leader within the biomedical research community."
Katz says, "There's a real need now, with the economy the way it is, and it's real difficult to get people interested in making a contribution because, for the average person, science is complicated. So it's been a challenge, but it's been fun."
Vivien Marion, a senior director at the Office of Medical Center Advancement and a tireless advocate in support of biomedical research, explains, "Georgetown is unique, because the scientists have trusted this group to vet the projects they want to fund. Academic institutions normally don't do that. They have their own committees to vet projects. To turn to this group of lay people and say, you cannot make a mistake—any one of these projects that you choose will be a good decision—GUMC allowed us to do that. This is real partnering."
Doctors Speak Out
Marion says the genesis of Partners in Research has roots in another community education program known as Doctors Speak Out. Like Partners in Research, it was started by a group of philanthropists in the community, led by Alma Gildenhorn.
Alma's daughter, Carol Winer explains, "My mother is a patient of Dr. Christopher Wilcox." Wilcox is director of Georgetown's Center for Hypertension, Kidney & Vascular Research.
"She thinks he is an outstanding physician and research scientist and wanted everybody to know about his exciting work and other research going on at GUMC," says Winer. "So she and some of her friends and acquaintances got together and formed Doctors Speak Out as a form of outreach, to educate the area community on health issues featuring Georgetown University scientists and physicians."
Begun in 2009, Doctors Speak Out (DSO) was an immediate success. This educational luncheon series has grown into a captivating forum for both clinical therapeutics and translational science, where Georgetown physicians and scientists discuss such topics as the impact of stress, Alzheimer's disease, cancer, pain, drug discovery, Parkinson's disease, and stroke.
At the DSO series, the audience receives not only the latest information on a range of maladies and state-of-the art treatments, but is introduced to the latest in medical research in each topic area.
These two programs have brought the Washington area community and Georgetown investigators and clinicians together to increase awareness, further biomedical research, and share in the adventure of discovery.
By Frank Reider, GUMC Communications
(Published February 8, 2012)