Clinical Students Volunteer With COVID-19 Vaccinations
Posted in GUMC Stories | Tagged COVID-19, cura personalis, medical education, MedStar Health, School of Medicine, School of Nursing & Health Studies, Vaccine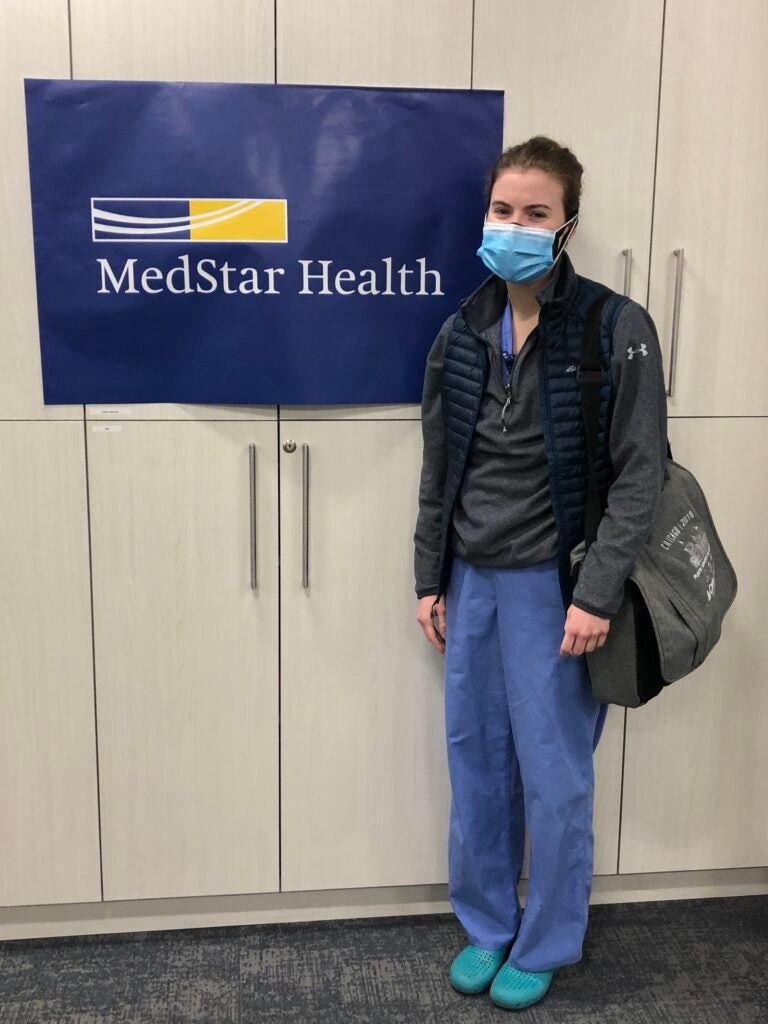 (February 19, 2021) — Since mid-January, more than 150 medical and nursing students at Georgetown have answered MedStar Health's call for volunteers to administer the COVID-19 vaccine. Coordinated by Elizabeth Zolper (M'21), the students volunteer every day of the week at four MedStar Health locations around Washington, D.C.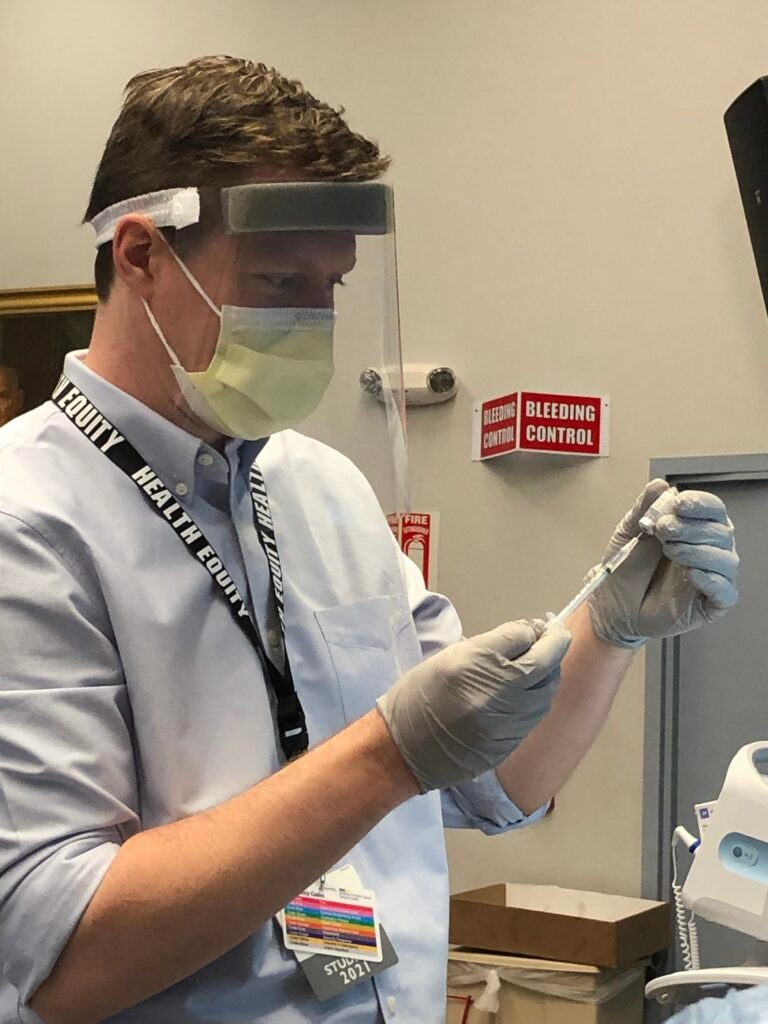 Throughout this pandemic, students have contributed to slowing the spread of the coronavirus by volunteering "to get PPE for other frontline workers, for [MedStar Health's] telehealth initiative, to get people testing," said Stephen Kane (M'21). "[Vaccinating patients] seemed like the next kind of iteration of that. And I was happy to get involved with it."
Zolper was motivated to get involved with COVID-19 vaccination efforts by the death of her 90-year-old grandmother in March from COVID-19. While her late grandmother won't benefit from the vaccine, Zolper feels happy and fortunate that she gets to administer the vaccine to hospital staff and vulnerable and older people.
"It's the least you can do to give back to them by helping them get the vaccine," she said.
Helping Health Care Workers
The initial effort to involve medical student volunteers was spearheaded by Princy Kumar, MD, division chief of infectious disease and senior associate dean of students and professor of medicine. "She has been involved with MedStar's overall response to COVID-19," Zolper said. Professor Susan Coleman, MPH, RN, spearheaded the coordination for nursing student volunteers.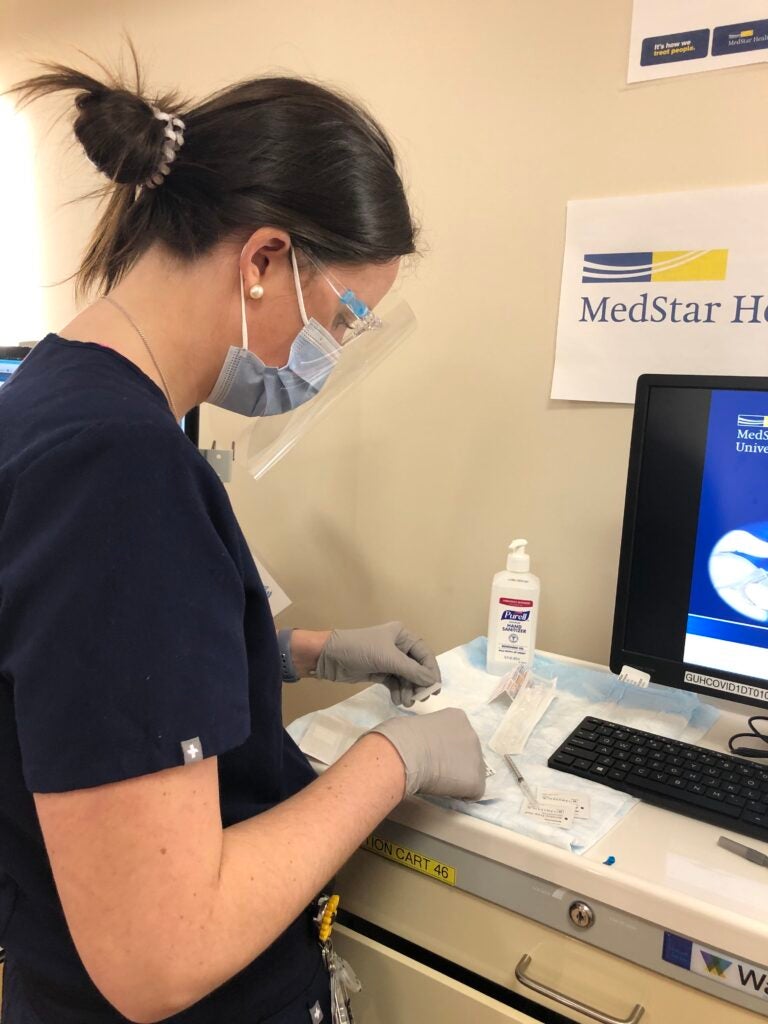 Due to the high demand COVID-19 has placed on health care workers, it is beneficial for both students and workers to have clinical students step up to aid in the vaccination process.
"We practice these skills in the clinical setting and are capable of providing much-needed services," said Elizabeth Douglass (G'21), a student in the clinical nurse leader program. "Not only can introducing students into this setting help alleviate short-staffing but by working as vaccinators, we gain valuable clinical experience."
The health care workers appreciate the students' support, said Luc Fortier (M'21). "They're always expressing gratitude and thanking us for our service," he said. "It's a cool experience being able to take that load off of their plate."
Hoyas For Others
While Zolper was inspired to volunteer by her personal experience with the pandemic, she found that many other students were motivated by the Georgetown spirit of being Hoyas for others. "I think all people in medicine like to help others," she said.
Georgetown students are familiar with extending themselves for the betterment of the community, and volunteering to assist with vaccine administration was a no-brainer.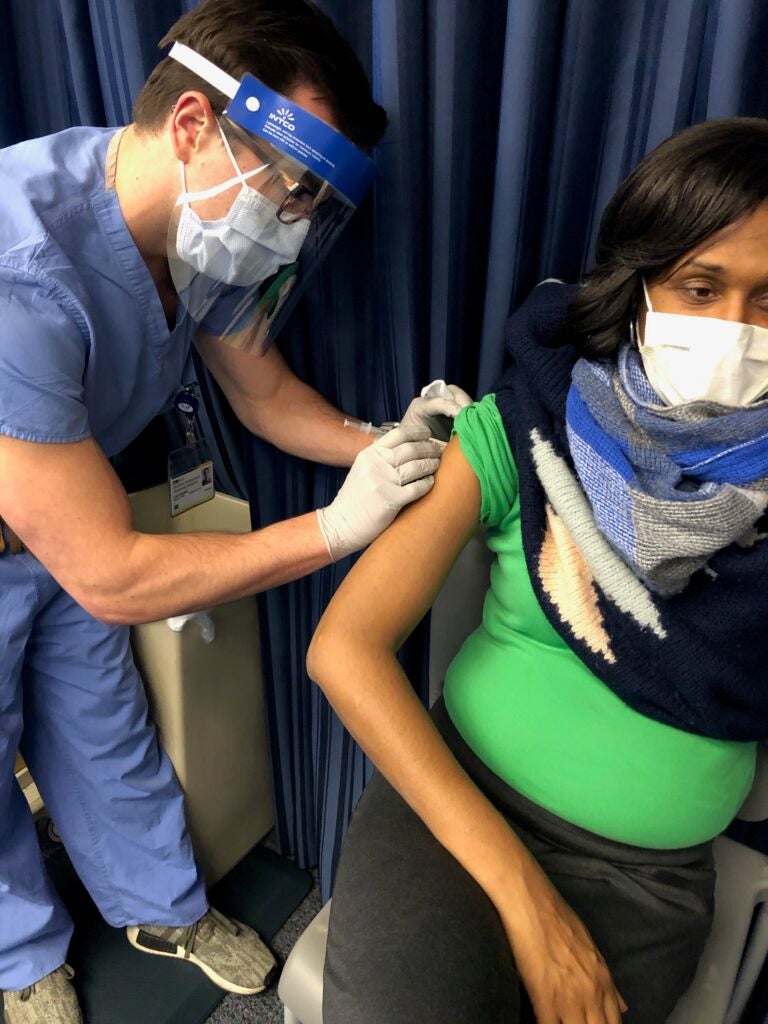 Vaccinating community members has been an enjoyable experience for the volunteers as they have encountered patients that are enthusiastic about receiving the vaccine.
"The vulnerable population that comes in and the elderly community have been so unbelievably excited to have access to this vaccine," said Fortier. "It's been fun and a cool experience to give them the vaccine and them taking selfies with me."
"I was so happy to see the smiles on each of my patients after they received their COVID vaccinations," said Moona Hamad (NHS'21), BSN student.
"The excitement among the patients was very wholesome," said Douglass. "I was honored to be a part of such a historic event."
Addressing Vaccine Hesitancy
The next initiative for the students is addressing vaccine hesitancy by having students communicate with community members that have expressed concern about receiving the vaccine.
Fortier signed up to help with vaccine hesitancy as well. With minimal information right now, he believes, "We'll be able to educate [community members] on some of the misconceptions behind the vaccine as well as the benefits of it," he said.
Kane acknowledges that "vaccine hesitancy is not something that's really going to disappear overnight."
Tyisha Henderson
GUMC Communications