Class of 2020 Begins Its Journey In Medicine
Posted in GUMC Stories | Tagged medical education, School of Medicine, White Coat Ceremony
(August 8, 2016) — They come from 31 states and nine countries including Canada, Korea, China, Ethiopia, Israel, Japan, Jamaica and Zimbabwe. Some come from the U.S. military. And others come from a long tradition of medicine.
No matter the path they were on, the 196 students that make up the Georgetown University School of Medicine class of 2020 are now moving forward on the same journey.
They began their walk together August 5th at the annual "white coat ceremony" held in Gaston Hall.
Welcome to the Profession
While many view the white coat ceremony as the beginning of medical school, Georgetown educators stressed that the white coat ceremony marks the beginning of a medical career.
"What comes with the white coat is transformational," said Stephen Ray Mitchell, MD, MBA, dean for medical education. "This is not graduate school, you will be part of the medical profession."
Donald Knowlan, MD, emeritus professor of medicine, delivered the keynote speech as he's done for many years.
"You will become a professional today. A professional places the interest of the patient before themselves. What is a patient? The patient is a fellow human being who has become sick. Remember to listen to him," Knowlan emphasized.
Georgetown Legacies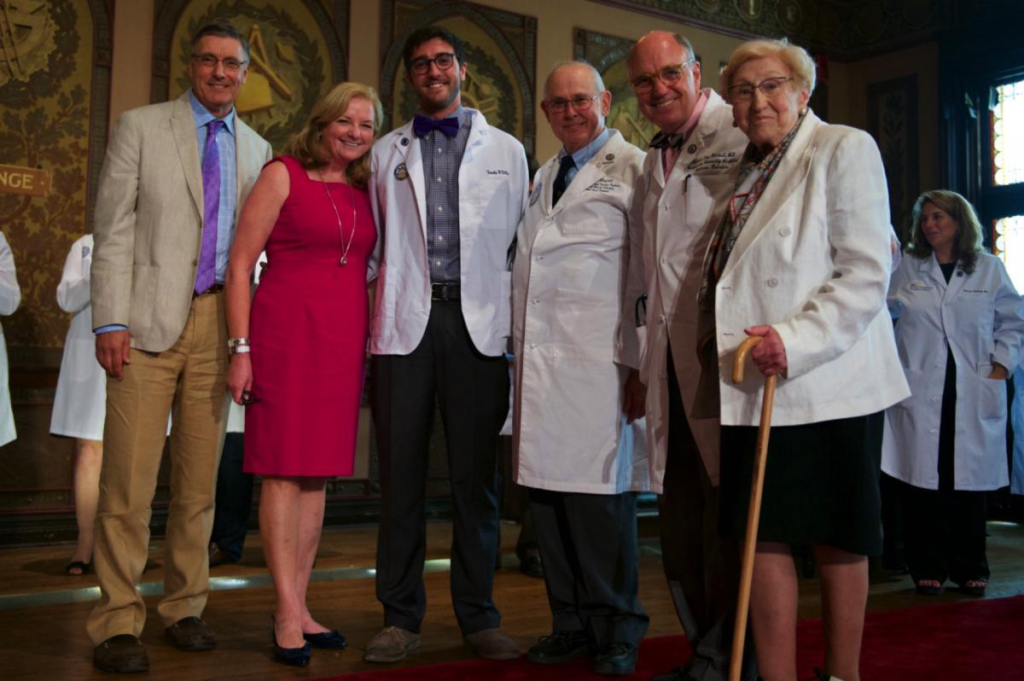 School of medicine alumna Marie DeVita, class of 1954, returned to her alma mater to coat her grandson, Timothy DeVita (M'20). In addition to his grandmother, Timothy's parents, who are also school of medicine alumni, joined him onstage.
Marie DeVita, one of only four women in her graduating class, said the experience was "wonderful" and "very emotional."
Much has changed since she was at Georgetown include the class makeup — this year's class is comprised of slightly more women than men.
Family Footsteps
The DeVitas were not the only Georgetown family at the white coat ceremony. Krista Roberts (M'20) was drawn to Georgetown all the way from Sacramento, CA to follow in her family's footsteps. Her mom graduated in 1986, and her aunt, uncle and other extended family also graduated from the school of medicine.
"I come from a family of physicians, so I had a lot of exposure to it," said Roberts. "I made an effort to branch out and try different things, but nothing else I tried had the feel of the patient- doctor interaction. I chose Georgetown because all of my family members had such great things to say."
Care of the Whole Person
Not all students have walked the same path. Stephen Pineda (M'24) describes his journey to medical school as "slightly unusual," but says that every step solidified his conviction to become a physician.
After graduating from West Point in 2008, Pineda served as an infantry officer for five years in Iraq and Afghanistan. Upon returning to the U.S., he worked as an EMT in Baltimore, often operating in underserved areas of the city. Finally, he worked in a research lab in Boston Children's Hospital before coming to Georgetown
"My experiences in the army made me realize that I wanted to work in a profession that would allow me to care for others," said Pineda. "Georgetown's emphasis on care of the whole person really spoke to the type of doctor I wish to be."
Leigh Ann Sham
GUMC Communications