CBCC Patient Navigators Help Women Overcome Obstacles to Health Care Access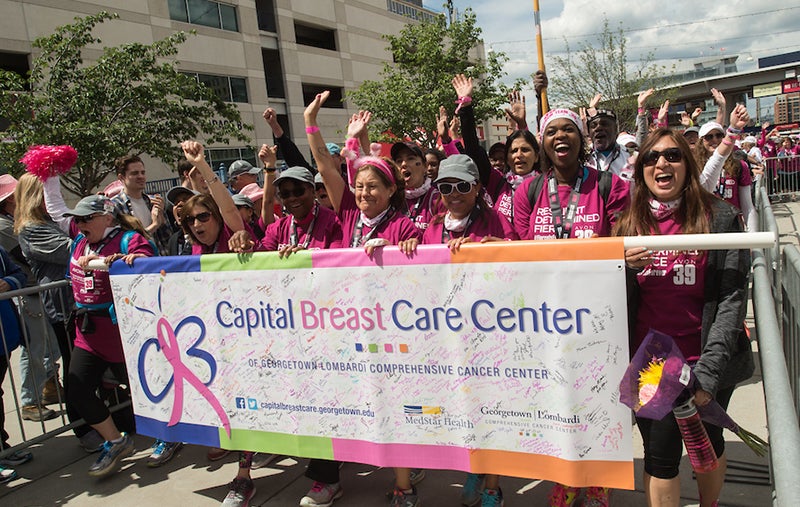 Posted in GUMC Stories | Tagged breast cancer, cancer, Ralph Lauren Center for Cancer Prevention
Women in the District of Columbia have the highest breast cancer mortality rates in the nation. Low-income minority women are more likely to face barriers to health care access and are at a higher risk of developing the most aggressive types of breast cancer. As part of the Office of Minority Health and Health Disparities Research at Georgetown Lombardi Comprehensive Cancer Center, the Capital Breast Care Center (CBCC) was founded to ensure that all women in DC have access to the breast care that they need.
Since 2004, 14,965 women have been screened for breast and/or cervical cancers at CBCC. "These are women that would otherwise fall through the cracks due to lack of knowledge, access and financial resources," said Lucile Adams-Campbell, PhD, associate director for Minority Health and Health Disparities Research at Georgetown.
However, a recent change to the way they serve patients has CBCC staff members hopeful that they will now be able to reach more women than ever before.
A New Model of Patient Care
Historically, CBCC has provided patients with direct access to breast cancer screening services but this January, through a clinical partnership with MedStar Health, the organization shifted to a patient navigation model.
"Patient navigators address barriers patients face when they need to get services," said Marquita Iddirisu, MPH, CBCC patient navigator and community outreach coordinator. Whether patients have concerns about paying for breast cancer screenings, getting to appointments or are simply afraid to get a mammogram, CBCC patient navigators are there to help.
The shift means that patients will be directed to mammography services in locations that are most convenient to them, Iddirisu said, allowing CBCC to work with even more women than before. "A good thing I can say about the shift is it expands our services and allows us to navigate patients throughout the city," said Iddirisu, who started working as a patient navigator for CBCC about three years ago. "Our clinical partner is MedStar so we primarily navigate patients to Georgetown or Washington Hospital Center but with the patient navigation model, we can send them to other locations as well."
The shift also means that patient navigators will help patients connect with primary care physicians to help them manage chronic health conditions that disproportionately affect DC residents, including heart disease and diabetes. Patients can work with their primary care physicians to address risk factors for breast cancer, such as smoking and obesity. Moreover, if a patient notices a change in her breast before she's due for her next mammogram, her physician can offer a referral so she can be seen more quickly.
Navigating the Health Insurance Landscape
About 60 percent of patients that CBCC works with lack health insurance, so patient navigators frequently help uninsured patients apply for state breast and cervical cancer programs and/or Medicaid. Because of their experience, the patient navigators know many of the local program administrators and often attach their business cards to the patients' applications, making it easy for the program administrators to follow up if they have questions. As a result, patients' applications are approved quickly, ensuring that they have the ability to access the services they need in a timely manner.
Moreover, CBCC patient navigators can help women with high deductibles by applying for coverage from Project WISH, a DC Department of Health program. "We help patients who are underinsured as well as [those who have] no insurance," Iddirisu said.
In addition to connecting patients with screening services and helping patients address financial barriers, patient navigators ensure that patients have transportation to appointments with the area's first patient transportation program for breast cancer screening. Being able to offer transportation helps decrease barriers for CBCC patients who are often very busy people, Iddirisu said.
"Women must take time to prioritize their health," Iddirisu said. "Oftentimes, we are so busy with life and taking care of others that we forget about what matters most. Programs like CBCC remind women the importance of self-care."
Community Outreach
Patient navigators from CBCC lead regular education sessions at churches, public housing facilities, women's shelters and community centers to identify new patients who may be in need of breast cancer screening services.
The education sessions usually include a breast health workshop covering risk factors and ways to decrease your risk, breast self exams and how to get a mammogram. After the education session, navigators encourage attendees to sign up for a mammogram, then arrange for a group pickup.;
While they often organize education sessions with existing community partners, sometimes the patient navigators will canvas local neighborhoods and participate in health fairs to see if there are new organizations they should contact.
Inspired by the organization's commitment to community outreach and research, Charlotte Sheffield, a community health major at the University of Maryland – College Park, interned at CBCC last spring and learned to lead breast health workshops.
"I have been privileged to have multiple experiences at CBCC that have helped my professional development and would recommend the position to others," Sheffield said. "I have extensively strengthened my knowledge regarding health communication, breast health and health literacy throughout the duration of my internship, and have gotten to work with many wonderful colleagues and patients."
Kat Zambon
GUMC Communications