CBCC Honors Patient Navigation Pioneer at Gift of Life Breakfast
Posted in GUMC Stories | Tagged breast cancer, cancer, Ralph Lauren Center for Cancer Prevention
(October 17, 2017) — At the 10th Annual Gift of Life breakfast, more than 200 supporters of the Capital Breast Care Center gathered at the Renaissance Washington, DC Downtown Hotel to celebrate the community-based program and its mission — providing patient navigation services and access to breast cancer screenings to all women, regardless of their ability to pay.
Since its formation in 2004, CBCC has screened 14,965 women in the Washington, D.C., metropolitan area for cancer, a number that was proudly announced by Lucile Adams-Campbell, PhD, associate director for Minority Health and Health Disparities Research at Georgetown Lombardi Comprehensive Cancer Center at the October 10 event. However, about 30 percent of the population in the same area has never had a mammogram, she said.
"What we really need to do is strengthen our efforts to provide accessible and affordable screening, diagnosis and treatment of breast cancer," said Louis M. Weiner, MD, director of Georgetown Lombardi. Through its navigation services,"the CBCC is fundamental in making that happen."
One way that CBCC will work to reach even more women within their communities is with a new van that transports patients to cancer screenings. The van was purchased with donations from generous supporters. "You may have noticed our new van parked in front of the hotel," Adams-Campbell said. "You will see it throughout the Washington metropolitan area routinely."
Addressing Barriers Through Patient Navigation
At the breakfast, attendees watched a video depicting a day in the life of CBCC's patient navigators, who serve as caregivers, advocates, therapists, social workers and sometimes even grant writers, all to support the medical needs of women in the Washington, D.C., metropolitan area.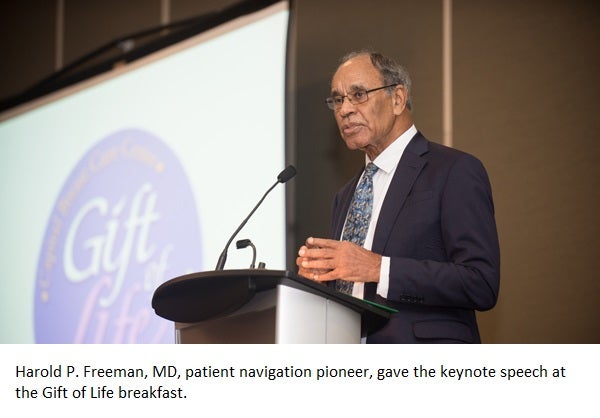 Attendees were also treated to a keynote speech by the pioneer of patient navigation. As a surgical oncologist treating patients in Harlem, NY, Harold P. Freeman, MD, saw women with ulcerated breast masses and advanced breast cancer that could have been treated if they had been found earlier.
"For a surgeon who was trained to cut things out, I knew I couldn't do that for this population of people," Freeman said. "It was too late."
Recognizing how different barriers prevent poor and underserved patients from getting proper medical care, Freeman created the Breast Examination Center of Harlem in 1979 to provide free breast cancer screenings to women in his community. Yet he continued to see a gap in his patients' health care with many women being lost to follow-up after being screened. This prompted Freeman to design a patient navigation model to help women access health services.
In 2007, the Harold P. Freeman Patient Navigation Institute was founded to support the training of patient navigators. Today, Freeman serves as founder and president/chief executive officer of the institute that bears his name, and his work has led to national initiatives and federal legislation.
"[Patient] navigation is an attempt to pull together what we discover [through research] and make it what we deliver," Freeman said. In November, Freeman will receive the Cura Personalis Award, GUMC's highest honor, during the 10th Annual GUMC Fall Convocation.
A Call For Action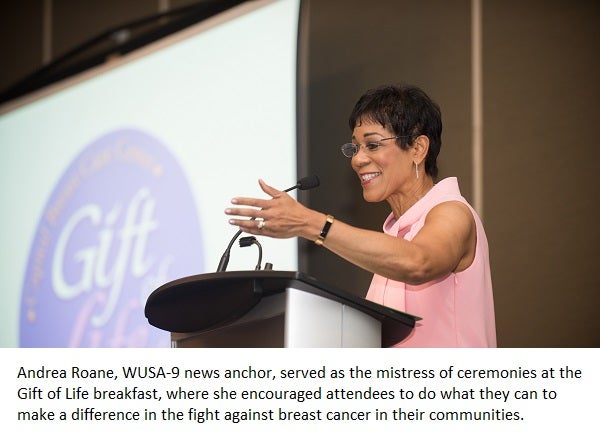 Andrea Roane, WUSA-9 news anchor and the event's mistress of ceremonies, concluded the event with a donation and call for action. With the help of Fox 5's former anchor Laura Evans, they presented a check for $10,000 to CBCC on behalf of the news anchors and radio hosts who are part of DC News Women.
Roane also challenged the audience to take action towards bettering breast cancer outcomes in our community.
"Whatever you choose to do, know that your efforts will be making a difference," Roane said. "The services are there and the needs are great. Your funds and your support will help make a difference."
Amber Robins, MD
GUMC Communications