CBCC Personal Navigation Program Receives Boost from Komen
Posted in GUMC Stories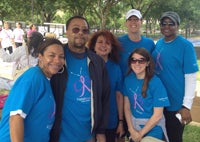 Imagine if every woman had access to personal, one-on-one help in navigating her way through the health care system. In the world of breast cancer prevention, this would mean more mammography screenings and fewer women dying unnecessarily from breast cancer.
Capital Breast Care Center (CBCC), an initiative of Georgetown Lombardi Comprehensive Cancer Center, is working with the support of Susan G. Komen for the Cure® to bring this vision closer to reality in the nation's capital and the surrounding communities.
Komen recently announced it will award $4 million in new community grants to reach low-income, minority and uninsured women. A recipient of $200,000 of Komen funding spread over this year and last, CBCC has expanded its One-by-One program, which employs a community health navigation model to deliver education on breast health and cancer risk through one-on-one interactions.
"This grant is an expansion of our previous One-by-One grant that we received from Komen a few years ago. We are using a patient navigator to navigate patients into breast screening using a one-on-one approach," says Tesha Coleman, interim executive director of CBCC. "Each patient receives an individual call from the navigator where her needs and barriers are assessed. The navigator then provides health education to patients, schedules their appointments and arranges transportation."
The goal of this program is to increase early detection and decrease breast cancer mortality rates by providing personalized care to every patient.
"Over the past year we have realized that we initially underestimated the need for this service in the community. There are many women who understand and know that they need to have a mammogram but are unable to complete necessary screenings because there is nowhere for uninsured women to go," says Coleman. "We have received a lot of positive feedback from these women and they are extremely grateful [for] the individualized care they receive at CBCC and the overall experience of having their first mammogram with many other women just like them."
On Saturday, June 2, Georgetown Lombardi and CBCC participated in the annual Susan G. Komen Global Race for the Cure in Washington, D.C., to show support for an the organization that has helped CBCC fulfill its mission of providing culturally appropriate breast screening services to women in the region, regardless of their ability to pay.
The walk drew an estimated 25,000 survivors, family members and other enthusiastic supporters to the National Mall. Besides participating in the race, CBCC also had a grantee table where stoppers-by could pick up an array of literature related to breast health and other educational tips.
In another event underscoring the longstanding relationship between Georgetown Lombardi and Komen, on Monday, June 4, representatives from Komen accompanied a delegation from the All-China Women's Federation (ACWF) for a visit and tour of the cancer center.
The visit is part of a week-long breast cancer training education program facilitated by a public-private partnership between ACWF, Komen and Goldman Sachs. Robert Clarke, Ph.D., D.Sc., dean for research at Georgetown University Medical Center and co-leader of Georgetown Lombardi's breast cancer research program, hosted the delegation and led the tour.
By Alaina Farrish and Lauren Wolkoff, LCCC Communications
(Published June 04, 2012)