BRIC Program Teaches Evidence-Based Strategies to Reduce Bias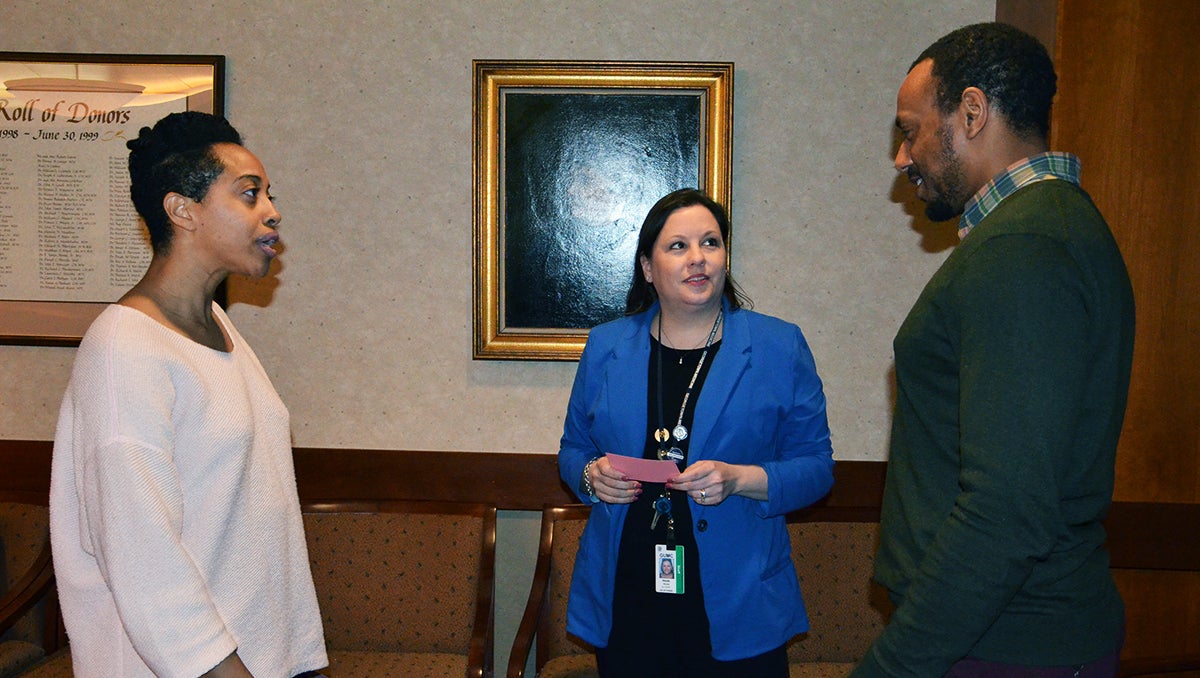 Posted in GUMC Stories | Tagged diversity, Georgetown Lombardi, MedStar Georgetown University Hospital, School of Medicine, School of Nursing & Health Studies, unconscious bias
(June 5, 2020) — When participants in the Bias Reduction and Improvement Coaching (BRIC) program planned their June 3 quarterly workshop, they couldn't have imagined what would transpire in the interim from their last meeting.
Against the backdrop of a country grappling with racial violence and systemic racism, the "coaches" started their meeting via Zoom by reflecting on the death of George Floyd under the knee of a white police officer.
"The BRIC program provides a specific platform by which we can discuss racial injustice and both conscious and unconscious bias in academic medicine overall and within our own institutions at GUMC and MedStar," said BRIC program organizer Kristi Graves, PhD, associate professor of oncology and director of the Survivorship Research Initiative at Georgetown Lombardi.
Addressing Unconscious Bias
Unconscious bias refers to social stereotypes about certain demographics or groups of people that individuals form outside of their own conscious awareness. In her spare time, Marcela Campoli, PhD, had already begun to study unconscious bias in an effort to minimize its potential impact on her decision-making.
"As an international professional, I have always been aware of how bias can have a positive or negative impact in me as a person and in my career, as well as how my own biases might be limiting or expanding my relationships and opportunities," said Campoli, research coordinator at Georgetown's Center for Trauma and the Community.
Last summer, Campoli applied for and was accepted to participate in the new BRIC program. "When I received the email with the invitation to apply, I jumped at the opportunity to have a work-group with whom to analyze bias reduction best practices, methods and challenges," she said.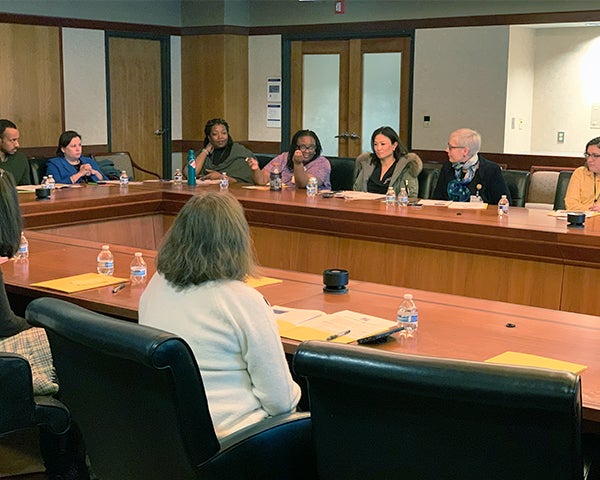 Bringing together colleagues from across GUMC and MedStar, the BRIC program launched in fall 2019 with an ambitious goal: mitigating the impact of unconscious bias and its effects on recruitment, selection and advancement of employees.
Representing the School of Medicine, MedStar Georgetown University Hospital and MedStar Washington Hospital Center, Georgetown Lombardi and the School of Nursing & Health Studies, BRIC coaches participate in quarterly bias immersion workshops covering the science of bias and its impacts on hiring, workplace culture, promotions and retention. A train-the-trainer professional development opportunity, the BRIC program will teach evidence-based strategies to reduce bias, build and sustain a community of trained coaches, raise awareness of bias across GUMC and cultivate a culture of change.
Campoli was inspired by the opportunity to make a difference as a coach lead. "Serving as a BRIC lead coach is not only an opportunity to share with and learn from peers, but it is an honor to play a role, however small, in promoting a cultural change on bias reduction," she said.
Connecting Concepts and Real World Experiences
Led by Graves and Susan Cheng, EdLD, MPP, senior associate dean for diversity and inclusion at the School of Medicine, the BRIC program debuted in September 2019 with 22 coaches and five coach leads.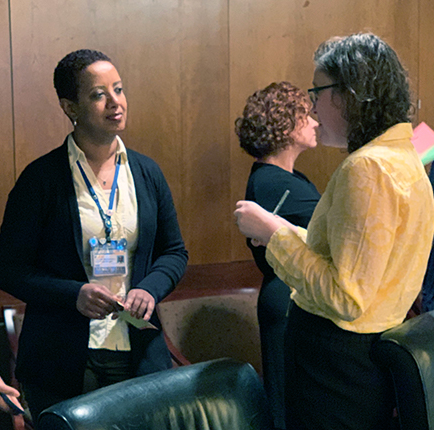 "I saw becoming a BRIC coach lead as an opportunity to not only impact decision making in my own department, but as a way to empower other passionate people to become content experts and have a voice in the change occurring in their own professional communities," said Tyler Fisher, curricular project manager at the School of Medicine.
Coach leads receive additional intensive training on addressing bias and lead quarterly meetings with small groups or "pods" of coaches. The pod meetings give coaches the opportunity to share reflections and ask questions about topics covered during the bias immersion workshops.
"As a coach lead, I serve as a resource to the BRIC coaches as they go back to their own departments and work on implementing programs to connect the concepts we discuss in the BRIC workshops to real life," Fisher said.
By the end of the two-year program, coaches are expected to share what they've learned by leading two presentations, one to a small internal team and one to a larger formalized committee, initiated by the coach or requested by someone from the department.
Striving for Culture Change
Though the program started relatively recently, it has already been an eye-opening experience for Fisher. "So far, the program has taught me how to identify and address bias at the personal and organizational level," he said. "We have specifically discussed strategies to mitigate bias in the recruitment and hiring processes."
Looking ahead, Graves hopes the BRIC program can serve as a model for other schools at Georgetown and academic medical centers around the country.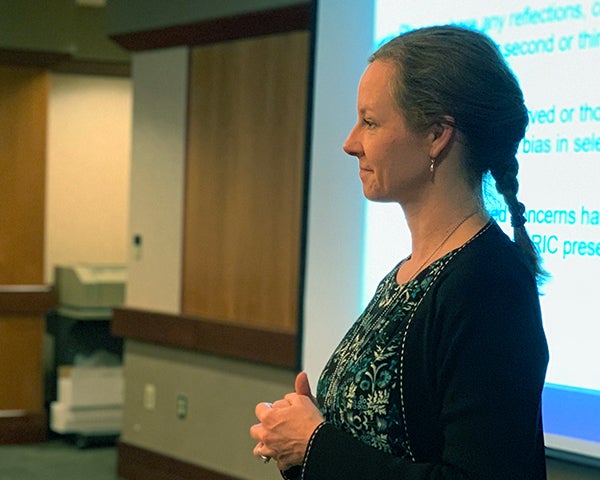 "We all have unconscious biases; raising awareness about how these biases influence our workplace is important. Through a train-the-trainer model, we hope to effect changes at GUMC and MedStar with an engaged group of BRIC coaches," said Graves. "We envision that BRIC coaches will be well-positioned to provide both scheduled programs and 'just-in-time' discussions to raise awareness and help promote strategies that mitigate the effect of bias across different sectors of our academic medical health care system."
"The promise of the BRIC program is its ability to move beyond trainings provided by the Office of Diversity and Inclusion to systemically scale up education efforts around unconscious bias and promote the implementation of bias reduction strategies by training up coaches embedded in departments all across Georgetown University Medical Center and MedStar," explained Susan Cheng. "Over the next eight years, we hope to cultivate a robust network of 100 medical center staff, faculty and physician coaches who are prepared to confidently address challenges in their own departments and on their teams and have the tools to actively reduce the impact of bias in everyday workplace decisions and interactions."
"I hope this program will help address the biases that impact faculty, staff, and students in their everyday routines," Fisher said. "Although sweeping systemwide initiatives are one approach to addressing these challenges, this program is built to empower individuals to address bias in their own offices, labs and classrooms."
"We hope the BRIC program serves to not only raise awareness about unconscious bias and more overt demonstrations of racism but also serve as a catalyst to generate change in status-quo policies related to recruitment, selection and advancement of employees," Cheng said.
Kat Zambon
GUMC Communications