'Black Doctors Matter' at SNMA's Melanin in Medicine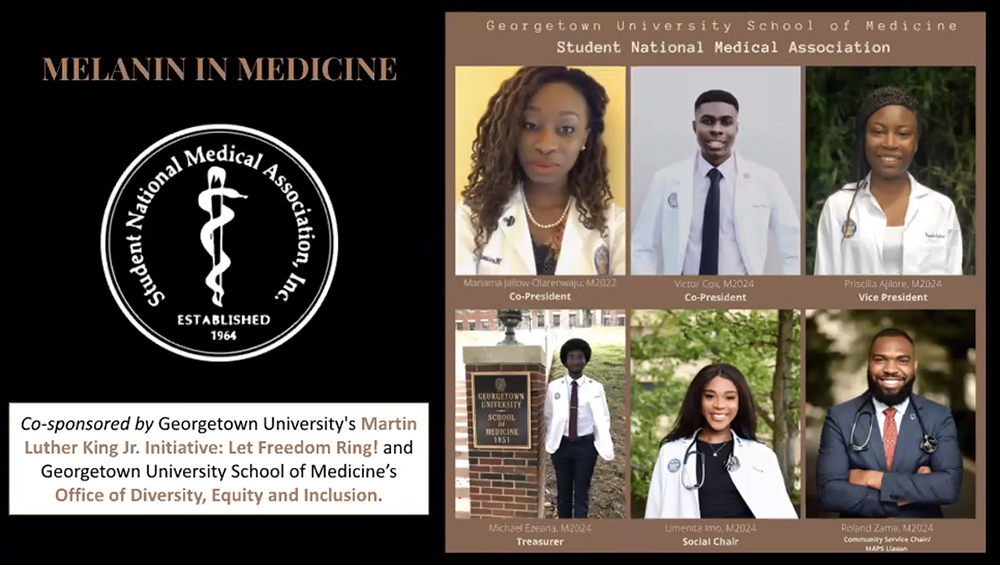 Posted in GUMC Stories | Tagged diversity, medical education, Melanin in Medicine, racial equity, racism, School of Medicine
(February 20, 2021) — At Melanin in Medicine, an annual event organized by the Georgetown University Student National Medical Association (SNMA), "Black Doctors Matter: Enriching Medicine Since 1837" was not just a theme but a cause for celebration and a call to action.
Held in collaboration with the School of Medicine's Office of Diversity, Equity and Inclusion with support from the Georgetown University Let Freedom Ring! Initiative, the February 17 event featured small group discussions, an awards ceremony and a keynote speech reaffirming the critical role Black doctors play in the lives of patients, students and their communities.
"Our mission is to increase the number of clinically excellent, culturally competent and socially conscious physicians, and at Georgetown, our chapter is passionate about hosting programming to support Black medical students on campus," said Victor Cox (M'24), SNMA co-president.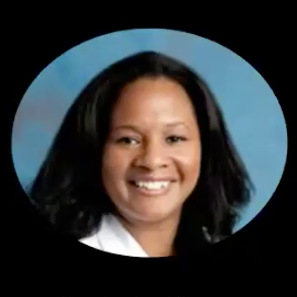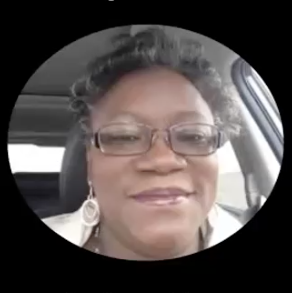 "We hope that this event will provide an opportunity for some very engaging and perspective-altering conversations, but also in honor and in memory of two very important physicians," said Mariama Jallow-Olarenwaju (M'22), SNMA co-president. Jallow paid homage to Susan Moore, MD, a Black physician who died from COVID-19 after sharing on social media that her white doctor downplayed her complaints of pain, and Aysha Khoury, MD, an instructor who was let go from her position after leading a classroom discussion about racial disparities in medicine.
Black Affirmations
Inspired by the experiences of Khoury and Moore, small group discussions at the event addressed navigating toxic academic spaces, and caring for the Black caregiver, the latter a topic "really dear to my heart," said Priscilla Ajilore (M'24), SNMA vice president.
"We've all heard the stories about Black physicians not getting the care that they need, and so it's like, we know all too well that just because you're a physician isn't going to save you from the effects of racism in medicine," she said.
The small group discussions also examined trust and vaccination in the Black community, virtual networking and Black affirmation vs. impostor syndrome. Ajilore felt excited about the discussion about impostor syndrome.
"We all know how difficult it can be to assimilate into a new academic environment, and it's really easy for us to speak down on ourselves and think we're not deserving or that we're less deserving than our peers because that's what's been told to us our entire lives, but we want to empower ourselves with Black affirmations," she said.
Honoring Firsts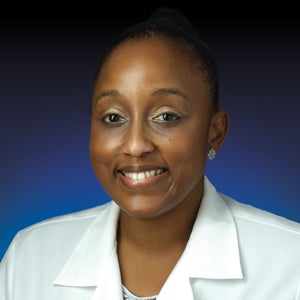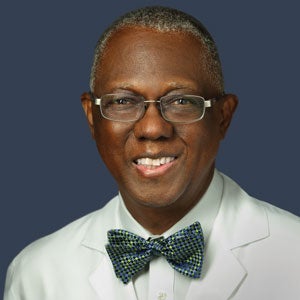 At the event, SNMA honored Black School of Medicine faculty members who were the first to achieve certain goals. LaTasha Seliby Perkins, MD, assistant professor of family medicine, was recognized for serving as the first SNMA faculty advisor. "She has become just infamous for stepping up to the plate in all respects across campus to not just advance racial equity but to really be in the student corner," Jallow said about Seliby Perkins.
"As an M1 having only been here for less than a year, her guidance, her mentorship, and the fact that she is such a good role model for me, all of the one-on-one attention she has given me in spite of her busy schedule really speaks to how much she cares about us and cares about the Black community and cares about the community as a whole," Cox said. "So I'm looking forward to three more great years with Dr. Seliby Perkins in medical school."
Michelle Roett (M'03), MD, MPH, professor and chair of family medicine, was recognized for being the first Black Georgetown faculty member to receive the Women Leaders in Medicine Award.
"When I started working with Dr. Roett in 2019, I remember the day she shared her calendar with me," said Alynna Wiley (M'22). "You shouldn't be allowed to put that many events on a calendar. Dr. Roett is incredibly busy. But no matter how busy she is, she says, I'll move this here, I'll eat here. It never was, 'This won't work.' It was always, 'Let me see what I can do.'"
"Not only as one of the first Black chairs at Georgetown, but a mentor and beacon for her students, Dr. Roett is known for her poise and her incredible ability to listen," Wiley added. "I've never felt more heard in a room than when I know she's there."
Earl Harley Jr., MD, professor of otolaryngology and pediatrics, was honored for being the first Black physician at Georgetown to have a learning society named after him, but Bria Johnson (M'22) met him years earlier as a patient when she was a child.
"Teacher, mentor, leader, avid golfer, lover of kids, fixer of all pediatric ENT problems — these are just a few words to describe the one and only Dr. Harley," Johnson said. "Transitioning from his patient to mentee, I witnessed a spectrum of care and compassion that Dr. Harley provides to everyone who crosses his path. He has served as one of my biggest supporters throughout medical school, always providing me with advice and guidance when I am in need."
'Understand That There Will Be Setbacks'
As a medical student, Robert Drummond, MD, PhD, faced several setbacks. He broke up with his girlfriend, his father struggled with health challenges, his brother was expelled from school and blamed Drummond, and he had difficult experiences in the lab. In his keynote address, Drummond, now an urgent care physician, lead clinician and director of laboratories at Montebello Urgent Care Center, urged students to push through their setbacks knowing that their hard work will pay off.
"Understand that there will be setbacks on your journeys," he said. "Nobody talked to us about these setbacks when we had these high hopes, these high, pie-in-the-sky hopes of going to medical school. So you have to understand and prepare for the fact that things are going to happen from your journey. It only scares you if you're not ready for it."
Drummond also encouraged students to take advantage of whatever situation they find themselves in and the resources they are offered. "It's not weak to ask for help," he said. "It's not weak to ask for counseling. It's not weak to ask for tutoring."
"I'm just a country boy from Jacksonville, Florida, but melanin in medicine matters," Drummond said. "Black doctors matter."
Kat Zambon
GUMC Communications